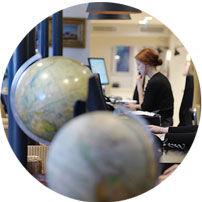 As one of the most biodiverse places on the planet, Ecuador is the definitive destination for a wildlife holiday. Dubbed by Darwin as 'a little world within itself', the Galapagos Islands are undoubtedly the jewel in Ecuador's crown of wildlife encounters. Thanks to its remarkable biodiversity and Darwin's revolutionary research, the archipelago has been elevated to legendary and almost-mythical status; here you'll find an array of species endemic to the islands, making for a truly special and exclusive wildlife-watching experience. Leisurely and lumbering giant tortoises inhabit the arid landscapes,
while along the beachfront, you'll find sleepy sea lions and salt-encrusted marine iguanas. Look to the skies for sightings of even more unusual creatures, including vibrant blue-footed boobies and crimson-chested frigatebirds. Bridging both sides of the equator, Ecuador's jungle habitats offer contrasting wildlife-viewing opportunities. In the Amazon rainforest, an abundance of monkeys traverse the treetops (howler, spider, squirrel and capuchin, to name a few), alongside bright-billed toco toucans and three-toed sloths, their laidback neighbours.
Wildlife Holidays by country
Other Ecuador collections
A few of the benefits of travelling with us
What our clients say about us
Ecuador customer reviews (1 reviews)
4.5/5
Kate had to cover all the rerouting, chasing luggage, rebooking and so on. She was immediately available late at night and took every step to ensure that when we disembarked from any particular flight, everything had been sorted out along with suggestions of activities (which we didn't do as the kids were generally wiped out!

). Her level of engagement gave me confidence that any immediate issue would be resolved while my family and I were in the air. I want to make sure that Kate and the team's effort here is fully recognized. Again, she did a great job in looking after us and my family and I hugely appreciated her immense dedication and support.
Ecuador Guide
Practical advice, client testimonials and inspiration to help you prepare for your holiday
Contact one of our Ecuador specialists