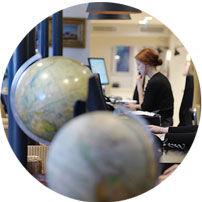 Follow in the footsteps of Charles Darwin on a once-in-a-lifetime wildlife cruise around Ecuador's Galapagos Islands. The archipelago of 18 islands is completely detached from the mainland, and as a result, each is inhabited by endemic species found nowhere else in the world. Board your vessel in Los Gemelos and sail from island to island, stopping to admire expansive lagoons and tangled mangroves, alive with an extraordinary array of birdlife. As you catch a glimpse of a boogying blue-footed booby or spot a slumbering sea lion, you'll see why the iconic archipelago tops so many travellers' bucket-lists.
Each island promises novel wildlife sightings: on Isabela you'll find peach-feathered flamingos, Fernandina's ocean edge is filled with marine iguanas, while fur sea lions take refuge on Santiago's black sand beaches. The cerulean ocean is also home to intriguing marine life and avid divers will delight at the unspoilt coral reefs and encyclopaedia of sea life.
Ecuador Cruises Ideas
A few suggestions to get the holiday planning process started
Other Ecuador collections
A few of the benefits of travelling with us
What our clients say about us
Ecuador customer reviews (1 reviews)
4.5/5
Kate had to cover all the rerouting, chasing luggage, rebooking and so on. She was immediately available late at night and took every step to ensure that when we disembarked from any particular flight, everything had been sorted out along with suggestions of activities (which we didn't do as the kids were generally wiped out!

). Her level of engagement gave me confidence that any immediate issue would be resolved while my family and I were in the air. I want to make sure that Kate and the team's effort here is fully recognized. Again, she did a great job in looking after us and my family and I hugely appreciated her immense dedication and support.
Ecuador Guide
Practical advice, client testimonials and inspiration to help you prepare for your holiday
Contact one of our Ecuador specialists