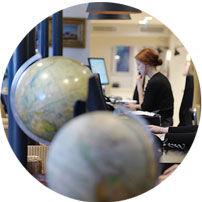 The world is shrinking, or at least that's how it feels. Of the 195 countries across the globe, the top 20 account for almost two-thirds of tourist visits. Put simply, 'overtourism' means too many of us in too few destinations. The result? We are destroying the very places we love the most: enraging locals, damaging historical monuments and fighting for photo opps. This is where Undertourism comes in.
Undertourism Holiday Ideas
A few suggestions to get the holiday planning process started
Undertourism Holidays by country
A few of the benefits of travelling with us
Review
What our clients say about us
This is the first time we went on a trip with Original Travel, a specialist advisor who listens to our expectations, and really the feeling of being pampered from departure to arrival. The concierge service is so efficient that we quickly become addicted.
Undertourism Holidays Guide
Practical advice, client testimonials and inspiration to help you prepare for your holiday
Contact one of our specialists