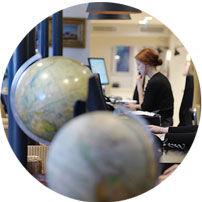 From blissful beaches and palm-fringed shores to volcanic terrain and dense jungle, Costa Rica's landscapes are a destination highlight and can all be experienced in their best light during Costa Rica summer holidays. Although our summer is technically Costa Rica's winter (and the rainy season), the weather during mornings and early afternoons remains delightful and temperatures rarely stray below the mid-20s. Travelling between May and June coincides with the 'green season', when the seasons are in transition and the country is generally quieter. In our humble opinion, witnessing the lush rainforests
and blossoming vegetation (minus the crowds) is well-worth braving a few showers for. In July and August, much of the country also tends to experience a dip in rainfall – referred to as veranillo (mini summer) – promising the climate of Costa Rican summers, without the throngs of sun-seeking tourists. Certain regions are actually at their best during Costa Rica summer holidays, such as Arenal and the Caribbean coast, while the summer months also see some special wildlife events. Head to Tortuguero National Park between July and September to experience turtle nesting season – watching the hatchlings scurry towards the shallows is a magical sight. Embrace the pura vida way of life during a holiday which effortlessly combines a beach break with intrepid jungle trekking and adrenaline-inducing adventure activities, against emerald-green backdrops.
Costa Rica Summer Holiday Ideas
A few suggestions to get the holiday planning process started
Summer Holidays by country
Other Costa Rica collections
A few of the benefits of travelling with us
What our clients say about us
Costa Rica customer reviews (3 reviews)
4.7/5
All agreed best holiday we have ever been on!!! Can't thank you enough.
Costa Rica Guide
Practical advice, client testimonials and inspiration to help you prepare for your holiday
Contact one of our Costa Rica specialists