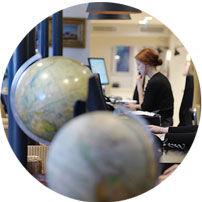 Italy, the land of vespas and wine, where the gelato is a little bit tastier, and the views of the Leaning Tower of Pisa and Mount Etna are more magical than you could imagine, is the perfect destination for a solo adventure. Hike the rugged wilderness of the Dolomites and discover emerald-green valleys and lakes so clear that only the occasional ripple gives the water away. If the hustle and bustle of a city is more your thing, stick to the beaten path and inject some culture into your Italy solo travel trip with a stop in Rome. Wander the ancient cobbled streets in search of the tastiest pizza,
or delve into the history of the hair-raising gladiator battles with a guided tour of the Colosseum. If it's relaxation you're after, sip a glass of luscious limoncello in a cosy waterside bar on the Amalfi Coast and watch a canopy of stars appear as the chatter of locals surrounds you, or head south to the wild island of Sicily, the 'Soul of Italy', for history-soaked villages shadowed by the brooding presence of Mount Etna, the largest volcano in Europe. With so much to explore, try and taste, Italy is the perfect steppingstone to becoming a seasoned solo traveler.
A few of the benefits of travelling with us
What our clients say about us
Italy customer reviews (4 reviews)
4.8/5
We had a lovely time - the hotel was gorgeous - very comfy and in the perfect spot and they were very helpful and nice. Our two guides were excellent - very knowledgeable and interesting. It was great - all round! We were lucky and had beautiful weather too (blue sky and sun - but freezing, which was great).

Thank you so much for everything - it was all perfect (transfer was great too).
Italy Guide
Practical advice, client testimonials and inspiration to help you prepare for your holiday
Contact one of our Italy specialists