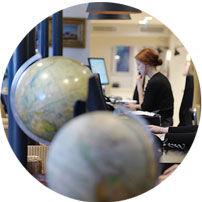 You've only just got rid of the kids after the summer holidays and before you know it, it's October and the little critters are out on half term. In other words, it's time for an October half term holiday. Whether you're all in need of some R&R and a bit of late season sun (bits of Europe can still be warm) or looking for something slightly more adventurous, we've got the inside track on all the best family destinations. How about some trick or treat? You can play a trick on winter as soon as it appears and treat your family to a half-term escape with one of our October family holidays. Join the parade along 5th Avenue in New York,
or play hide and seek in a Moroccan desert. Immerse yourselves in ancient Rome or even turn the seasons upside down and head to Kenya for a (their) spring safari. You might want to replay summer in a Vietnamese market or in a cove in the Seychelles, and along the way our kids' goodie bags will keep the children entertained so you get some R&R too.
October Half Term Holiday Ideas
A few suggestions to get the holiday planning process started
October Holidays by country
A few of the benefits of travelling with us
Review
What our clients say about us
This is the first time we went on a trip with Original Travel, a specialist advisor who listens to our expectations, and really the feeling of being pampered from departure to arrival. The concierge service is so efficient that we quickly become addicted.
October Holidays Guide
Practical advice, client testimonials and inspiration to help you prepare for your holiday
Contact one of our specialists