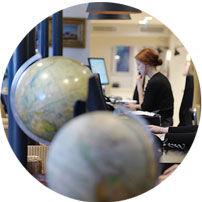 The idea of experiencing a luxurious holiday in a communist country might be counter-intuitive, but our contacts and long-term knowledge of the island mean that we are perfectly placed to arrange luxury Cuba holidays. For the record, we are absolutely not talking gold taps, sumptuous spa resort style luxury and lavish creature comforts here; rather the luxury of access to extraordinary experiences and insider intel on how best to learn about and enjoy this extraordinary country to the full. We have our own team based in Havana and across the island, constantly coming up with novel ways to get under
the skin of one of the few countries on the planet that could be considered unique. Private meetings with Castro-era generals; access to off-limits boxing gyms, exploration of parts of the islands the tourists never see – all can be arranged on the ultimate luxury Cuba holiday.
Luxury Holidays by country
A few of the benefits of travelling with us
What our clients say about us
Cuba customer reviews (2 reviews)
4.5/5
We had a good holiday in Cuba, it is a very interesting place, experiencing very 'interesting' times!
Cuba Guide
Practical advice, client testimonials and inspiration to help you prepare for your holiday
Contact one of our Cuba specialists