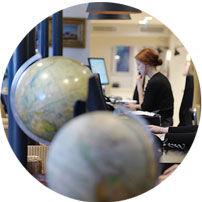 Brooding teenagers, whirlwind toddlers and desperately-in-need-of-a-break parents - whichever box you fall into (hopefully not all three), you're guaranteed to fall - hook, line and sinker - for Cuba family holidays. The seas and beaches hit the mark with gentle, clear waters perfect for tentative dips and mastering snorkelling, and soft sands perfect for pottering around on. You can even swim with wild dolphins, diving down to swim eye-to-fin with fish, turtles and manta rays. Look to the interior and discover delightful corners that are gloriously untamed from primaeval jungles to Fidel Castro's secret lair.
And over in Havana, peel back its weathered facade and there is live music, a thriving arty scene and classic cars to cruise around in.
Family Holidays by country
A few of the benefits of travelling with us
What our clients say about us
Cuba customer reviews (2 reviews)
4.5/5
We had a good holiday in Cuba, it is a very interesting place, experiencing very 'interesting' times!
Cuba Guide
Practical advice, client testimonials and inspiration to help you prepare for your holiday
Contact one of our Cuba specialists