With summer currently MIA, a severe bout of daydreamania is sweeping the country - the tendency to stare aimlessly into space and drift off into a hazy stupor awash with images of clear azure waters, endless sandy beaches, picturesque towns and sun-drenched hillsides. The only known cure? A last-minute summer getaway. Lucky for you, summer holiday glory is but a short hop away with many of our favourite European destinations having some great last-minute availability. Here are a few of our favourites…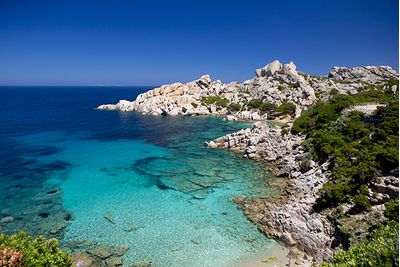 Sardinia, Italy
For families, Sardinia offers just the right blend of adventure and exploration with comfort and relaxation. Chia Laguna Resort, in particular, on the island's beautiful southern coastline, is ideal for families. While the word 'resort' can be off-putting, the staff at Chia Laguna really go the extra mile to ensure guests have the best trip possible. Away from the hotel, families can spend sun-drenched days exploring the miles of picturesque coastline, snorkelling and swimming in the clear waters and discovering secluded coves.
Mallorca, Spain
Mallorca, once the preserve of the package holiday, has undergone something of a makeover and now offers the discerning traveller a selection of chic boutique hotels, beautiful beaches to satisfy even the most dedicated of beach bums and excellent hiking through some the of the finest mountain scenery in the Mediterranean. Speaking of scenery, Castell son Claret sits in its own 325 acre estate of olive groves, herb gardens and walking trails. Think elegant décor, panoramic views and delectable delights served up by Michelin-starred chef Fernando Perez Arellano.
The Peloponnese, Greece
The islands might hog most of the limelight when it comes to Greek holidays but the mainland Peloponnese region offers rustic coastal towns, archaic sites and rugged beaches to rival any of its island counterparts, and without the crowds. This region is ideal road trip territory with its windy switch-back mountain roads, sweeping coastline and crystal clear waters. Base yourself at the Camvillia Resort, a 47-room boutique hotel ideally located for exploring this beautiful corner of Greece.
Provence, France
Few holiday destinations are held in higher esteem in the British collective conscience than the south of France, and the fortified towns, looming mountains and shimmering plains of Provence are perfect for a last minute summer escape. Having only become part of France in the 19th century, evidence of Provence's colourful colonial history is everywhere, not least in the linguistic lilt of its people. Stay at Terre Blanche which is perfectly placed for exploring the area, as well as the sparkling coastline of the Cote D'Azur.
Sicily, Italy
Sicily has been colonised by everyone from the Greeks to the Arabs, French and Spanish and these influences remain far more prevalent than its current Italian status would suggest. The island does in fact feel far more Mediterranean with ancient ruins strewn across the landscape, a cuisine focused on fish, vegetables and spices, and a distinctly individual dialect. Verdura Resort, on the south coast, is our pick of the bunch hotel-wise and caters wonderfully to both families and couples.