Itinerary Highlights
A summer road trip of the Vancouver countryside, with wilderness as far as the eye can see
Three days to get a feel for Vancouver, a cool, cosmopolitan city
Private tour of Vancouver by zodiac boat or kayak to watch whales, killer whales and bears in their natural environment: included in the itinerary
Direct flights, access to our Concierge, smartphone app and all our usual additional services
Contact one of our Canada specialists + 44 (0) 20 3958 6120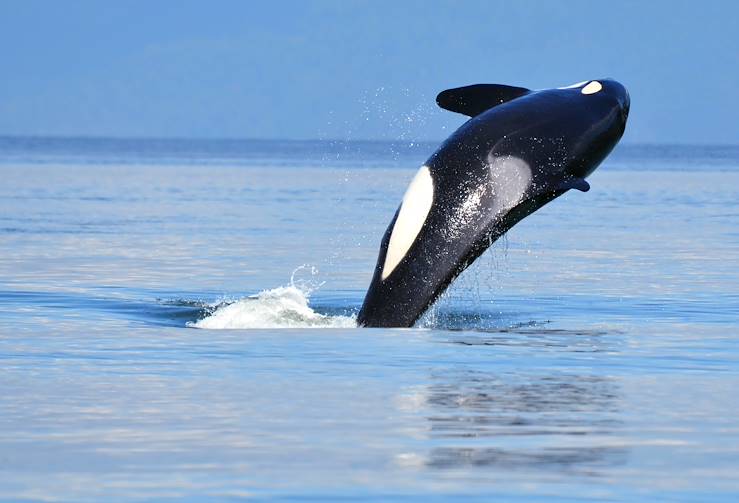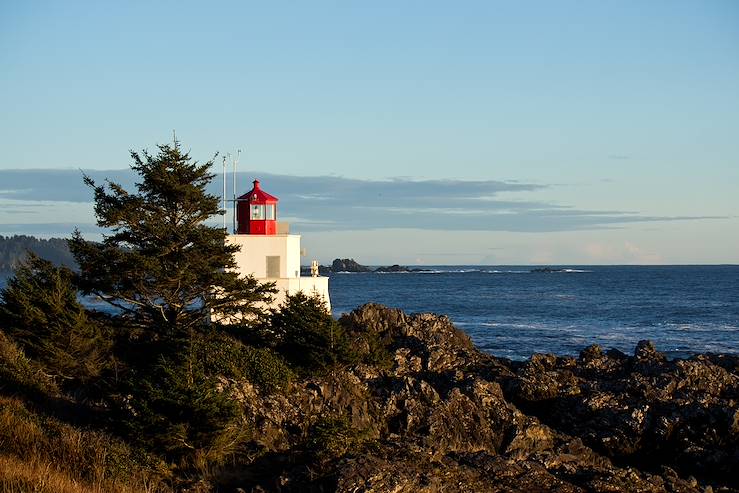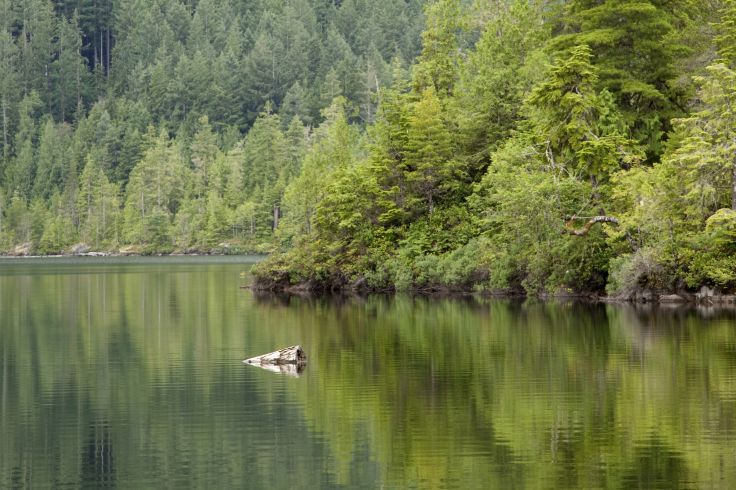 SKYSCRAPERS, FORESTS AND THE PACIFIC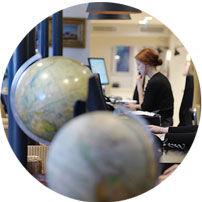 Designed for couples who love green, open spaces and nature as far as the eye can see, this trip takes you off the beaten track from
Vancouver
, the 'Pearl of the Pacific', with its contemporary skyscrapers that seem to emerge between the forests and the ocean, to
Vancouver Island
, less than two hours away by ferry. This pristine, wild and unspoiled territory is the refuge of absolutely spectacular fauna: bears, whales, killer whales and seals can be observed during offshore trips.
Victoria
, the capital of British Columbia, sits on the southern tip of the island and is renowned for its gardens and museums, its English feel and its gastronomy. A little higher up, the breathtaking
Pacific Rim
park
and the fishing villages Tofino and Ucluelet are among the most iconic places in the country, revealing huge beaches, steep cliffs and surf spots. Further afield, the journey continues on the mainland and the Sunshine Coast in the remote region of Egmont. A stunning natural scenery composed of islands covered with thorn bushes, forests, bays and coves where rich wildlife live in freedom. It can be reached on kayaking trips and walking or cycling tours. Experience all this and more on this road trip, driving your rental car, which comes with GPS and our list of recommended stop offs. Along the way, we have selected beautiful, comfortable and welcoming places to stay, as close as possible to the major sites and with sea views where possible. Need any last minute advice or changes? You have the contact details of our Concierge team.
ALONG THE WAY
This unrestricted and flexible journey is interspersed with highlights that are already included in your itinerary, so as to make the most of the areas visited without neglecting peaceful moments to spend as a couple. In Vancouver, you'll step behind the scenes with a private guide and then pass through nature with the 230ft high Capilano Bridge and the cable car ride to Grouse Mountain, which offers panoramic views of the area. Entry tickets to the Museum of Anthropology and its rare collections from around the world are also included. On Vancouver Island and the Sunshine Coast you're as close to nature as possible. And the scenery lends itself to a beautiful discovery of wildlife during the zodiac boat or kayak excursions to spot whales, killer whales, bears and seals in their natural environment.
Route
Everything is 100% tailored to you
DAY 1
Flight to Vancouver
Private transfer and three-night stay in Downtown Vancouver. Stay at an elegant and contemporary hotel that is loved for its convenient location and impeccable service. The city's main attractions, including Stanley Park and the waterfront, are within easy reach. Breakfast is decent and the nearby area is overflowing with other good places to go.

Close to your hotel, the Hotel Vancouver is built in chateau-esque style. At its foot rises the enormous Anglican Christ Church Cathedral in a neo-gothic style. The library is more contemporary (Moshe Safdie, 1995). It's a few blocks west of Gastown, where the sawmill that gave rise to the town was located. The old, renovated warehouse district along the harbour is a must-see. To the northwest lies Stanley Park's 1,000 acres of cedar and fir trees. The people of Vancouver have an exceptional natural refuge here. To the south, Granville Island. The ex-industrial island has recently developed into a pleasant neighbourhood. Come here from downtown by water taxi to take a walk, do some shopping, see a show or an art exhibition and, above all, fill your tote bag with food and handicrafts at the Public Market. People come to live an urban life in a place with a village feel.
Already included in the itinerary - Vancouver with a private guide. An opportunity to soak up the scenery and discover the various neighbourhoods and Stanley Park, as well as a walk on the Capilano Suspension Bridge 230ft above the river, and the entrance to Grouse Mountain, north of the city, where you can enjoy the panoramic view of Vancouver and its surroundings. Tickets to the British Columbia Museum of Anthropology are also included. This museum is home to a number of artefacts from Aboriginal civilisations in Canada and the United States, including impressive totem poles. The museum's building is a jewel of modern architecture, built by Arthur Erickson.
DAY 4
Vancouver - Victoria
Pick up the rental car and take the ferry to Vancouver Island to reach Victoria, the capital of British Columbia. Two-night stay on the waterfront of Oak Bay in a beautiful English manor-like hotel with a classic and refined atmosphere. The rooms are very comfortable, with a fireplace and small kitchen, in a contemporary style decorated with retro English furniture. The swimming pools and spa offer great relaxation options.
There was a time when savvy gold seekers began their explorations in British Columbia by staying here on the southern tip of Vancouver Island. The humid and mild climate favours lush vegetation, most obviously the large conifers prized by totem sculptors. Victoria the Victorian city is best explored during a stroll around the harbour, in the alleyways of the Museum of Civilisation, the Art Gallery of Greater Victoria or the Royal British Columbia Museum, for a tea tasting at the Fairmont Empress, or at night when Parliament is lit up. Beacon Hill Park and the Butchart Gardens are reminiscent of English gardens.
On the itinerary - A zodiac boat outing to observe killer whales and whales. In the background, the landscapes of the Strait of Georgia and, in the foreground, an encounter with marine animals... The opportunity is well suited for an informal course on the Pacific West Coast's most diverse wildlife with a biologist and naturalist guide.
Optional - Fly over Victoria in a seaplane - admission tickets to the Royal British Columbia Museum, which houses around 65,000 objects and specimens of natural sciences.
DAY 6
Victoria - Ucluelet
Road to Port Alberni then Tofino, through spectacular scenery. After the Mackenzie Mountains, you reach the Pacific Rim National Park, with its huge centuries-old forests and wild beaches that are popular with surfers. Continue to Ucluelet, a charming fishing port and a favourite spot for whale, killer whale and bear watching. Less famous than its neighbour Tofino, Ucluelet is also less crowded during the tourist season. Two-night stay in a hotel perched on a rocky headland of the famous Wild Pacific Trail, a hiking trail along the island's turbulent coast. The contemporary architecture of the buildings is bold and perfectly integrated with the natural setting. Everywhere there is rock, water, glass, steel, wood and natural light; and the interiors are expertly planned, sometimes spacious and sometimes more intimate. The rooms impress with their bright lines and huge, floor-to-ceiling bay windows which face the ocean or rainforest.
On the itinerary - A zodiac boat cruise to observe black bears from the sea as they descend to feed on crabs and molluscs. You'll also see a wealth of sea birds, and perhaps the occasional bald eagle or sea lion.
Must-see - To appreciate Ucluelet's remarkable natural environment, take the five-mile Wild Pacific Trail, which offers panoramic views of the rugged coastline.
DAY 8
Ucluelet - Parksville
Drive to the east coast of Vancouver Island, along the south shore of Lake Kennedy, then through the lush landscapes of the peninsula to Sproat Lake, then Port Alberni and, finally, the Salish Sea coastline where Parksville nestles. Its beach, Rathtrevor Beach, is a natural treasure which is filled with families and sandcastles in the summer - a festival dedicated to sandcastle building takes place in August. Stay overnight in a rustic but cosy hotel on the edge of the woods facing the Salish Sea. We particularly love its spa, its thermal pool in a cave and its well-renowned restaurant.
DAY 9
Parksville - Egmont
Head north along Vancouver Island's east coast to Comox, then take the ferry to Powell River and between Saltery Bay and Earls Cove to arrive in Egmont within a few minutes. This tiny town of a few houses borders the waters of Sechelt Inlet and is surrounded by the forest north of the Sechelt Peninsula on the Sunshine Coast. Stay for two nights in a secluded wooden cliffside lodge. The magnificent natural setting offers islands covered with thorny bushes, bays, coves and inlets which are home to abundant marine life. These landscapes, which are shielded by the mountains, benefit from a micro climate sheltered from wind and waves, ideal for kayaking or zodiac boat trips and walking or biking.
Included in the itinerary - A kayak trip with a private guide to observe the seals who have taken up residence in Sechelt Fjord. After whales and bears, this outing complements the beautiful view of Vancouver Island's diverse ecosystems, making Vancouver Island one of the best wildlife viewing areas in British Columbia.
Don't miss - The Princess Louisa Marine Provincial Park trails - a scuba dive to discover the wreckage of HMCS Chaudiere or to find the giant Pacific octopi that inhabit the area.
Optional - A zodiac boat incursion into Princess Louisa Inlet.
DAY 11
Egmont - Vancouver
Return to Vancouver by car and ferry, where you'll find your hotel in the city centre. Return the rental car, and final night in Vancouver.

DAYS 12 & 13
Vancouver - Return flight
Private transfer to the airport and catch your flight home. Overnight flight, arriving the next day.

A la carte
VANCOUVER AND VICTORIA VIEWS FROM THE SKY
The best way to enjoy the spectacular scenery of Vancouver and its island is by seaplane. From Vancouver, you can see the harbour, the North Shore Mountains, Stanley Park and its totem poles and Horseshoe Bay. From Victoria, you can see the city, harbour, coast and Olympic Mountains in the distance as you rise above the waters which, at times, are so clear you can see whales.
Optional


PRINCESS LOUISA INLET BY ZODIAC BOAT
From Egmont, climb aboard a zodiac boat for an excursion into Princess Louisa Inlet, which is surrounded by granite cliffs and serves as a backdrop for a dozen waterfalls, including Chatterbox Falls, which are fed by melting glacier water. The inlet is both quiet and wild in its beauty, and it's also a good place to watch seals, sea lions, eagles and ospreys.
Optional


WITH SOME DAYS EXTRA - STAY CLOSER TO THE BEARS
Only accessible by seaplane from Vancouver Island, we found a lodge that sits on large cedarwood logs in a magnificent environment. Its small capacity (26 guests at most) and difficult access make it the ideal refuge for a wilderness break between the ocean and the forest. Here everything is nature-focused and nature guides take you to meet the free-roaming grizzly bears near the lodge, while the surrounding waters are home to families of killer whales, whales and dolphins. It's Canada as you'd imagine it, in all its wild greatness.
Optional
A Rough Idea of Price
Dependent on season, accommodation and activities
From June to September The estimated cost for this trip is £5,800 to £7,300 per person. A fixed price would not make sense for a bespoke journey. The cost varies depending on several factors, including level of service, duration and how far in advance the trip is booked. The exact price will be provided on your personalised quote. The average price for this trip is £6300 per person.
International flights
Airline taxes and fuel surcharge
Access to the Air France business lounge at Roissy 2E (for departures from Paris)
Private transfers and ferry crossings mentioned in the itinerary
Nine-day car hire
Three-night stay in Vancouver in a double room (room only)
Two-night stay in Victoria in a double room with ocean view (room only)
Two-night stay in Ucluelet in a double studio with ocean view (room only)
Overnight stay in Parksville in a double suit with ocean view (room only)
Two-night stay in Egmont in a double room with ocean view (room only)
Last night in Vancouver in a double room (room only)
Half-day tour of Vancouver with a private guide
Entry tickets for the Museum of Anthropology in Vancouver (self tour)
A whale-watching cruise in zodiac boat from Victoria with a biologist and naturalist
A zodiac boat bear viewing outing from Ucluelet with a guide
A seal-watching kayak tour leaving from Egmont, with a private guide
Our local Concierge service
A host of additional services are included when travelling with us, including our local Concierge service
A few of the benefits of travelling with us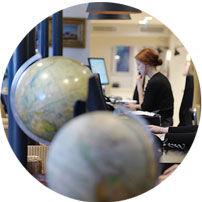 Get in touch
Our experts have the inside track on the destinations they sell and will tailor-make a holiday to your unique requirements.
Contact one of our Canada specialists