Itinerary Highlights
Take a food truck tour of Vancouver
Ride horses
Teach the children to fly fish for fat trout
Learn lifelong skills with a wilderness survival course
Trek to spot bears
Go paddling along the Bedwell River
Contact one of our Canada specialists + 44 (0) 20 3958 6120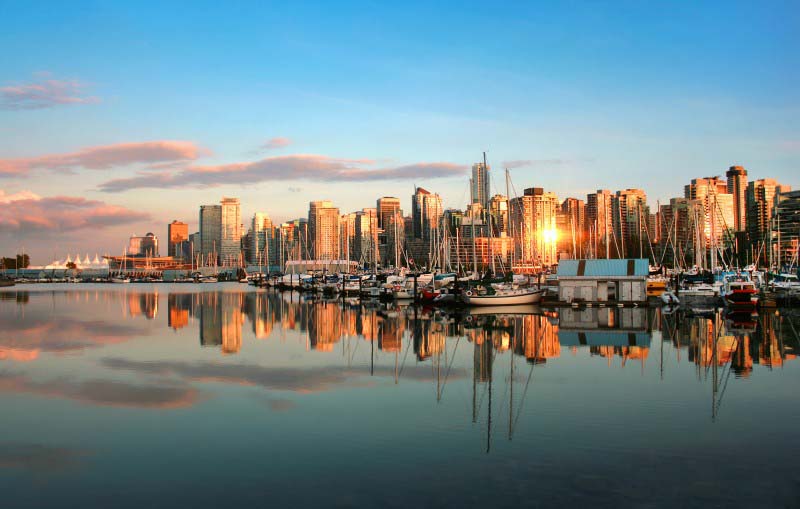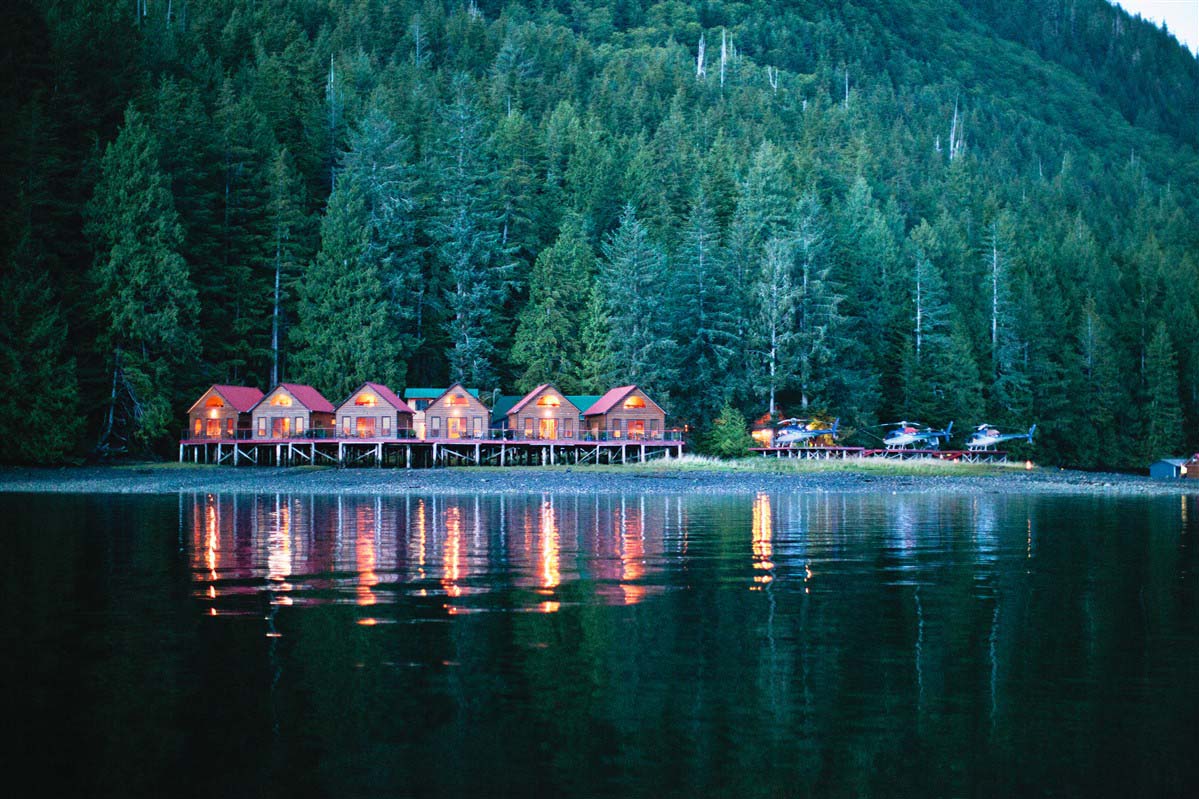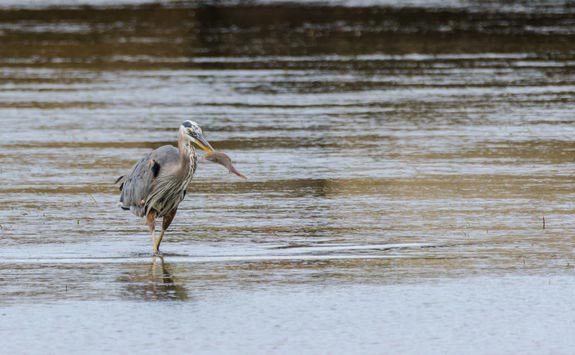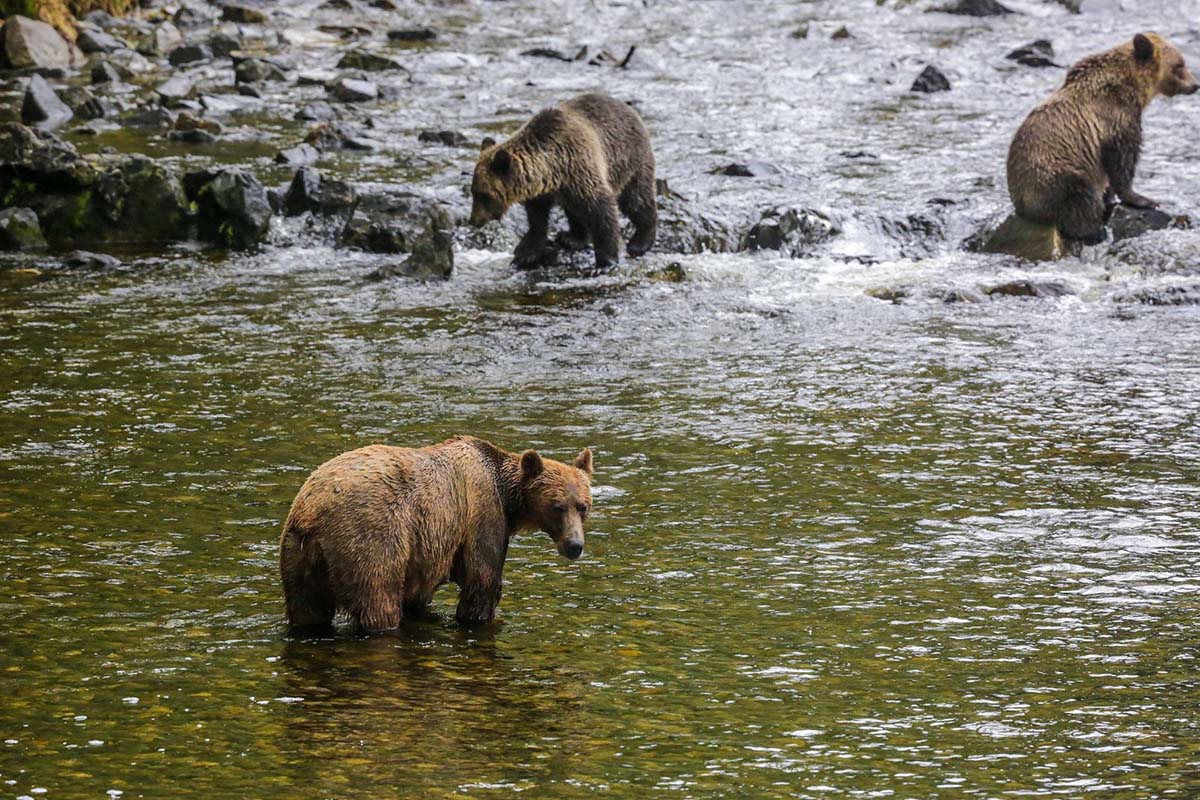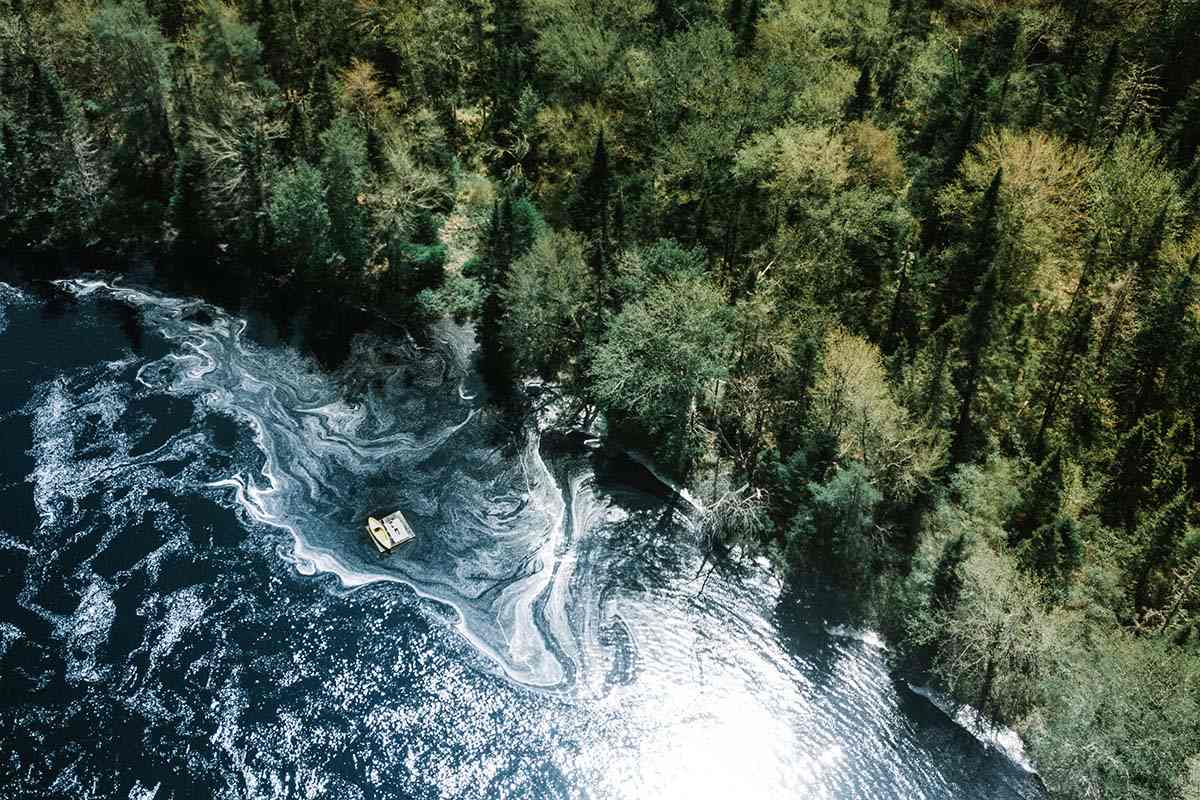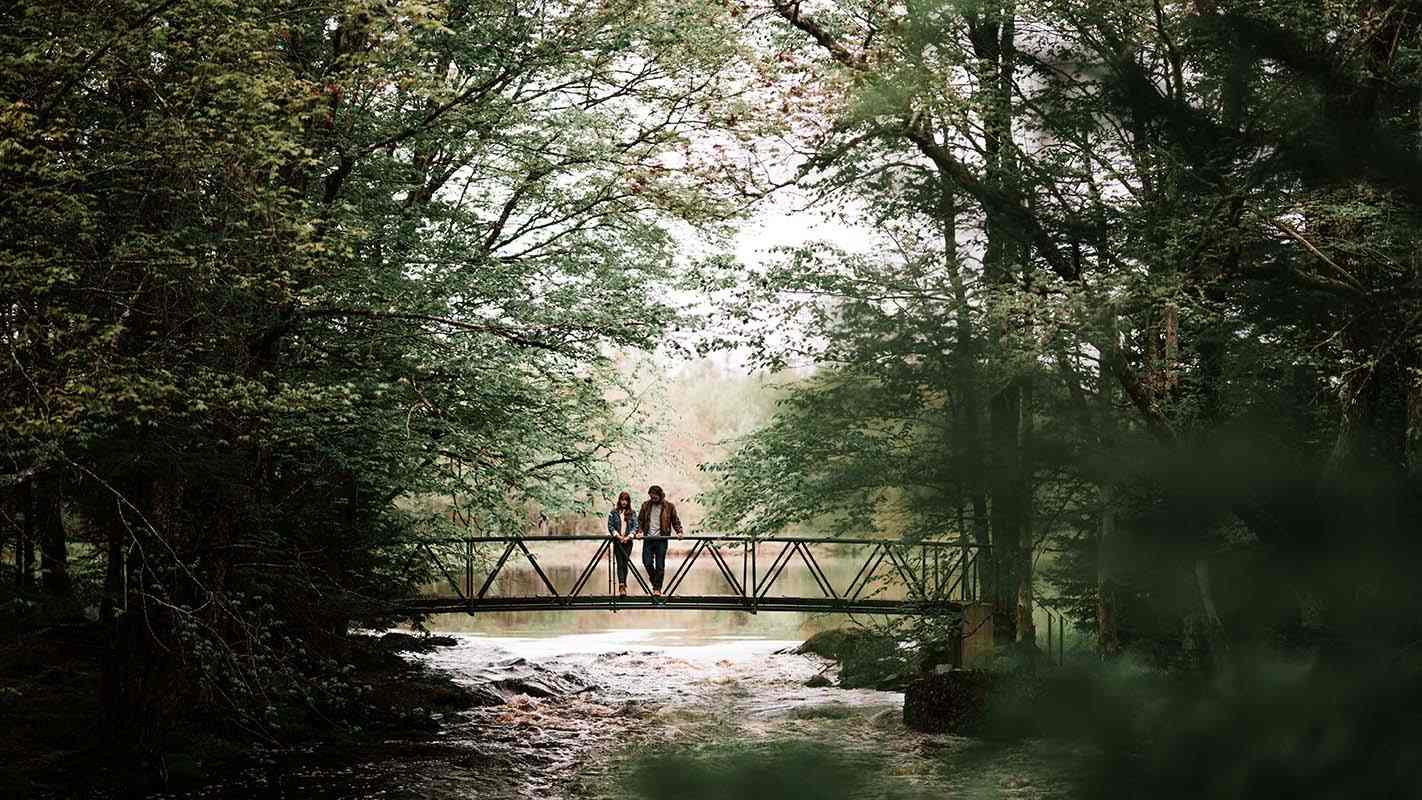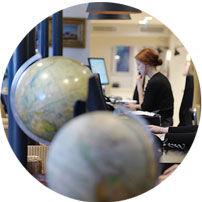 From the chic city of Vancouver to grizzly bear country; this tantalising trip showcases British Columbia's awe-inspiring sights, tastes and sounds. Canter across alpine meadows, get up close with bears and sleep in sublime safari style at some of the world's very best remote resorts on this 13-day family adventure.
Route
Everything is 100% tailored to you
Your nine-and-a-half-hour flight from London to Vancouver leaves in the afternoon. Make sure you have the children's personalised Sharky & George packs to hand because the fun games and facts about the destination will keep them busy on the flight before they (hopefully) catch some shuteye.
DAY 2
Welcome to Vancouver
Touch down in Vancouver, the culinary capital of Canada, in the early evening. You will be met and transferred to your downtown hotel, and it's probably best to get the children tucked up in bed as soon as you can.
Skip a big breakfast and opt for frothy coffee or hot chocolate instead, because today will see you go on a full-on gastro tour to explore Vancouver's coolest food truck culture. British Columbia's cuisine takes full advantage of the natural pantry on the doorstep; from rich farmland to cold clear ocean. These factors combined with the multicultural melting pot nature of the city make for an amazing gourmet experience. From prized Japanese hot dogs to melt in the mouth butter chicken naan, flamingo pink wild salmon sandwiches and fiery diablo chocolate cookies - exploring a city via your tastebuds has never been so enticing, and we're confident even the fussiest of fussy eating children will embrace the experience.
Start the day with a great adventure as you take the one-hour floatplane on a hop, skip, jump over to ice blue Williams Lake. On arrival, a private transfer will be waiting to whisk you away on the one-and-a-half-hour journey to a wild resort technically known as a dude ranch - a place where the days' activities might include wild river swims or cantering across rolling meadows, and where the nights are filled with stars. This boutique ecolodge is sure to put you and the children back in touch with nature, from dining on fresh foraged foods to spending some blissful screen-free (hopefully) time together outside.
For the next three days this wilderness is there for the family to embrace. Endless outdoor experiences are waiting for you, from kayaking and paddleboarding on the glistening lake to walking the well-marked trails. The signature experience here, however, is the award-winning riding programme which offers intuitively designed riding experiences. Whether the family are complete novices or love nothing more than galloping at full pace, the best way to explore the splendour of British Columbia's wide open spaces is on horseback. Let the expert guides pick the perfect horses to take you and the children on a memorable journey through forests, across rolling fields and along lakeside trails. Other activities on offer include archery, nature and wildlife tours, kayaking, hiking, mountain biking and yoga.
As night falls the family can regale tales of the day while enjoying a private al fresco supper overlooking the lake.
DAY 6
Wilderness Survival
Today, you can go fully free range and take a wilderness survival course. Spend the day constructing shelters in the sun-dappled forest, crafting fire from a bow drill, learning how to track wildlife and how to forage for food. Other activities include archery, nature and wildlife tours, kayaking, hiking, mountain biking and yoga.
In the last light of the afternoon take the kayak out across the lake for a fresh dip in the diamond clear waters before returning for an ice-cold beer (or soft drink for the junior citizens) on the balcony.
DAY 7
Fly Fishing and Spa Serenity
On your final day in the wilderness, hike along a wilderness trail to see if you can spot the rare songbirds and waterfowl that call this place home. Turn your eyes skyward to try and spy a rare bald eagle or opt for a fly fishing trip to snag a couple of fat trout in the mirror-like waters.
This afternoon, parents can enjoy a no doubt well-earned massage at the lodge's spa while the children try their hands at any activities they haven't yet tried.
After a delicious breakfast beside the lake, it's time to head back to the floatplane for your onward flight to your next stop, the wonderful Vancouver Island, where you will land on the water before a boat ride to your waterfront hotel. We work with a couple of excellent family-friendly lodges on the island, so will recommend the best fit for your family.
Today you have the rare opportunity to get up close and personal (within reason) with Canada's black bears. A short boat ride will take you and the children along the rocky shoreline, where these elusive creatures can be seen gnawing on sweet crabs. The boat has a very shallow draft, meaning you can get close to shore, and your guides have all the expertise needed for seeking out the bears and getting as close as possible without causing a disturbance. Make sure the children also keep their eyes peeled for whales and honking sea lions.
DAY 10
Paddling Along the Bedwell
This morning we have arranged a trip to the Lower Bedwell River for you to spend a few hours learning to stand up paddleboard (or merely improving your technique). Paddle gently past swaying sea grass and look down to see silver fish dart to and fro. Hopefully the children will glimpse a curious otter watching you pass by and along the banks you might see black bears, long legged herons and harbour porpoises.
Head back to your lodge for lunch and then an afternoon to relax, enjoy spa treatments or enjoy some of the onsite activities.
Vancouver Islands many rivers, streams and ocean bays make this an idyllic spot for kayakers of all abilities. After a leisurely morning, take a boat ride along the estuary and out into the saltwater blue for the chance to kayak alongside whales - the gentle giants of the ocean. Nesting eagles, foraging bears and otters can also be spotted along the way and the untethered feeling of riding with the changing tide is something truly special. Depending on the season, the rivers may host pint-sized rapids - perfect for adrenaline seeking children and parents alike.
Then it's back to the lodge for one last evening together recalling the best bits of what should have been a truly memorable trip.
DAY 12
Farewell Vancouver
After a final breakfast of flakey pastries, freshly squeezed juices, smoked salmon and whipped cream cheese the family can enjoy a final morning on Vancouver Island, either relaxing or ticking off any activities you've managed to miss out on. After lunch, it's time to take the floatplane back to Vancouver before checking in for the international overnight flight to London, which takes nine-hours-and-20-minutes and leaves this evening.
Your flight arrives back into London in the early afternoon.
A Rough Idea of Price
Dependent on season, accommodation and activities
The estimated cost for this trip is £8,125 to £10,260 per person. The final cost of the trip depends on the way we tailor it especially for you. The final cost varies according to several factors, which include the level of service, length of trip and advance booking time. The exact price will be provided on your personalised quote. The average price for this trip is £8,550 per person.
A few of the benefits of travelling with us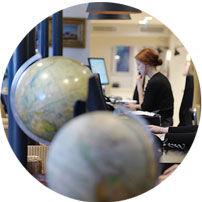 Get in touch
Our experts have the inside track on the destinations they sell and will tailor-make a holiday to your unique requirements.
Contact one of our Canada specialists