At exactly 9:01pm last Sunday a collective sigh could be heard ringing out across the nation - Attenborough et al have done it again. Another scintillating series of Blue Planet is back on our telly boxes and all Sunday evening social engagements for the next six weeks have been kiboshed in favour of the Beeb. And the first episode did not disappoint. We had grumpy walruses mouthing (or toothing) off at each other, Jaws-esque fish terrorising baby birds and bottlenose dolphins getting a kick from surfing the gnarly waves off South Africa. It's enough to make anyone want to grab a wetsuit and plunge into the Big Blue, no? Lucky for you, we have a specialist dive team here at Original Travel, the aptly named Original Diving, experts in the watery stuff worldwide and able to help with organising everything from holidays with the odd dive included to full-blown dedicated dive trips. So if you, like us, have a penchant for the ocean, here are a few of our favourite destinations and experiences for divers of all types…
Casual Divers: Belize
Belize offers so much above and below the waves, making it the perfect destination for those who fancy a spot of diving as part of a wider trip. The country might be synonymous with the Blue Hole, a bucket list dive for many, but with the second largest barrier reef in the world there is plenty else on the dive agenda, from wall diving at Turneffe Islands Atoll to nurse sharks, moray eels and turtles in Placencia. To land lies numerous historic markers of the Mayan Empire (most notably the plazas and temples of Xunantunich), dense rainforest containing all manner of flora and fauna, and the Belizeans themselves, who are exceptionally welcoming.
Learners: Gozo
You don't have to travel far to experience great diving and Gozo is something of a learner diver's paradise - great conditions year-round, calm seas and excellent visibility. Beginners will revel in the diversity on offer, from walls and caverns to wrecks and yet another Blue Hole. The other great advantage to Gozo is the lack of tourists - most travellers to this corner of the Mediterranean head to neighbouring Malta, meaning Gozo has retained its charm and authenticity. Spend days above the waves exploring sleepy villages and historic ruins, like the megalithic Ggantija temples, which pre-date the Pyramids and Stonehenge.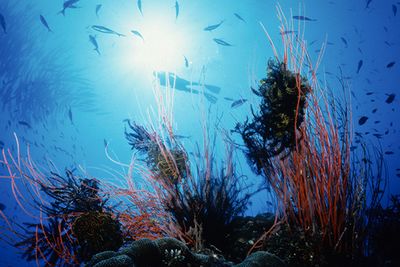 Dive Enthusiasts: Papua New Guinea
If you're a 'been there, done that, where's next?' kind of diver then Papua New Guinea should be at the top of your list. This is final frontier travelling so expectations of luxury should be left at the door, but what you do get in Papua New Guinea is sensational diving, from the pristine coral of Walindi and the big fish at Kavieng, to the offshore reefs at Tufi and liveaboard diving in the Solomon Sea. And the diversity doesn't stop there, over 850 languages are spoken across as many tribes and societies in Papua New Guinea and that's before we've even mentioned the wildlife which is, needless to say, fairly spectacular - think birds of paradise, tree kangaroos and over 700 species of butterfly.
Families: Mozambique
Diving is a great activity for the whole family to enjoy (no squabbling underwater, after all) with children as young as eight able to take their Bubblemaker course. Mozambique is the perfect spot with its palm-fringed beaches, well-preserved coral reefs and selection of excellent family-friendly hotels. Marine life on show includes turtles, dolphins, humpback whales and the elusive dugong. Mozambique also combines brilliantly with its east African neighbours - South Africa, Zambia and Tanzania - bush and beach, anyone?
Snorkellers: Northern Sulawesi, Indonesia
For those who prefer staying closer to the surface, there is some spectacular snorkelling to be had in northern Sulawesi in Indonesia (the diving isn't bad either). The reefs here are in great condition, especially in Bunaken National Park, and if you do fancy donning the scuba gear and heading into the deep, northern Sulawesi is also the muck diving capital of the world with everything from pygmy seahorses to frogfish on show.