Itinerary Highlights
Trek to find a troop of habituated chimps
Stop by the sobering Genoside museum in Rwanda's capital city, Kigali, to learn about the country's tumultuous history
Venture into Volcanoes National Park to find gorillas and golden monkeys
Take to the water on a boat ride on lake Kivu, visiting islands and a coffee plantation
Explore Nyungwe Forest National Park on foot to learn about its intriguing flora and fauna, including chimps and over 300 bird species
Contact one of our Rwanda specialists + 44 (0) 20 3958 6120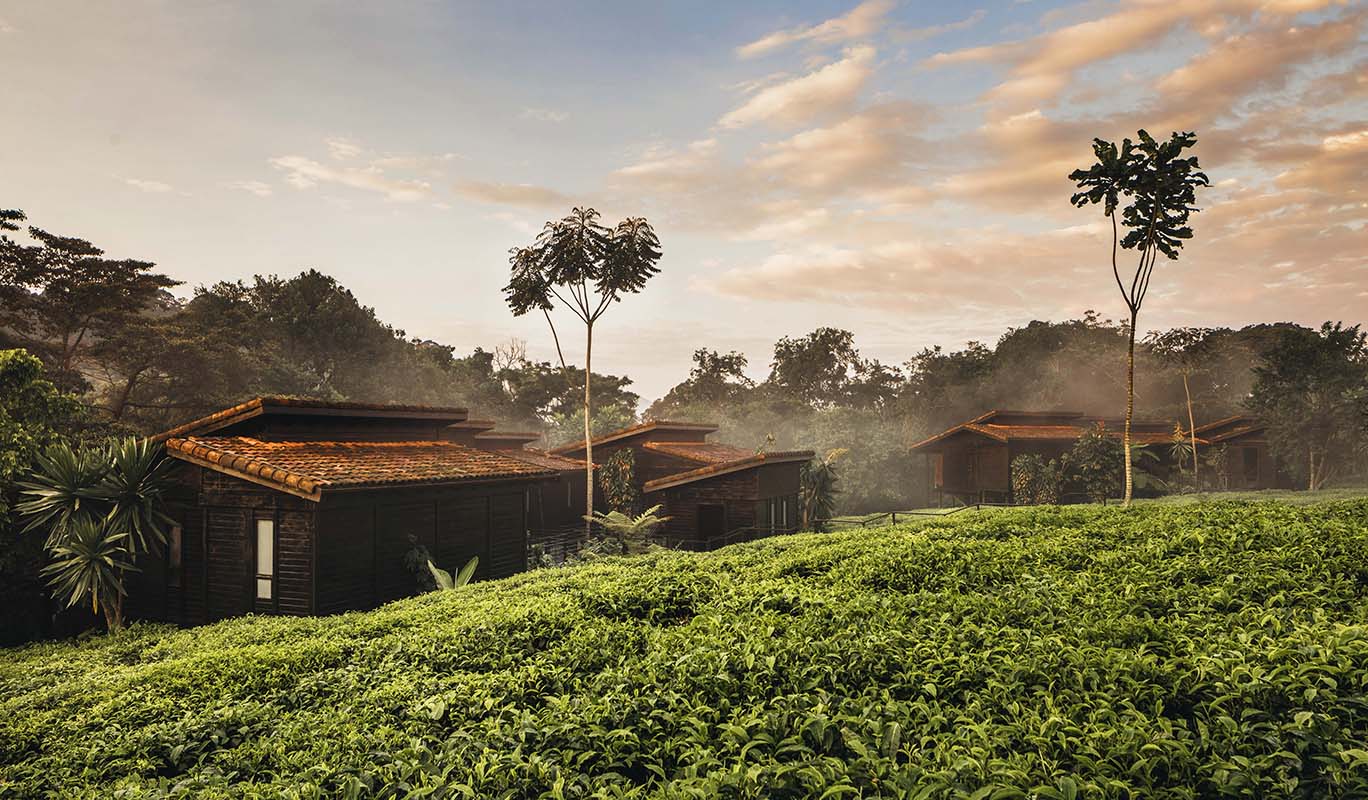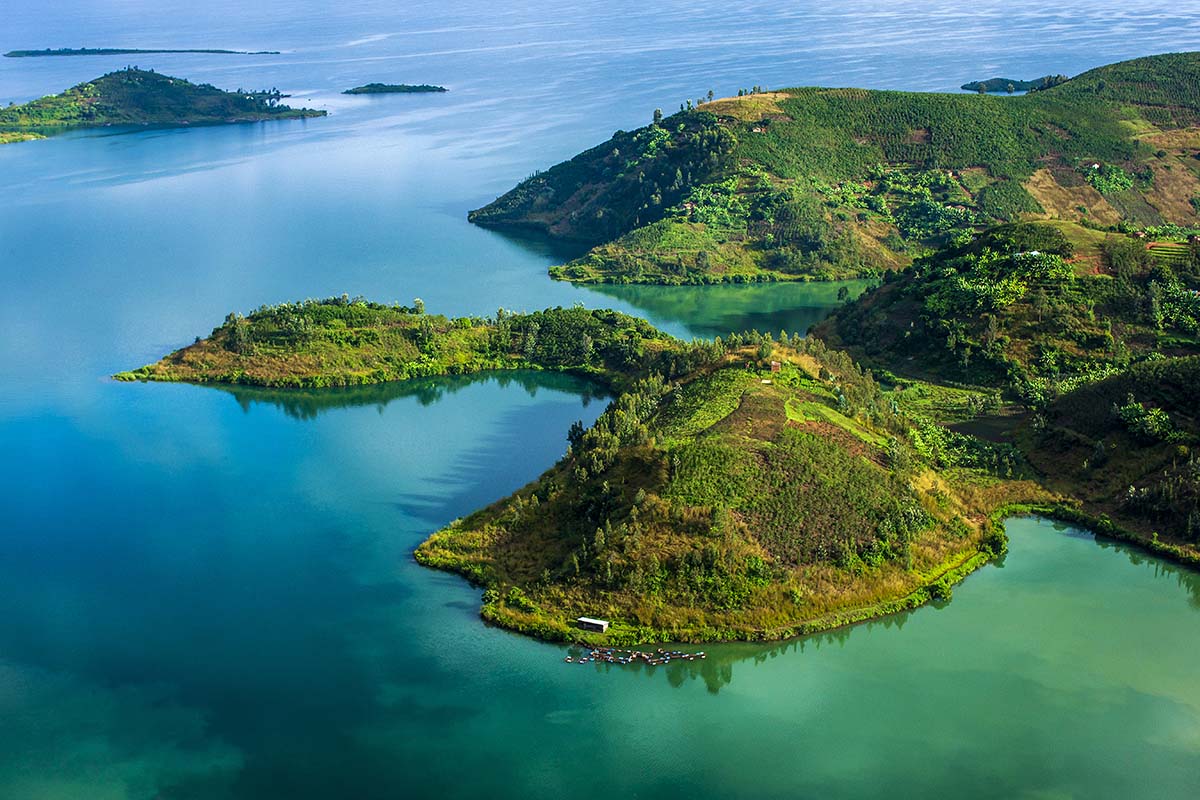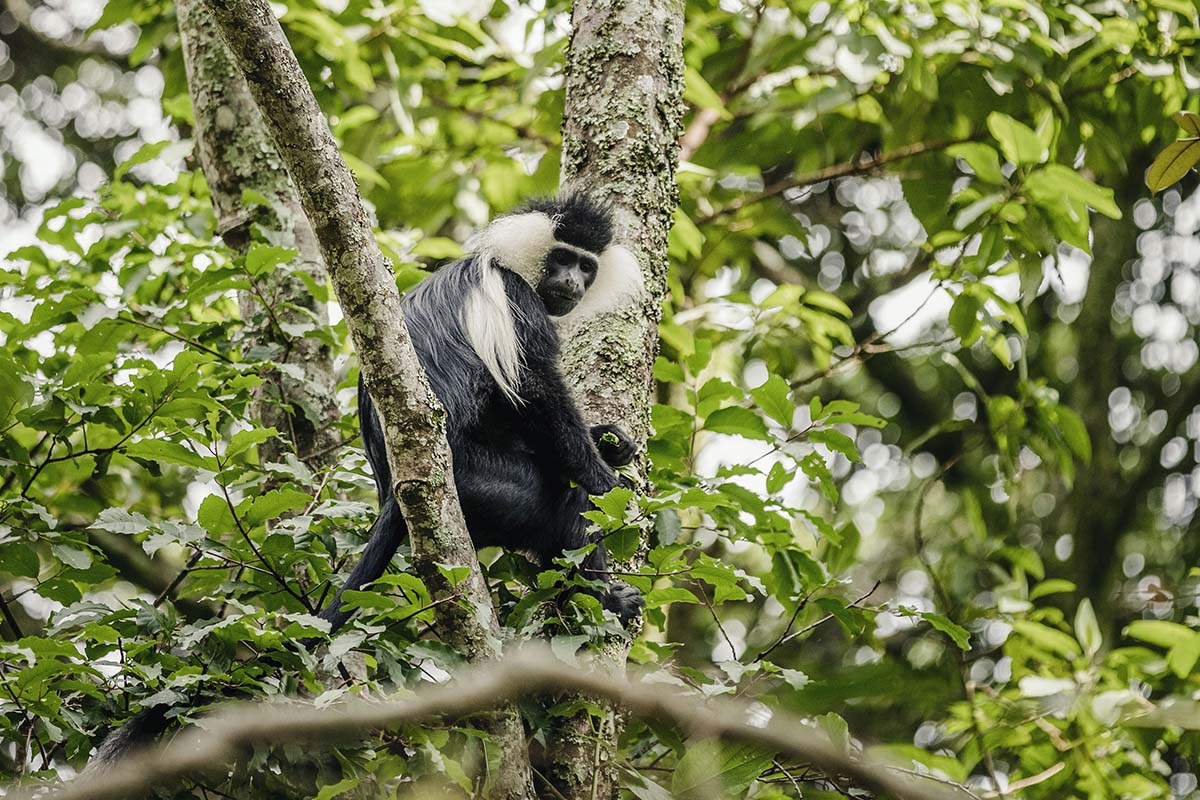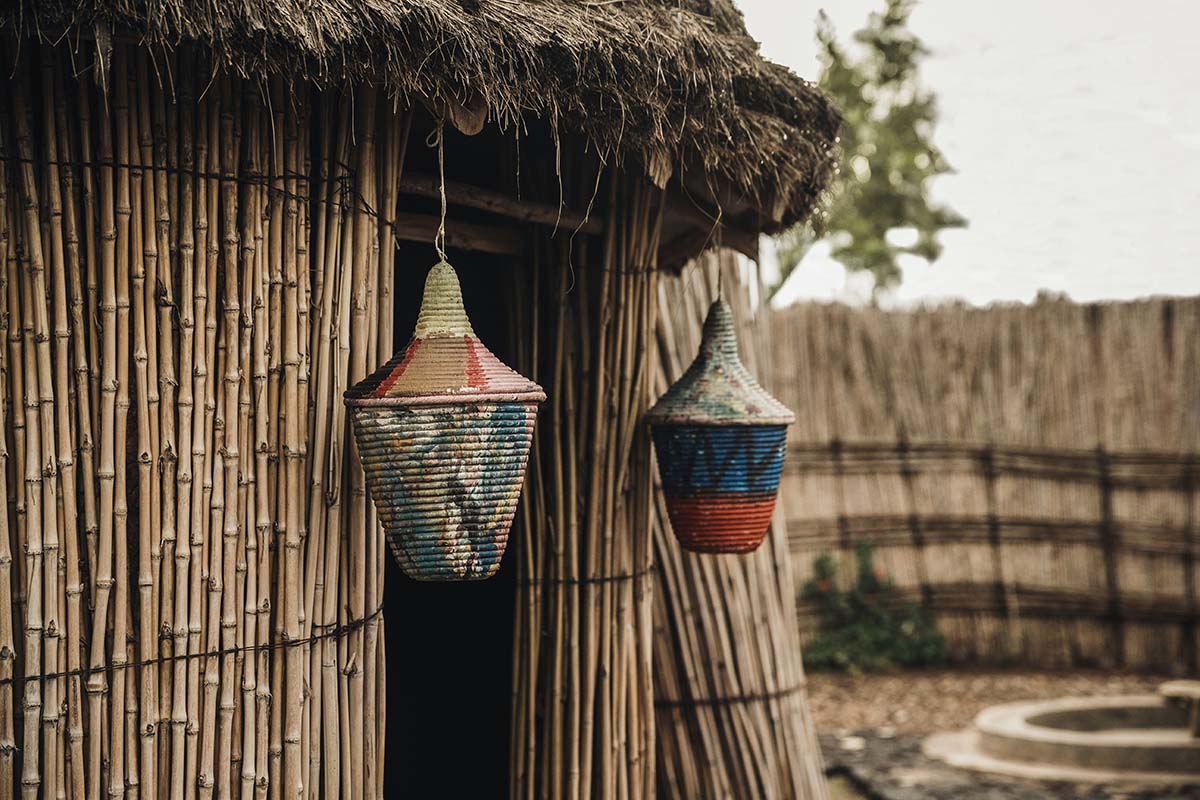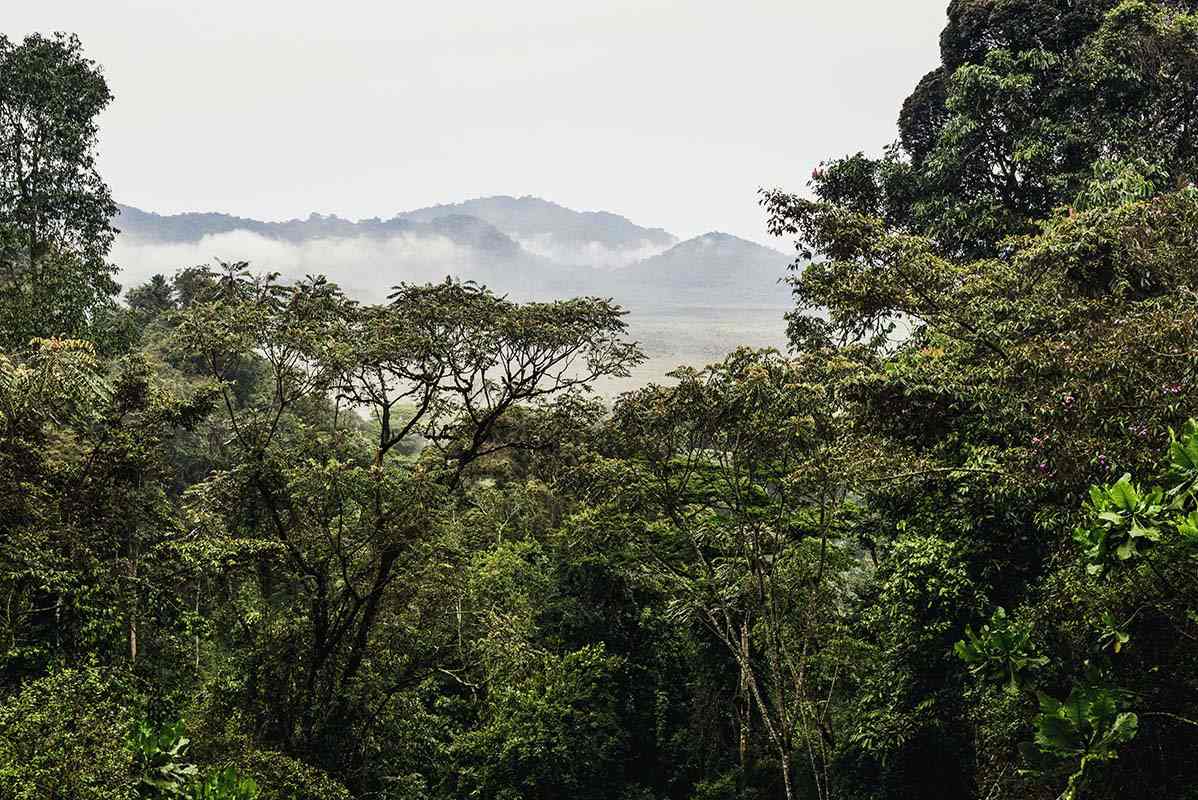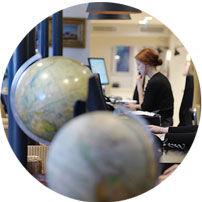 This 11-day nature and wildlife holiday to Rwanda takes in a multitude of landscapes including forests, mountains and lakes, and is full to the brim with wildlife spotting opportunities. Stop at the capital Kigali, trek through Volcanoes National Park, and learn about a huge variety of animal life including gorillas and monkeys.
Route
Everything is 100% tailored to you
DAY 1
Overnight Flight to Rwanda
Your nature and wildlife holiday in Rwanda begins with a flight to Kigali which leaves the UK this evening and takes just under 11 hours, including with a layover of an hour in Brussels (when you stay on the plane).
The flight lands in the Rwandan capital Kigali early this morning, and you will be met by your driver for the private 20-minute transfer to your hotel in town. Take your time to freshen up and enjoy a relaxed morning by the pool before lunch. You will then be met by your local guide for a private tour of the harrowing but fascinating Genocide Museum, which chronicles the appalling ethnic attacks that threw the country into turmoil in 1994. Today's Kigali is a very different city, with an infectious sense of renewal.
DAY 3
To Nyungwe Forest National Park
The next part of your nature and wildlife holiday in Rwanda begins today as you meet your driver post-breakfast for the five-hour transfer across Rwanda to your next destination, Nyungwe Forest National Park, home to a fifth of all the apes in Africa. It's a long drive but the last hour-and-a-half is through national parks, so there's plenty to watch out for as the world goes by. Alternatively, there is a flight from Kigali to Kamembe, 45-minutes away from the lodge in Nyungwe. Or you can take a helicopter for amazing views (including of nearby Lake Kivu) and landing at the resort's own helipad. Whichever way you travel, on arrival you can settle into your supremely stylish room, built to feel like you are almost living in the rainforest canopy. From your balcony you can spot cheeky colobus monkeys and other wildlife. Rwanda is known for its tea production, so this afternoon you can enjoy some of the country's finest produce before sundowner cocktails and a first evening in your new home.
DAY 4
Trekking with Chimps
Today might involve an early start but it will be well worth it. Your guide will meet you at the lodge to take you trekking into the thick rainforest in pursuit of chimpanzees, our closest cousins. When you do find a troop of habituated chimps, your guide will signal for you to stop walking, and hopefully you can spend some magical time with these extraordinary animals in their pristine natural habitat. Chimps aside, you should also see plenty of other wildlife on the walk, with your guide explaining more about this fascinating habitat.

This afternoon, relax at the lodge, go for another shorter walk or enjoy spa treatments in the lodge's small but perfectly-formed spa. Then it's time for sundowners and supper again.
DAY 5
Nature Walking in Nyungwe National Park
Today is another chance to explore the lush surroundings of the lodge, forging out on some of the well-marked trails through primary rainforest reckoned by many to be the oldest in Africa. Your guide can help point out regional flora and fauna, from 300 bird species to the more than 100 varieties of orchids that grow here.
Then return to the lodge for a delicious lunch and afternoon to relax and rest weary feet before more drinks and dinner this evening.
It's a change of scenery on your nature and wildlife holiday in Rwanda today. Enjoy one last morning and lunch in Nyungwe National Park before the three-and-a-half-hour drive along the shores of nearby Lake Kivu to your next lodge.
You will arrive in time for drinks and dinner in your next hotel, on the shores of the sixth largest lake in Africa.
DAY 7
Boat Trip on Lake Kivu
This morning you will take a boat ride on Lake Kivu, visiting islands and a coffee plantation. After lunch you have the chance to relax at the beachfront hotel and try some of the watersports available such as kayaking and jet skiing.
After a day of water-based fun, enjoy supper at the hotel this evening.
DAY 8
Going to the Gorillas
After breakfast at the hotel, you will be met for your transfer to your next lodge, just outside the legendary Volcanoes National Park, one of the only places in the world where you can see mountain gorillas. You will arrive at your lodge in time for lunch and you have the rest of the afternoon to relax at the lodge, go for a walk or visit the nearby grave of Dian Fossey, the legendary primatologist who is buried alongside many of the gorillas she studied plus others killed by poachers.
Tonight it's best to have an early night as tomorrow sees you rising bright and early.
DAY 9
Trekking to See Gorillas
After an early wakeup call this morning you'll take a short transfer (only about 30 minutes) to the entrance to Volcanoes National Park before setting out on foot with your guide to track and sit with a habituated family of gorillas. Witnessing these remarkable animals will almost certainly be the highlight of your nature and wildlife holiday in Rwanda.

This afternoon you can relax at your lodge, editing the doubtless dozens of photos from this morning's exploits.
DAY 10
Golden Monkey Spotting
It's another early start today as you head back to the park in search of one of the only two troops of golden monkeys in the country, and the only one in Volcanoes National Park. Your guide will follow the trail of gnawed bamboo shoots thrown to the forest floor in order to track the monkeys, and it's another memorable moment when you catch sight of them high in the forest canopy.

This afternoon you will pack up for the two-hour drive back to Kigali for your last night in Rwanda.
You will be transferred from your hotel to the airport in time for your morning flight which takes just under 11 hours and touches down in Brussels en route. You will arrive back in London in the late afternoon.
A Rough Idea of Price
Dependent on season, accommodation and activities
The estimated cost for this trip is £7,005 to £9,890 per person. The final cost of the trip depends on the way we tailor it especially for you. The final cost varies according to several factors, which include the level of service, length of trip and advance booking time. The exact price will be provided on your personalised quote. The average price for this trip is £8,245 per person.
A few of the benefits of travelling with us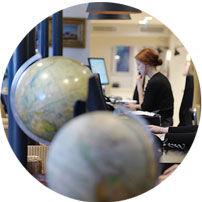 Get in touch
Our experts have the inside track on the destinations they sell and will tailor-make a holiday to your unique requirements.
Contact one of our Rwanda specialists