Itinerary Highlights
Get off the beaten track and travel to Akagera National Park for big game safaris and sunset lake cruises
Get a unique view of the flora and fauna in Nyungwe National park, from its canopy walkway
Tick an item off your bucket list as you trek to find mountain gorilla deep in the lush Volcanoes National Park
Contact one of our Rwanda specialists + 44 (0) 20 3958 6120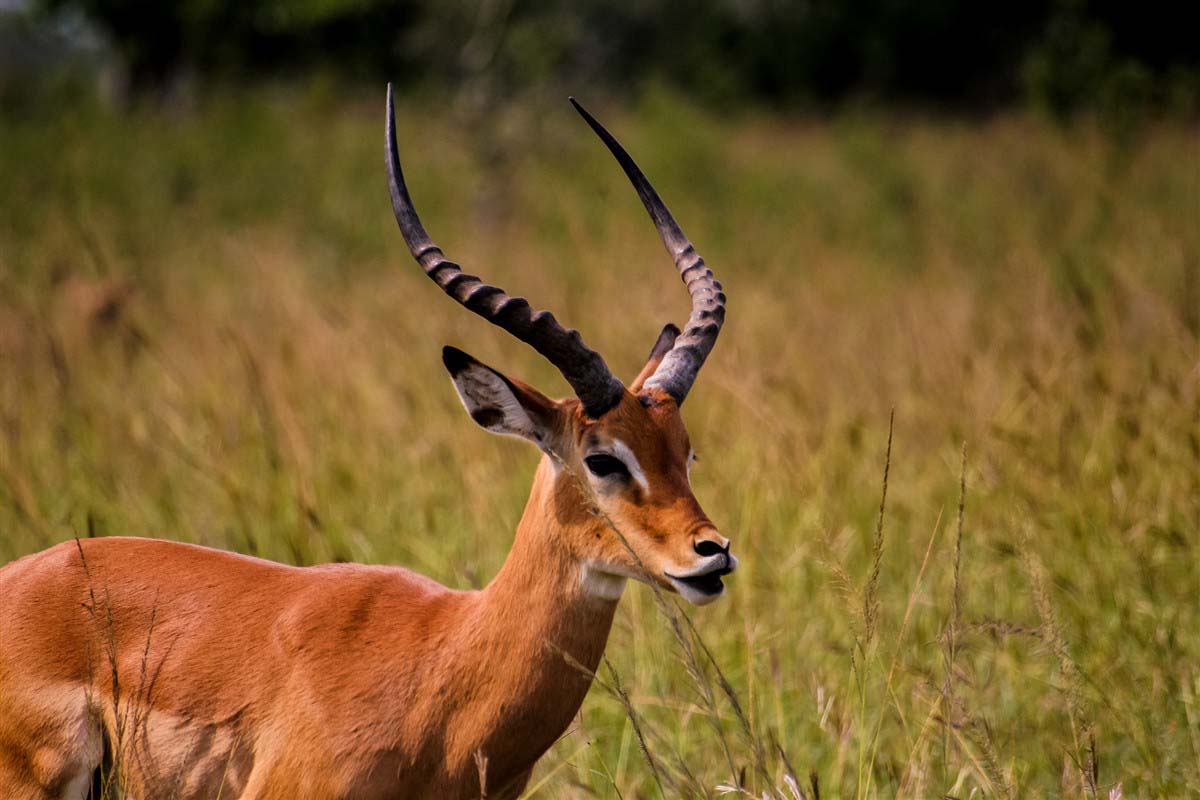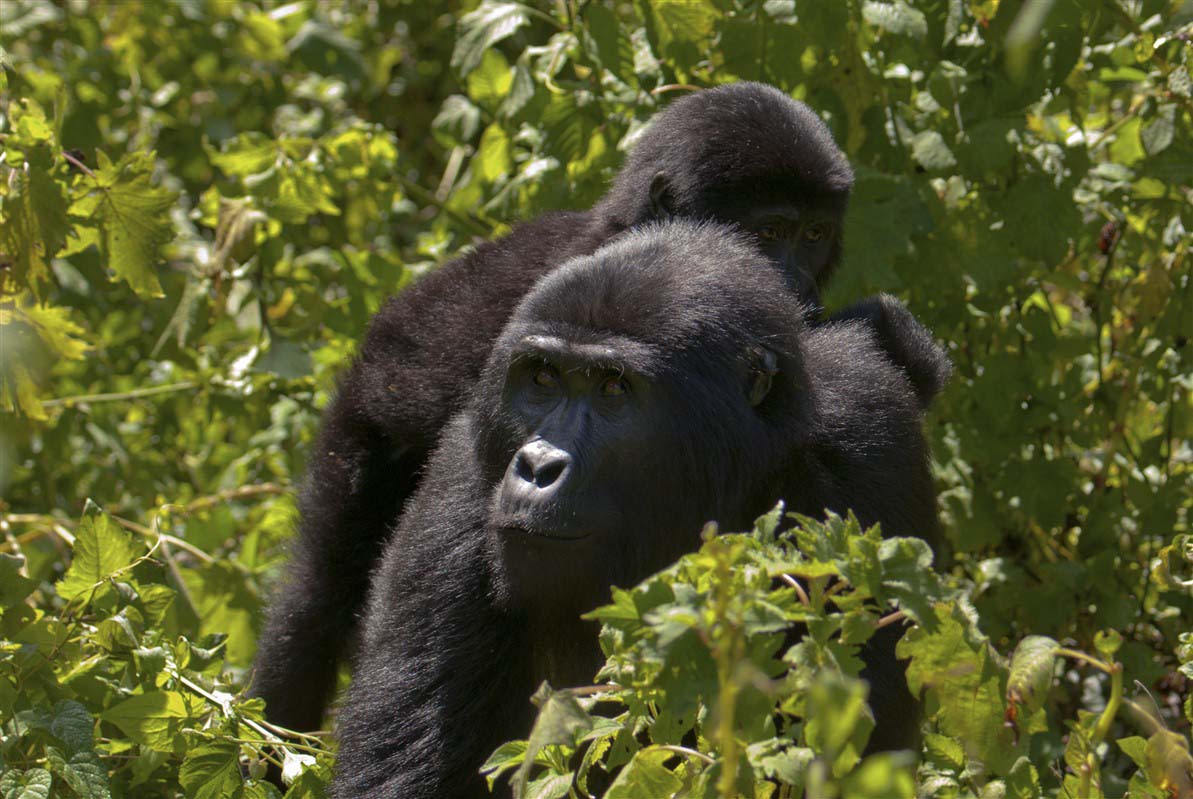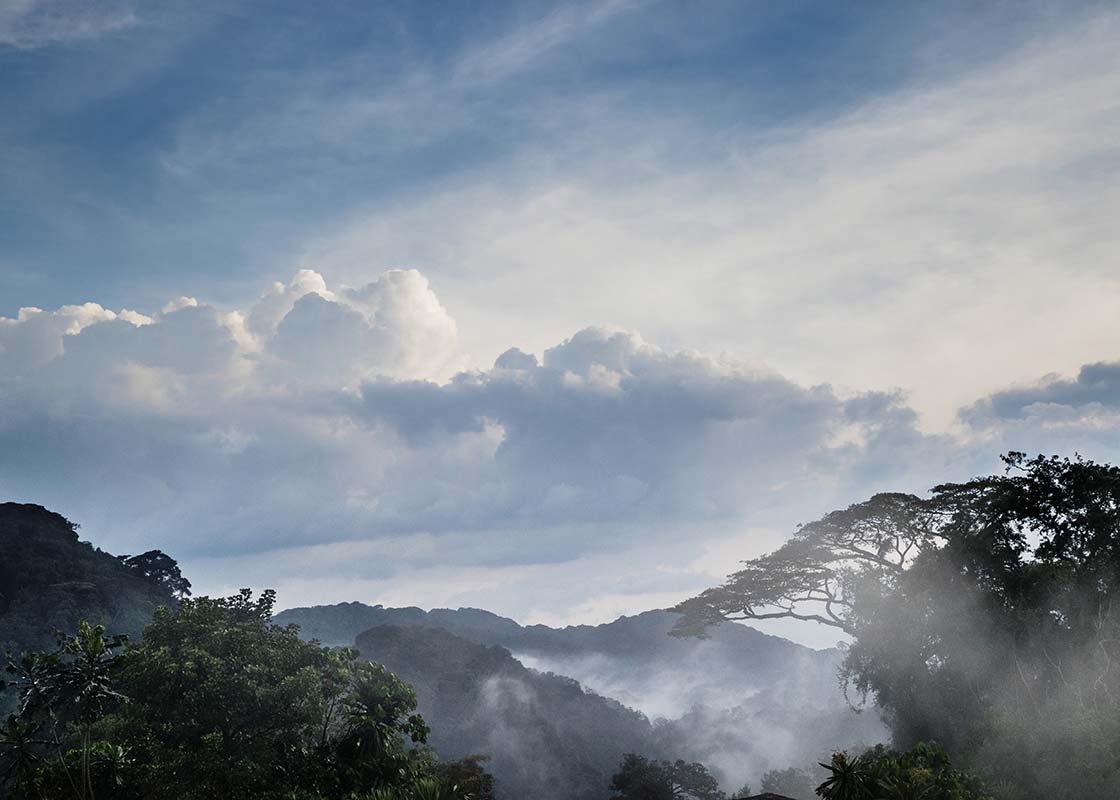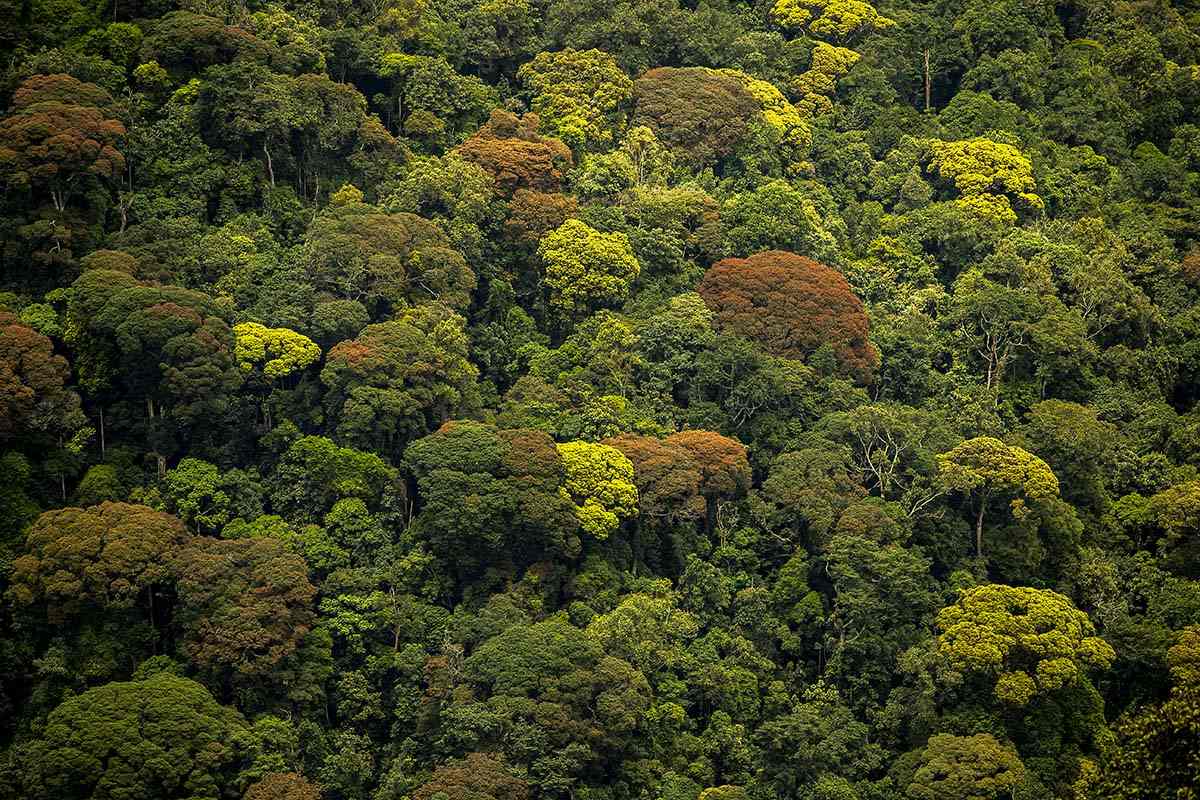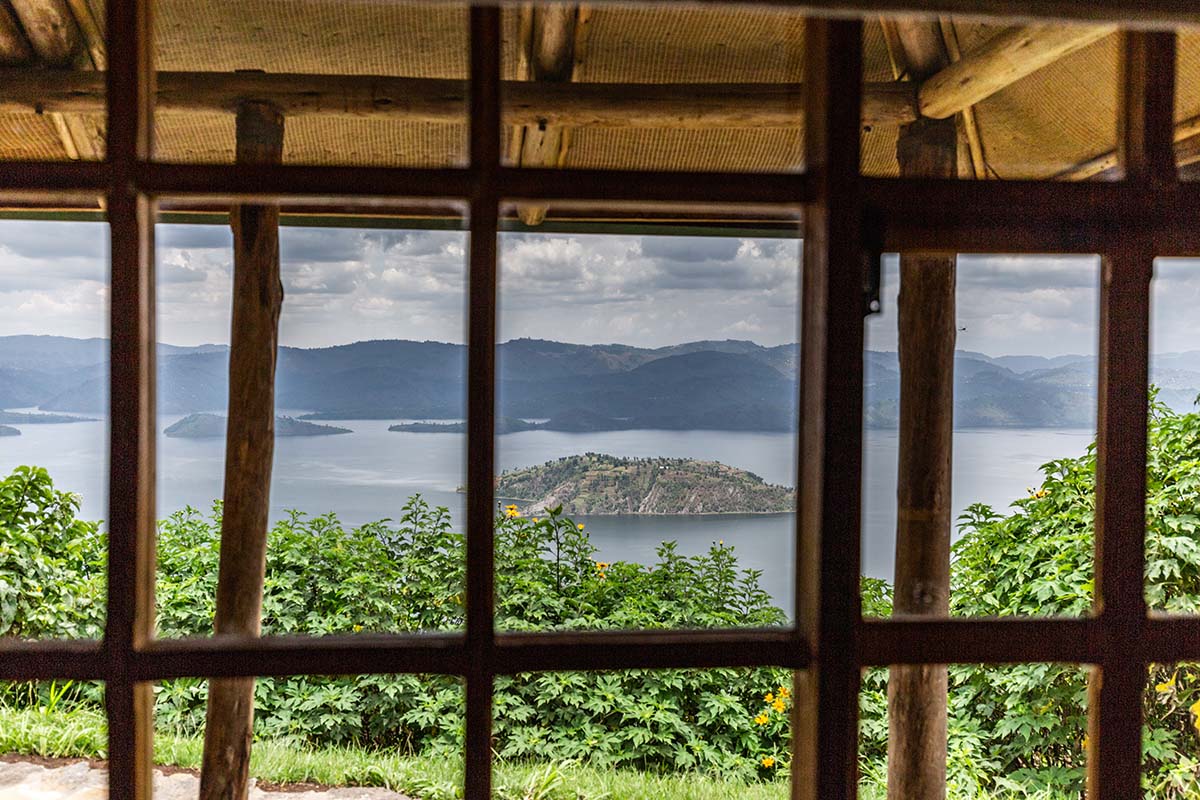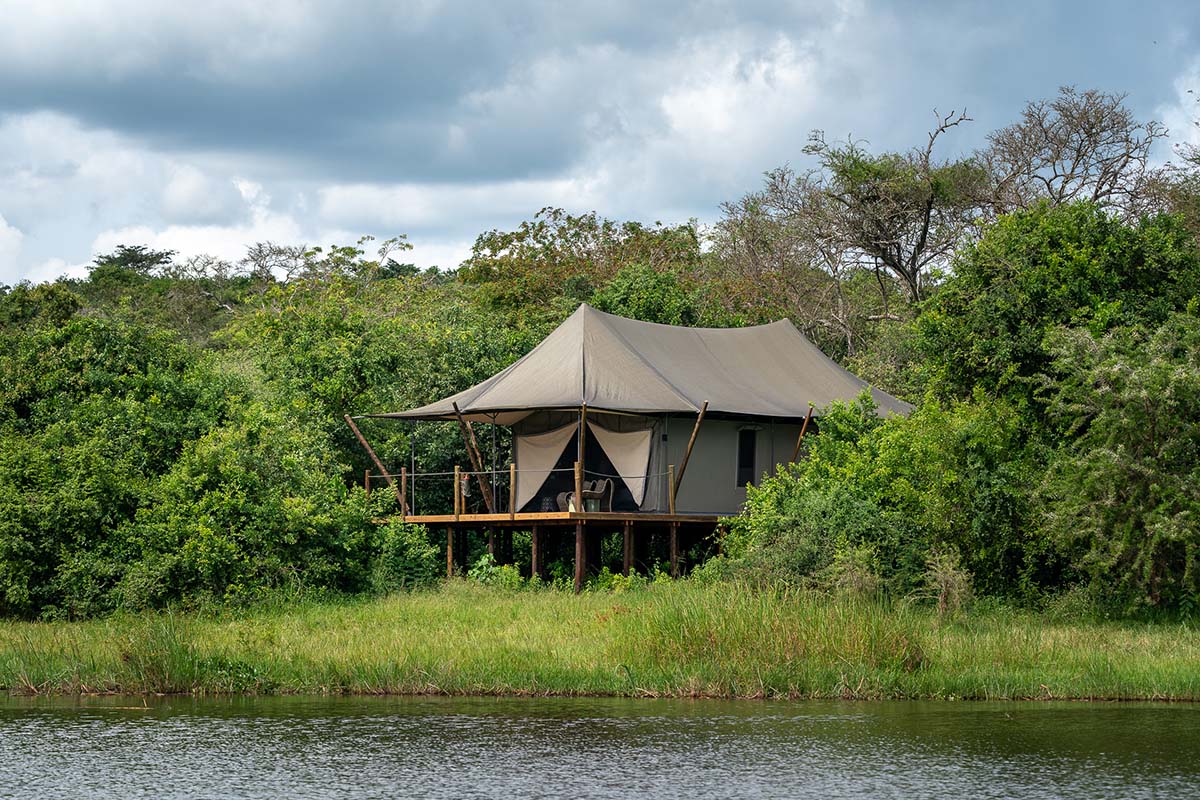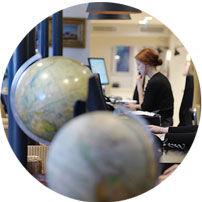 For the ultimate two-week Rwanda trip, combine all three of the country's big hitting national parks in one luxurious, wildlife filled adventure. Start with big game in Akagera, then chimpanzees in Nyungwe and finally, mountain gorillas in Volcanoes.
Route
Everything is 100% tailored to you
DAY 1
International Flight
Set off for the airport this afternoon and begin your trip to Rwanda with a direct overnight flight to Kigali. While you will not have to get off the plane, there is a quick re-fuelling stop in Brussels. Including this stop the overall journey time is just under 11 hours.
DAY 2
Kick Back in Kigali
After flying through the night you will land into Kigali early this morning to be met by a representative from our friendly Rwanda team. They will help you with your bags and then transfer you to your hotel in the heart of the city, where you can freshen up and have lunch. This afternoon is then yours to spend as you please, perhaps relaxing after the long flight, or stretching your legs on a little wander around the city.
DAY 3
Arrive at Akagera National Park
Today you head out of Kigali and to your first Rwandan luxury lodge, in the beautiful and lesser known Akagera National Park. To get there you will be transferred north-east for four-and-a-half hours by car. This drive will take you through a wonderful variety of landscapes from the bustling city of Kigali into the savannah plains of the park, and offers some great views.
When you arrive it should be just about lunch time, so settle into your room and then spend a few hours over a leisurely meal. Later this afternoon, set off on the evening game drive to get your first glimpse of some of Rwanda's extraordinary wildlife. Look out for giraffes, leopards, lions, black rhinos, hyenas and zebras, among more.
DAYS 4 & 5
Adventuring in Akagera
The next two days will be spent waking up in your luxurious lodge surroundings and venturing out to look for wildlife and explore the stunning National Park. There are a range of activities on offer in the area and we suggest you mix up the standard game drives with boat safaris on Lake Rwanyakazinga, guided walking safaris which enable you to get much closer to the bush, and even dedicated fishing or birding excursions. Akagera borders Tanzania so is home to some of the most beautiful scenery over the open plains, with woodlands and lakes. Plus, it has been built with the aim of supporting conservation and community empowerment in the area so you can be sure you're travelling responsibly.
Since Akagera is a relatively unexplored region of Rwanda, you'll have wildlife sightings to yourself and uninterrupted views across the plains. Meals will be similarly scenic, enjoyed from the comfort of your lodge and with a pretty lakeside setting.
After breakfast this morning it's sadly time to leave Akagera behind and head back to Kigali. Ideally there should be time for one last morning game drive or walk before you go. When you arrive in Kigali you will be taken to your hotel to check in and have lunch. This afternoon we then suggest spending some time exploring the city with an expert local guide. As well as visiting the lively local markets and interesting museums, your guide will also make sure you spend time at the Genocide Memorial. This is a stark reminder of Rwanda's sad and troubled past, and highlights how far it has come as a country now.
After your stopover back in Kigali, today you head for another of Rwanda's beautiful National Parks - Nyungwe - showcasing the country's incredible natural beauty. After breakfast you will be transferred to Kigali airport in time for a domestic flight to Kamembe airport. The flight time should be less than an hour so you'll be there before you know it. At Kamembe, a driver will be waiting to transfer you to your lodge in the heart of the park.
Upon arrival, settle in and enjoy lunch. This afternoon we have arranged for you to get your first proper experience of the rainforest, on a guided canopy walk. Built nearly 200 feet up in the treetops, this hanging wooden bridge offers a unique and spectacular viewpoint of the rainforest's flora and fauna, and your guide will be able to introduce you to different species as you walk. Afterwards, head back to the lodge for dinner.
Another day in Rwanda calls for another extraordinary wildlife experience, this time trekking to spot chimpanzees. Rise early for the best chance of seeing these beautiful creatures at their most active. With an expert guide leading the way, venture deep into the heart of the forest, traversing leafy, mountainous terrain until you find a group of chimps. Once you find them, spend time simply watching quietly as they dash through the foliage, hooting and playing as they go. It's a truly memorable experience seeing chimpanzees in the wild and we're sure you'll head back to your lodge on a high.
This afternoon you have the afternoon to spend as you please, in the comfort of your luxury lodge surroundings. To learn more about the people living in the area (as well as its wildlife) we recommend visiting a neighbouring tea plantation. While watching the production process and sampling some tea for yourself, learn more about the importance of one of the region's biggest industries.
For your last day in Nyungwe we have organised for you to head back into the rainforest, this time to go in search of colobus monkeys. Since Nyungwe is one of the best places in all of East Africa for primate viewing potential, you might even spot other monkeys (such as the rare L'Hoests's monkeys) during the trek too. Keep your eyes peeled and your cameras ready.
After lunch back at your lodge the afternoon is again yours to spend as you please. You might like to take a yoga class in the peaceful grounds of the lodge, go on a guided nature walk in the lodge outskirts, or learn more about the local produce with a tour of the chef's garden. There are so many wonderful activities to choose from. Tonight, tuck into a gourmet dinner and take in the views on your last night in Nyungwe.
DAY 10
To Volcanoes National Park
The last leg of your Rwandan tour begins today as you travel north from Nyungwe to the stunning Volcanoes National Park. To get there you will fly back to Kigali where you will be met by a friendly driver who will transfer you by car to the mountainous Volcanoes National Park, which should take around two-and-a-half hours.
When you arrive at your lodge, you should just be in time for a gentle stroll around the lodge grounds to get accustomed to your new home before you tuck into some dinner.
DAY 11
Mountain Gorilla Trekking
We're sure today will be the highlight of many of your trips as we will have secured you a sought-after gorilla trekking permit. Wake up early to make the most of the experience and then travel to the park entrance, where you will set off with your expert guide who knows each gorilla individually to go in search of one of the habituated families. There are 12 groups living within the dense Volcanoes forest and your guide will be allocated one group which your small group of trekkers will then spend several hours searching for. When you find the gorillas, the trekking will all seem worth it as you enjoy the privileged opportunity to watch them in their natural habitat. Make sure you get some photographs to commemorate this once-in-a-lifetime experience.
Following an hour with the gorillas, head back to your lodge for lunch. Then, with likely tired legs, we suggest spending this afternoon enjoying a less active pursuit or a massage. You might like to visit one of the local communities to spend time learning more about the struggle the locals face in sustaining their farming lifestyle while protecting the mountain gorilla's habitat, and about the great work being done to help them achieve that.
DAY 12
From Gorillas to Golden Monkeys
To end your trip on a high we suggest starting your last full day with a final trek, this time going in search of Rwanda's extraordinary golden monkeys. Endemic to the Virunga mountain range which Volcanoes National Park covers, golden monkeys can be found in groups of around 30 or more here. Because of their big numbers and colourful coats these monkeys are much easier to spot than gorillas and you should find them fairly quickly. When you do, watch them swing through the trees and nibble bamboo shoots before you retire back to the luxury of your lodge for lunch.
Later, once you've refuelled, perhaps head out again to visit the resting place of celebrated gorilla researcher Dian Fossey. With a guide to lead the way you'll ensure you don't get lost and can learn lots more about her amazing work as you walk. Finally, after a busy trip, sit and enjoy a leisurely dinner and reflect on all that you've seen and done.
Sadly it's time to say goodbye to your luxury lodge lifestyle, and the amazing wildlife that surrounds it, as you begin the journey back home. After breakfast you will be driven back to Kigali airport which should take around two and a half hours. From there, check-in for and board your afternoon flight back to the UK. To save you spending another night in Kigali, the flight home isn't direct, but should still only take around 16 hours.
After flying through the night you will land back in the UK early this morning.
A Rough Idea of Price
Dependent on season, accommodation and activities
The estimated cost for this trip is £10,915 to £13,095 per person. The final cost of the trip depends on the way we tailor it especially for you. The final cost varies according to several factors, which include the level of service, length of trip and advance booking time. The exact price will be provided on your personalised quote. The average price for this trip is £10,915 per person.
A few of the benefits of travelling with us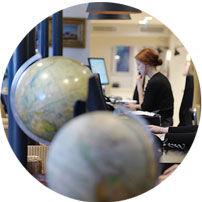 Get in touch
Our experts have the inside track on the destinations they sell and will tailor-make a holiday to your unique requirements.
Contact one of our Rwanda specialists