Itinerary Highlights
Swim in Lake Kivu, meet gorillas from Volcano Park and roam Kigali - the stunning capital
A private driver-guide in a 4x4: a comfortable road trip
Guided tour and dinner with a view of Kigali and see gorillas and chimpanzees in their natural habitat, it's all included in the itinerary
Priority when passing through customs, access to our Concierge and all our usual additional services
Contact one of our Rwanda specialists + 44 (0) 20 3958 6120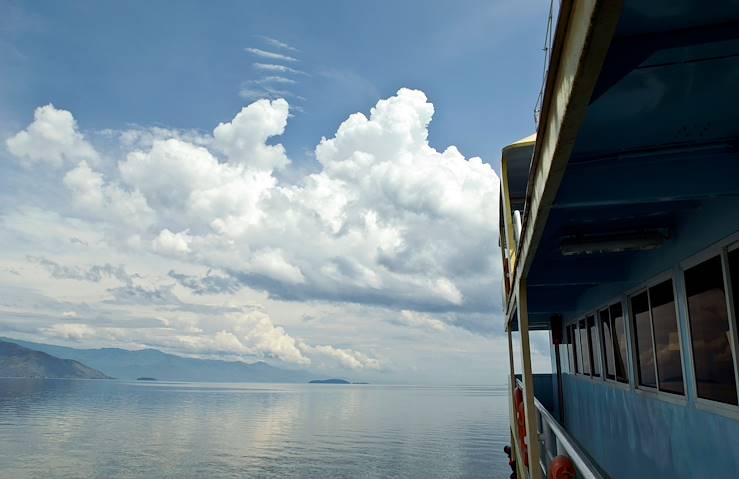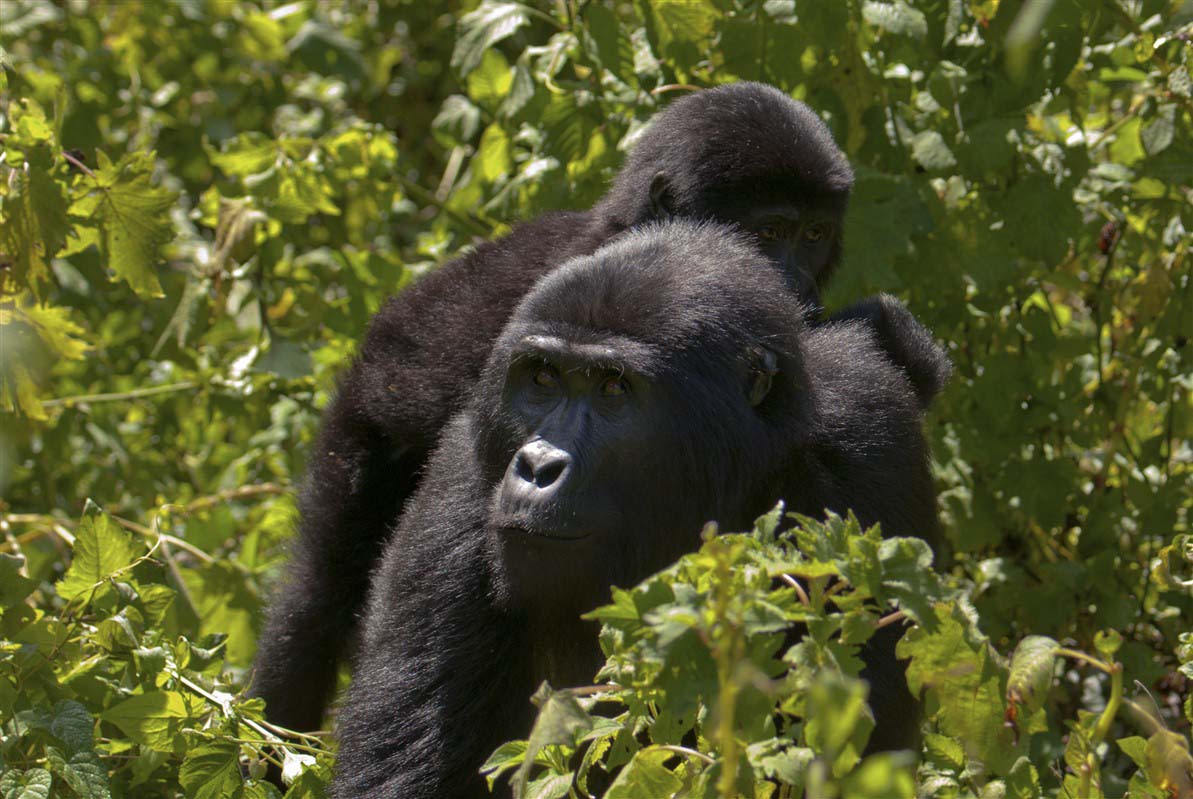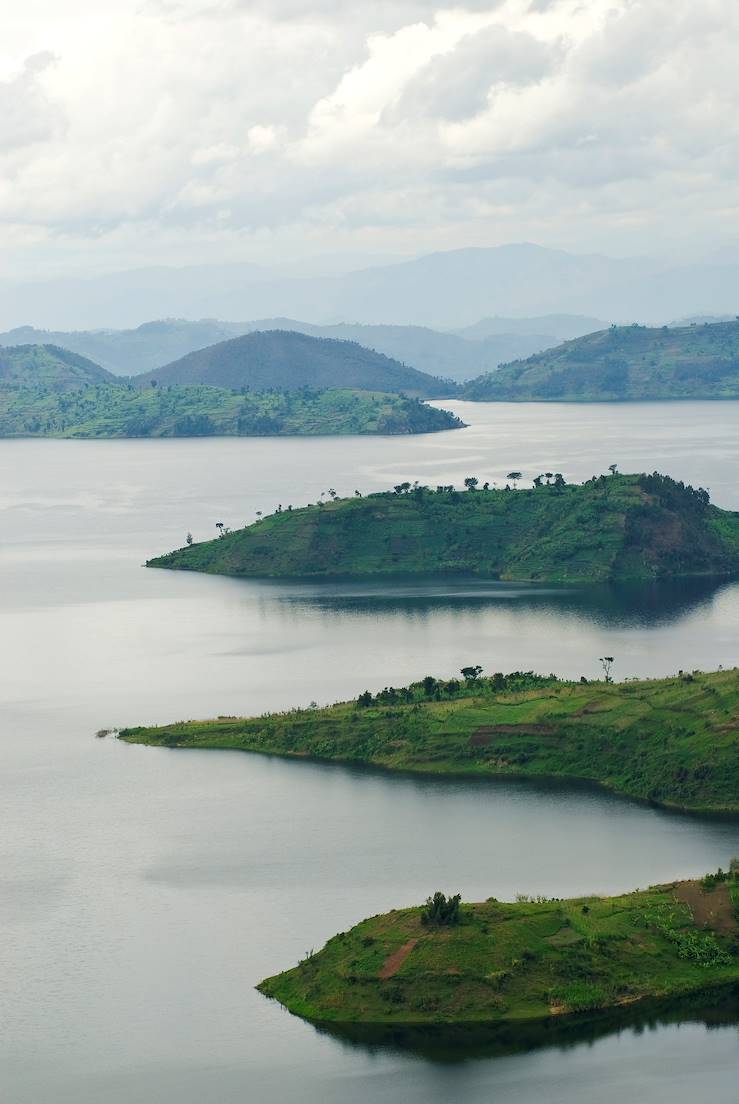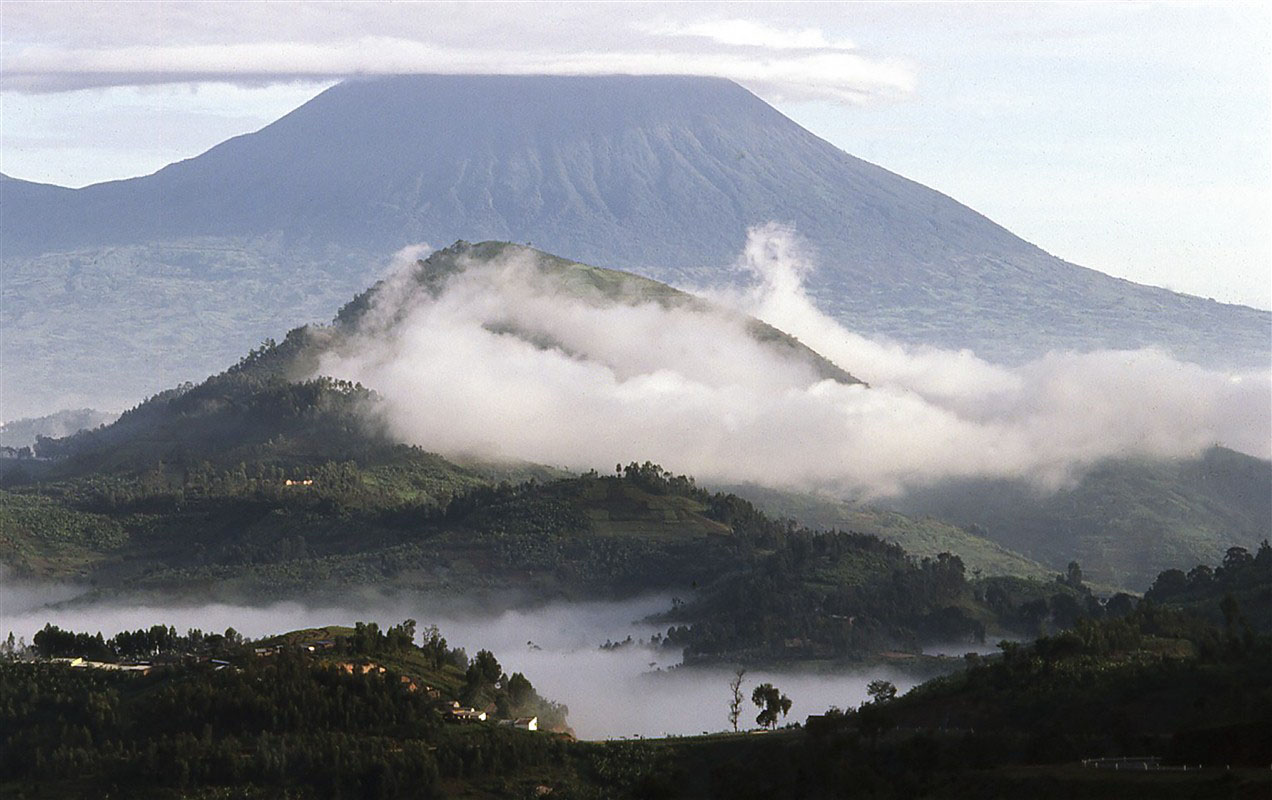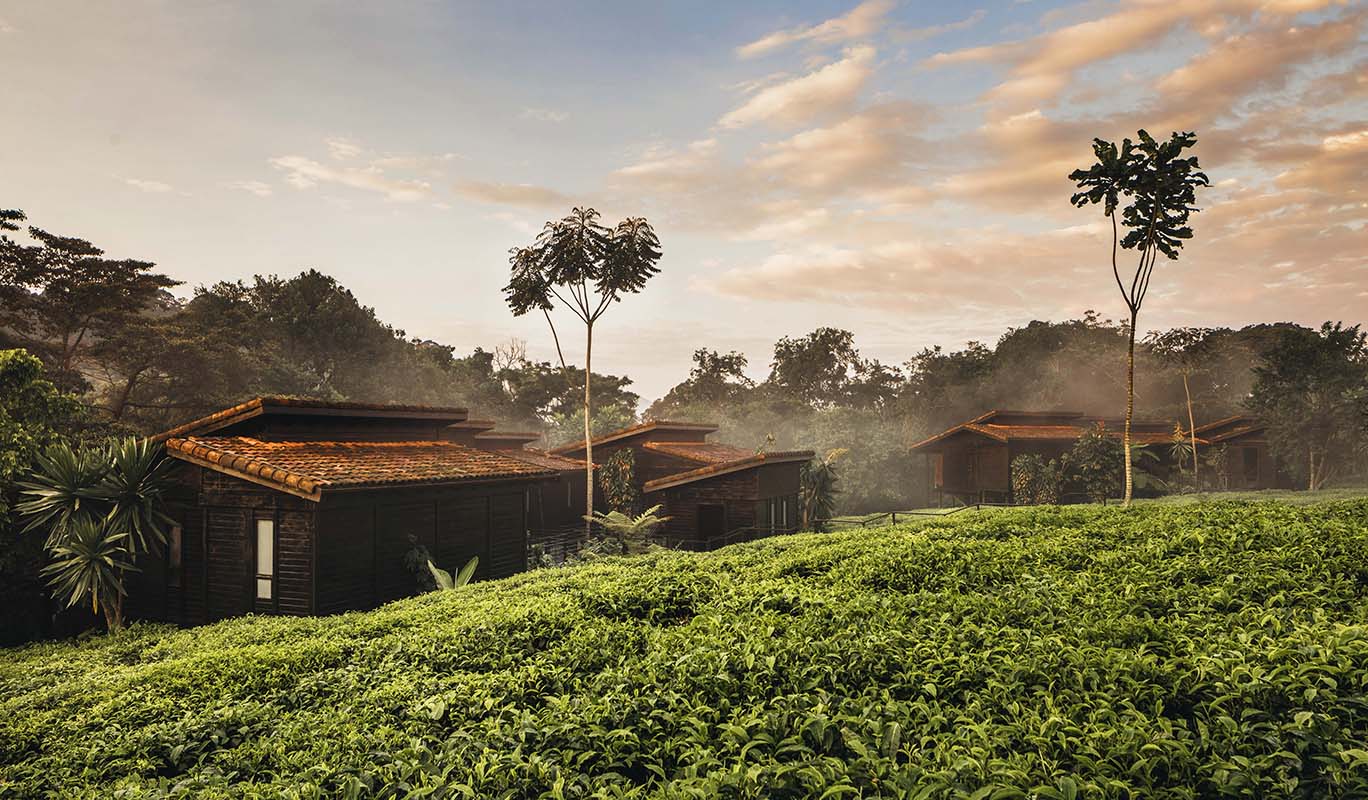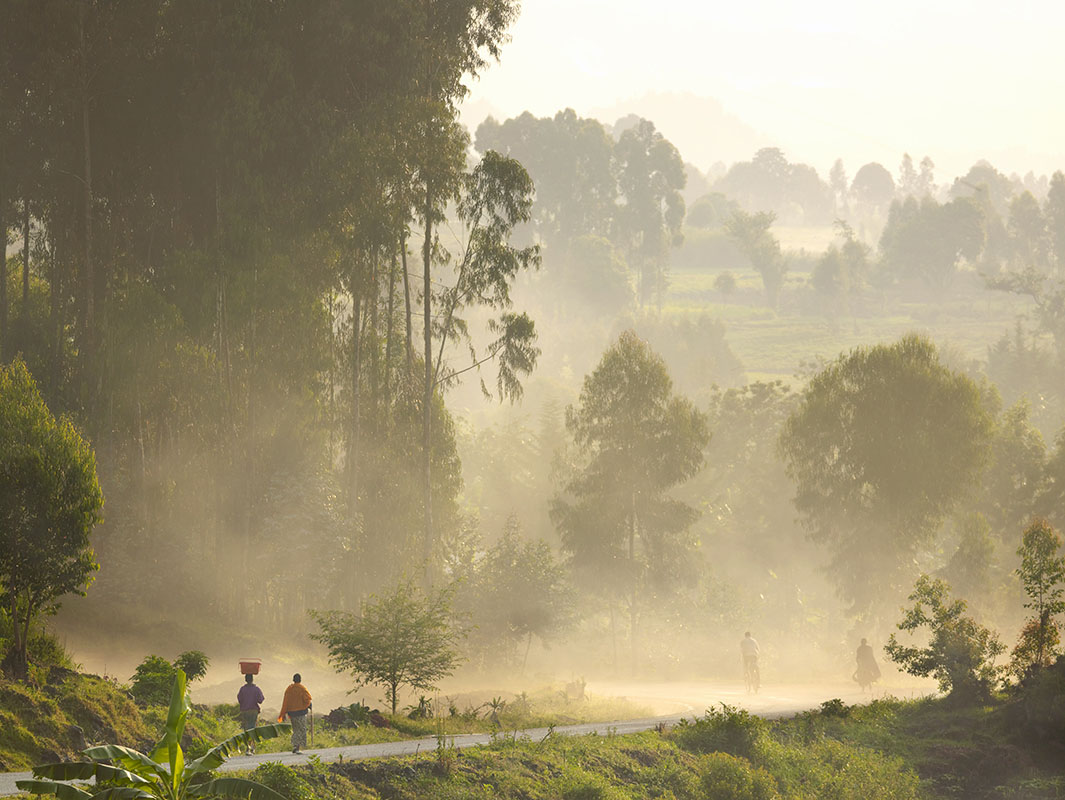 Rwanda: then and now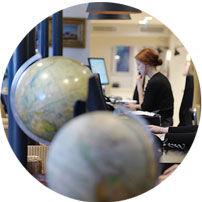 Talking about Rwanda instantly brings back painful memories and this trip won't brush the past under the carpet. To understand the country today we need to familiarise ourselves with its history and wounds. We also need to familiarise ourselves with
Kigali
, the intriguing and modern gateway to our trip. Walk the streets with a private guide and discover the fabric markets and designer shops. Only then can it truly be understood why fashion is booming and why the city is a model student. Hit the road
with your driver-guide
. Firstly, head south-west, to the
Nyungwe Forest
with its captivating chimpanzees, and then to the wonderful lodge where you make a stopover. Then head to
Lake Kivu
, the gateway to the Democratic Republic of the Congo.
Swimming and walking are on the agenda: the basics for a rest near the water. Then we head higher, towards the north and the border that straddles the DRC and Uganda. The majestic volcanoes sometimes struggle to emerge from mists, their dense forests are home to the last mountain gorillas. There is something heart-warming about seeing them in a national park that is dedicated to their protection. The lodge is a string of elegant cabins.


The trip
A warm welcome at the airport, priority clearance through customs formalities and a private transfer to the hotel: everything is thought of to ensure that your arrival in Rwanda goes as smoothly as possible. The places you will be staying have been carefully chosen for their fineness and special, natural surroundings. On the way, the driver will be your guide as well. Take a seat at the back of the 4x4, wind the window down and look out at the panorama without a care in the world. In the forest, you are in the hands of the rangers. Experienced and passionate, they take you to meet gorillas and chimpanzees. Finally, for everything else you have the contact details of our local Concierge who can be reached throughout the journey.
Route
Everything is 100% tailored to you
DAY 1
INTERNATIONAL FLIGHT TO KIGALI
Evening arrival in Kigali. Priority clearance through police and customs then a private transfer for a two-night stay in a lovely little hotel in Kigali that has been constructed from recycled teak wood, bamboo and fine stone. It consists of only ten bungalows with solar panelled roofs, four-poster beds and palm fans which gently rotate. Outside there's a lovely blue-green swimming pool surrounded by white parasols and lush plants: banana leaves, ferns, clematis and palm leaves.
Just like the country, Kigali is hilly. There are avenues formed of green landscaped spaces and covered by buildings of astonishing modernity. The Rwandan capital is fascinating and intriguing.
Included in the itinerary: Discover the city's Rwandan fashion. Kigali is packed with creative workshops and boutiques, dedicated to promoting African identity with a modern twist. This private tour offers a glimpse into the world of 'Made in Rwanda', from fabric markets to Rwandan fashion and design shops. In the evening, dinner will be in a trendy location in Kigali: Afro-chic decor, jazzy music, and good cuisine.
Optional - A day learning about the 1994 Tutsi genocide with a knowledgeable guide: a visit to the memorials outside of Kigali, a visit to President Habyarimana's former home and a stroll in the city past various landmarks.
DAY 3
KIGALI - NYUNGWE FOREST
Meet your driver guide who you will be sharing the road with for the next six days. The driver guide's comfortable 4x4 is the best way to explore Rwanda's roads. Head south-west to Nyungwe Forest National Park and spend two nights in a beautiful lodge. Its natural setting is jaw-dropping: it's as if the lodge has been laid on a thread between the hills of the forest reserve and tea plantations that have been cracked by the property's winding trails. Take time for a stroll and explore the area.
Included in the itinerary - Follow in the footsteps of chimpanzees , accompanied by a ranger. Not fierce, but completely wild, monkeys have inhabited this primary forest since the start of time. They have a complex social system that fascinates international specialists and curious visitors. It is difficult not to be in awe of their handling of tools or their sometimes human-like behaviour. When looking for the group of monkeys, you can lose your gaze in the shaded green forest, where more than 200 species of trees and plants shape the horizon.
Optional - Explore Nyungwe Forest via its bridges hanging above the canopy. Over 600ft long and over 160ft above the ground: dizzying proportions and magnificent sight.
DAY 5
NYUNGWE FOREST - GISENYI
Head north along the banks of Lake Kivu to the northern tip at the Congolese border. Overnight accommodation on the Gisenyi coast with a lovely and panoramic view of the water. Comfort awaits with a tennis court, a fitness room and a swimming pool. The sixth largest lake on the continent provides the opportunity to go swimming and sailing. Any remaining free time can be spent exploring the area.
DAY 6
GISENYI - VOLCANOES NATIONAL PARK
On route to Volcanoes National Park, we leave the shores of the lake and continue north to explore. At the crossroad between the Democratic Republic of Congo, Uganda and Rwanda, this vast protected territory is home to five of the eight volcanoes that form the Virunga Range: Karisimbi, Visoke, Muhabura, Gahinga and Sabyinyo. Culminating at between 6,500ft and 13,100ft above sea level, these giants volcanoes cover a lush forest landscape and are inhabited by the last mountain gorillas in the world. In the heart of this sumptuous natural setting, pack your bags for two nights in an exceptional lodge whose decoration blends traditional elements and contemporary comfort.
DAY 7
VOLCANOES NATIONAL PARK
Included in the itinerary - See the gorillas, accompanied by an experienced ranger. Only the rangers know the habits of our distant cousins, it's prohibited to venture into the forest without being accompanied by a specialist. It's not easy to get close to Virunga's mountain gorillas as they are always moving around looking for leaves, stems and other roots which make up their daily diet. It's not unusual to spend more than two hours on the fairly steep slopes of the national park before coming across a group. Your patience will be more than rewarded as you spend time with the largest primates of all.
DAYS 8 & 9
VOLCANOES NATIONAL PARK - KIGALI - RETURN FLIGHT
Return to Kigali and catch the flight home. Overnight flight, arriving the next day.
A la carte
Views of Nyungwe Forest from the treetop canopy

In south-west Rwanda lies the Nyungwe Forest National Park, a vast, undisturbed and dense rainforest that has been protected since 2004. A hanging bridge crosses over the canopy, it's over 600ft long and 160ft high. This dizzying platform overlooks a deep valley. This is, of course, an opportunity to see primates and birds that usually hide in the treetops. If you suffer from vertigo, sit this one out!
Optional
A Rough Idea of Price
Dependent on season, accommodation and activities
The estimated cost for this trip is £10,800 to £13,800 per person. and the final cost of the trip depends on the way we tailor it especially for you. The final cost will vary according to several factors, including the level of service, length of trip and advance booking time. The exact price will be shown on your personalised quote. The average price for this trip is £12100 per person.
Return flight to Kigali with a scheduled airline
Airline taxes and fuel surcharge
Welcome on arrival at Kigali Airport and priority clearance through police and customs
Private airport transfers
Six days in the 4x4 and with a driver-guide
Two-night stay in Kigali in a double room with breakfast
Two-night stay in Nyungwe Forest National Park in a double room, full board, and activities included
Overnight stay in Gisenyi in a double suite, half board
Two-night stay in the Volcanoes National Park in a double villa, full board
Half a day to discover Kigali's fashion scene with a private guide
Dinner in a restaurant with a view of Kigali, private transfers included
See chimpanzees in Nyungwe Forest National Park with a ranger
See gorillas in Volcano National Park with a ranger
Our local Concierge service
A few of the benefits of travelling with us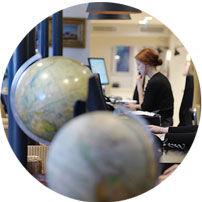 Get in touch
Our experts have the inside track on the destinations they sell and will tailor-make a holiday to your unique requirements.
Contact one of our Rwanda specialists