After plenty of action-packed early starts on safari, the next four days are yours to enjoy some good old-fashioned honeymoon R&R. The long stretch of white sandy shore, large swimming pool and laidback atmosphere should create the perfect post-wedding beach break.
To make sure you never get bored, sprinkle the stay with a few activities, including kayaking, a gourmet beach picnic, stand-up paddle boarding and a guided walk around Lake Mamoli - complete with sundowners, naturally. You'll also want to make sure you take advantage of the complimentary massage for honeymooners offered to you in the spa, and by night, learn a little more about astronomy with some stargazing.
During the stay we will also organise for you to enjoy a guided snorkelling trip which will see you head out on a boat to the nearby pinnacle reef. Here you'll be able to swim with bottlenose dolphins and gaze down on all manner of colourful coral and marine life as you swim.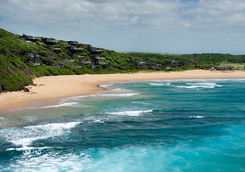 Additional Activities
If you're visiting between November and February make sure you join a turtle walk to see hundreds of turtles heading up the beach to lay their eggs.