Big Game and Beach Honeymoon Bliss
Who: Couples and Honeymoons
From £4,720pp
KwaZulu-Natal & Mozambique Honeymoon
Pair South Africa's rugged KwaZulu Natal region, which is famous for its Zulu heritage and Big Five safari, with southern Mozambique's white sandy beaches and clear blue waters on this perfect 12-day honeymoon.
Why Book with Original Travel?
Just a few of the extra touches that come as standard on an Original Travel holiday...
See More
All of the holidays we create are completely tailor-made to you
This sample itinerary is intended to give you a flavour of what we can do
Day 1:

International Flight
After all that wedmin and the magical madness of the wedding itself you can finally relax and enjoy married life as the honeymoon begins.
Head to the airport in London this afternoon for your direct, overnight flight to Durban, which will take around 12 hours.
Day 2:

Arrive in KwaZulu-Natal
You will land in Durban in the early-morning to be met by one of our friendly local team for the three-hour road transfer to your lodge on Thanda Safari Reserve in time for brunch.
Settle in to your vast suite - complete with its own private plunge pool - and catch up on some rest after the journey.
Tea will be served mid-afternoon and, if you are itching to get out on safari then there will be a 4x4 vehicle waiting to take you out straight after tea to introduce you to some of the reserve's resident wildlife.

Sundowner drinks are a hugely enjoyable part of the afternoon safari experience. Returning to the lodge, enjoy a long leisurely dinner to celebrate the first night of your honeymoon, best enjoyed under a blanket of stars.
Wake up early this morning to head out on a game drive in search of some of the reserve's Big Five (elephants, rhinos, buffaloes, lions and leopards). With 35,000 acres of reserve to explore you won't be short on space and your expert local Zulu guide and tracker will both know the area like the back of their hands, enabling them to seek out the best sightings for you.
After the drive you'll return to your lodge for breakfast and a few hours R&R. Enjoy a complimentary 45-minute couples spa treatment to really help sooth any aches leftover from the flight.
This evening you'll want to go out on another game drive to get a different perspective on the reserve as dusk falls. En route back to camp after some (hopefully) great wildlife sightings you will stop for sundowners and can reflect on an epic first full day on safari before dinner at your lodge.
Additional Activities
Learn more about the rich Zulu heritage of the area on a visit to a traditional homestead where you'll meet a traditional sangoma (healer), visit some of the local battlefields where legendary King Shaka fought, and see first-hand the benefits of the local conservation work by visiting Thanda's Star for Life school.
Day 4:

Traditional Thanda
Start today a little differently with a guided bushwalk. Accompanied by your guide you'll really get up close and personal with the landscape and its wild inhabitants on foot, and all while learning more about the ancient Zulu stories for which the region is famous.
After the walk, return to your lodge and enjoy the tranquillity of your private deck and the stunning views. Lunch will then be served and following that you will head out on a special private game drive. Since it's your honeymoon we have arranged for you to receive a traditional Zulu blessing beneath the romantic marula tree mid game drive. Of course, there will also be opportunity to spot the likes of lions, cheetahs, giraffes and elephants.
When you return to your room after dinner there will be a scented bath waiting for you to continue the romantic theme.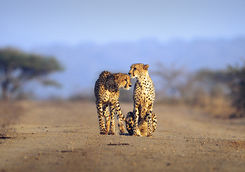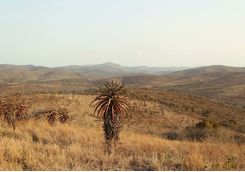 You'll be familiar with the safari routine by now and can choose whether you'd prefer to start the day with a bush walk or game drive - you might even like to forgo both and simply enjoy a lie in and the chance to wake up to the sounds of the bush. Make sure you tell your guide if there are any animals you are itching to see more of or if there are any species you haven't spotted yet and they will make sure to try and find what you're looking for.
This evening, after the afternoon game drive, return to your lodge to find a private moon-lit dinner has been set up for you. This is the perfect romantic conclusion to your safari and should give you the chance to reflect on all you've seen while looking forward to the next section of the trip in Mozambique.
Additional Activities
Opt to do something a little different and help the conservation effort by joining the reserve's dedicated rhino monitors to track and record data on their wellbeing
Say goodbye to your safari home this morning and meet your driver for a private three-hour transfer north to the border with Mozambique.
Here you will be assisted through immigration and will then meet another driver on the other side of the border. From here it's just a 45-minute transfer to your beautiful beach base.
After you have checked in and dumped the bags, head to the beach and sink your toes into the sand while you sip on a cool sundowner cocktail in the beach bar. Dinner can then be enjoyed overlooking the ocean.
After plenty of action-packed early starts on safari, the next four days are yours to enjoy some good old-fashioned honeymoon R&R. The long stretch of white sandy shore, large swimming pool and laidback atmosphere should create the perfect post-wedding beach break.
To make sure you never get bored, sprinkle the stay with a few activities, including kayaking, a gourmet beach picnic, stand-up paddle boarding and a guided walk around Lake Mamoli - complete with sundowners, naturally. You'll also want to make sure you take advantage of the complimentary massage for honeymooners offered to you in the spa, and by night, learn a little more about astronomy with some stargazing.
During the stay we will also organise for you to enjoy a guided snorkelling trip which will see you head out on a boat to the nearby pinnacle reef. Here you'll be able to swim with bottlenose dolphins and gaze down on all manner of colourful coral and marine life as you swim.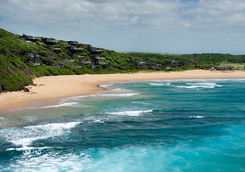 Additional Activities
If you're visiting between November and February make sure you join a turtle walk to see hundreds of turtles heading up the beach to lay their eggs.
Sadly the time has come to head home today. Hopefully you'll be leaving feeling sun kissed, de-stressed and with plenty of memories and photographs to remember your honeymoon by.
Start the journey back to the UK with a hour-and-a-half transfer to Maputo Airport, where you then catch a mid-afternoon and hour long flight to Johannesburg. The overnight flight back to London leaves this evening and takes around 11 hours.
After flying through the night you'll arrive in London early this morning.
All of the holidays we create are completely tailor-made to you
This sample itinerary is intended to give you a flavour of what we can do
A Rough Idea of Price
While all of our holidays are completely tailor-made and prices will vary based on things like time of year and level of accommodation, we want to give you as good an idea of how much this itinerary will cost. The below prices are based on two people sharing.
This Itinerary
If you would like to book the itinerary mentioned above, with economy flights, during mid-season and staying in our preferred room category at our preferred hotels.
Bare Necessities
If you would like to pare back the above itinerary by travelling at non-peak times, staying in a standard room and removing some or all of the guided activities.
Bells & Whistles
If you are looking for something extra special, we can discuss with you upgrading your accommodation, flights or activities.
Isabel, Matt and Charlotte C are our experts for this itinerary and as seasoned travellers they have the inside track on the most memorable adventures.