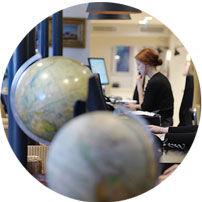 Escape the hordes of keen animal spotters on an unforgettable trip to one of Africa's best-kept safari spots; Mozambique. Home to wonderfully remote regions and savannahs less trodden, Mozambique safari holidays are a must for those seeking an off-grid adventure. Get a taste of the wild while exploring Niassa Game Reserve, a protected area which is twice the size of the Kruger (but with only a fraction of the visitors) and home to an abundance of elephants, birds and more. Or find yourself marvelling at herds of sable antelopes and hartebeest as they roam through Gorongosa National Park in central Mozambique,
largely considered one of the most beautiful wildlife parks in the world. Over on the coast, swap binoculars for a dive mask on an underwater snorkelling or scuba safari, followed by a walk along the sun-drenched shoreline of Tofo Beach with its fishing villages, quaint hotels and plenty of lounging opportunities. Whether you're after off-grid safaris or aquatic delights along the coastline, you'll no doubt find yourself falling for this safari-goers mecca.
Safari Holidays by country
Other Mozambique collections
A few of the benefits of travelling with us
What our clients say about us
Mozambique customer reviews (1 reviews)
4/5
White Pearl was very special. The staff were outstanding and did a lot to make our stay a pleasure. We loved having breakfast on our verandah and choosing a different private spot for dinner each night. We thought the cottage we were in was ideal as it gave us easy access to the beach but still felt very private.

Thank you again for all your help and personal attention. We are hoping to contact you again one day for that trip to Malawi I so wanted to do!
Mozambique Guide
Practical advice, client testimonials and inspiration to help you prepare for your holiday
Contact one of our Mozambique specialists