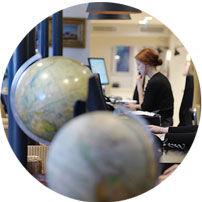 Thanks to the country's long swathes of unspoiled coastline, warm turquoise waters and pristine coral reef, Mozambique honeymoons are a superb option. Add to this 'beach' the 'bush' safari element in South Africa or Tanzania, and Mozambique nails the ultimate 'bush and beach' honeymoon. When it comes to beaches, Mozambique is the go-to place, with palm fringed stretches running along the coast. The north and the south of the country both boast remote beaches, dotted with the odd luxury lodge here and there - some on their own private islands. Offshore, the waters around Mozambique offer superb diving
and have an abundance of marine life including turtles, manta rays, dolphins and even the endangered dugong; and whale sharks and humpback whales migrate along the Mozambique Channel between the mainland and Madagascar. There are also over 150 species of bird, including flamingos who visit the beaches at certain times of the year, and other activities include island hopping, riding and exploring the colonial towns with their colourful architecture. If that all sounds a little, well, active, then spend your Mozambique honeymoon lying by the lapping waters of the ocean doing precisely nothing.
Other Mozambique collections
A few of the benefits of travelling with us
What our clients say about us
Mozambique customer reviews (1 reviews)
4/5
White Pearl was very special. The staff were outstanding and did a lot to make our stay a pleasure. We loved having breakfast on our verandah and choosing a different private spot for dinner each night. We thought the cottage we were in was ideal as it gave us easy access to the beach but still felt very private.

Thank you again for all your help and personal attention. We are hoping to contact you again one day for that trip to Malawi I so wanted to do!
Mozambique Guide
Practical advice, client testimonials and inspiration to help you prepare for your holiday
Contact one of our Mozambique specialists