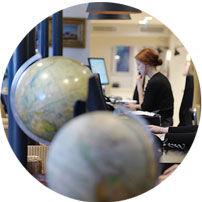 The remote beauty of the Quirimbas archipelago makes it one of the most wonderful places to visit on the East African coast. Unfortunately the terrorism situation at the moment means Northern Mozambique is off limits, but we very much hope that the situation will be resolved within the coming couple of years. With that in mind, we have kept the region on the website for you to see how special place this was, and will be again. Getting to the Quirimbas Archipelago may require a long journey by air, land and sea, but it is well, well worth the effort. In addition to idyllic beaches, the archipelago
contains mangrove forests and some of the richest coral reefs in the world. Over 350 species of reef fish have been recorded, and other marine species present include turtles, manta rays, whale sharks, humpback whales, and the endangered dugong. As well as world class snorkelling and diving, activities include sea kayaking, fishing and sailing trips on traditional dhows. Add in delicious fresh seafood and you have a great destination for a barefoot beach holiday. For a dose of culture amidst all the R&R and aquatic activities, Ibo Island also has a long and interesting history as a trading post, with the Chinese, Arabs and Portuguese all having left their mark.
Northern Mozambique & Quirimbas Archipelago Holiday Ideas
A few suggestions to get the holiday planning process started
Mozambique Regions
Discover more 100% tailor-made holiday ideas
A few of the benefits of travelling with us
What our clients say about us
Mozambique customer reviews (1 reviews)
4/5
White Pearl was very special. The staff were outstanding and did a lot to make our stay a pleasure. We loved having breakfast on our verandah and choosing a different private spot for dinner each night. We thought the cottage we were in was ideal as it gave us easy access to the beach but still felt very private.

Thank you again for all your help and personal attention. We are hoping to contact you again one day for that trip to Malawi I so wanted to do!
Mozambique Guide
Practical advice, client testimonials and inspiration to help you prepare for your holiday
Contact one of our Mozambique specialists