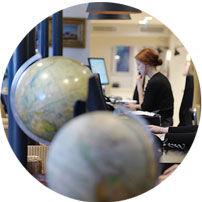 Sandwiched between Lake George and Lake Edward on the south west border of Uganda, Queen Elizabeth National Park is known for its varied topography, from bushy grassland to swampy vegetation, and the wonderfully diverse catalogue of wildlife that inhabits it, making for one of the most interesting safari landscapes in this part of Africa. Unsurprisingly, given its proximity to two of Uganda's Great Lakes and the Ishasha River,
Queen Elizabeth National Park isn't short on water and so is able to support a huge range of animals, including over 600 species of bird. On a Queen Elizabeth National Park safari you can track game via the traditional 4x4 route or mix things up a little by taking a scenic boat ride along the Kazinga Channel, which separates the park's two lakes. Additionally, the Queen Elizabeth Predator Project offers visitors the opportunity to work with expert trackers to locate and observe the behaviour of local lions and leopards. Getting involved in this important research work, while also experiencing some fantastic close-up sightings, is an incredibly memorable experience.
Regions Uganda
Discover more 100% tailor-made holiday ideas
A few of the benefits of travelling with us
Review
What our clients say about us
This is the first time we went on a trip with Original Travel, a specialist advisor who listens to our expectations, and really the feeling of being pampered from departure to arrival. The concierge service is so efficient that we quickly become addicted.
Uganda Guide
Practical advice, client testimonials and inspiration to help you prepare for your holiday
Contact one of our Uganda specialists