Itinerary Highlights
Visit Murchison Falls, the world's most powerful waterfall, on a boat safari
Trek to see habituated chimpanzees in Kibale National Park
Track and record lion behaviour with a big cat expert in Queen Elizabeth National Park
Come face to face with the incredibly rare mountain gorillas in Bwindi Impenetrable National Park
Contact one of our Uganda specialists + 44 (0) 20 3958 6120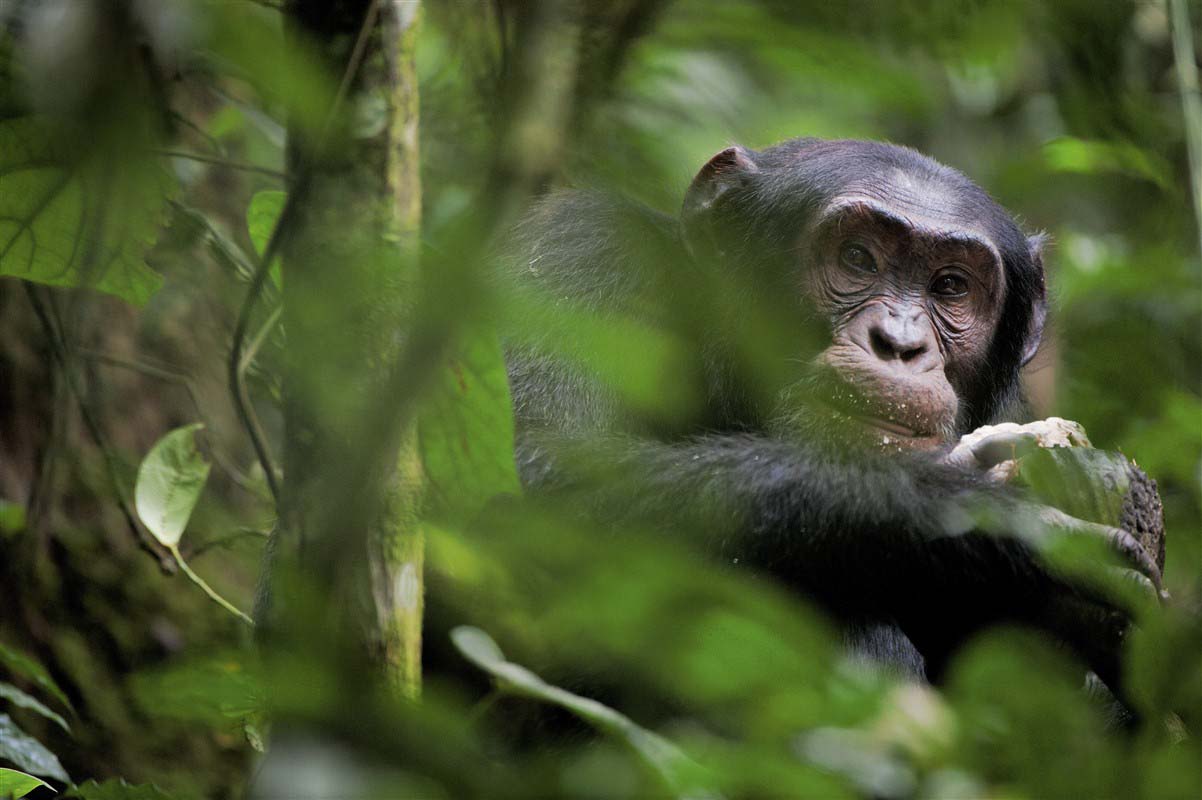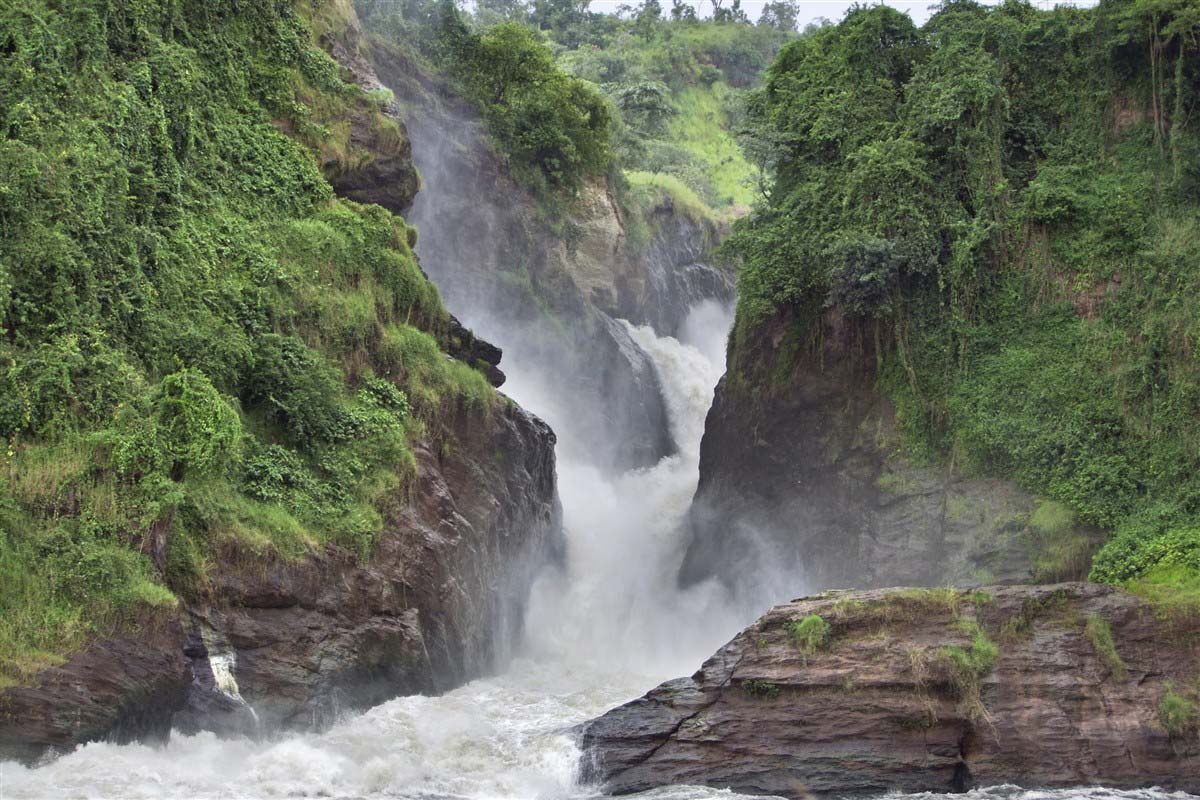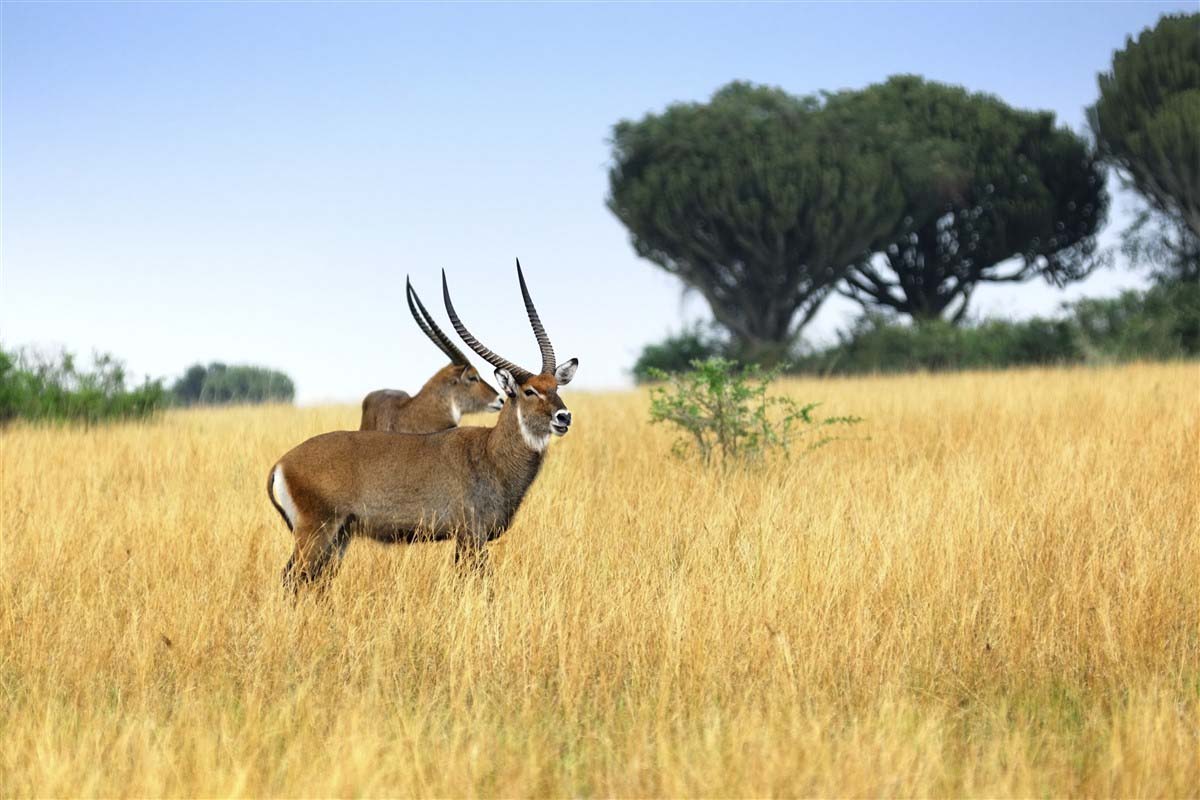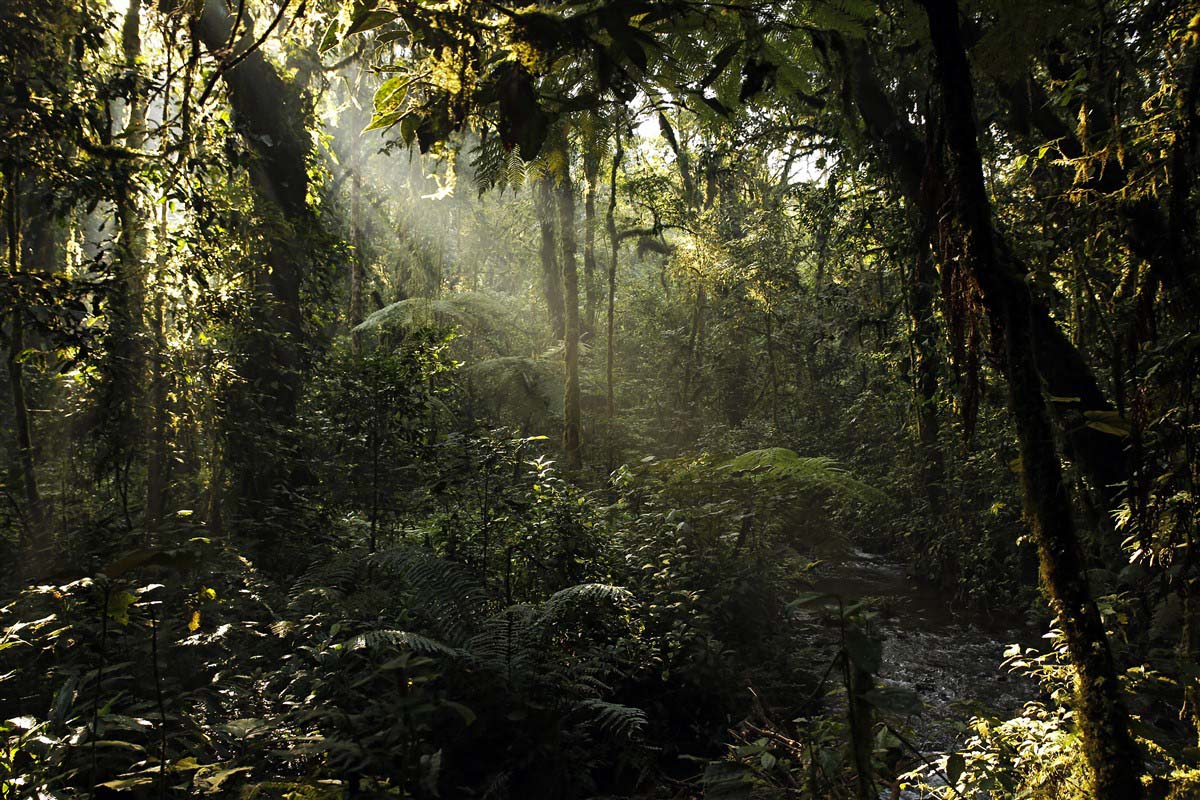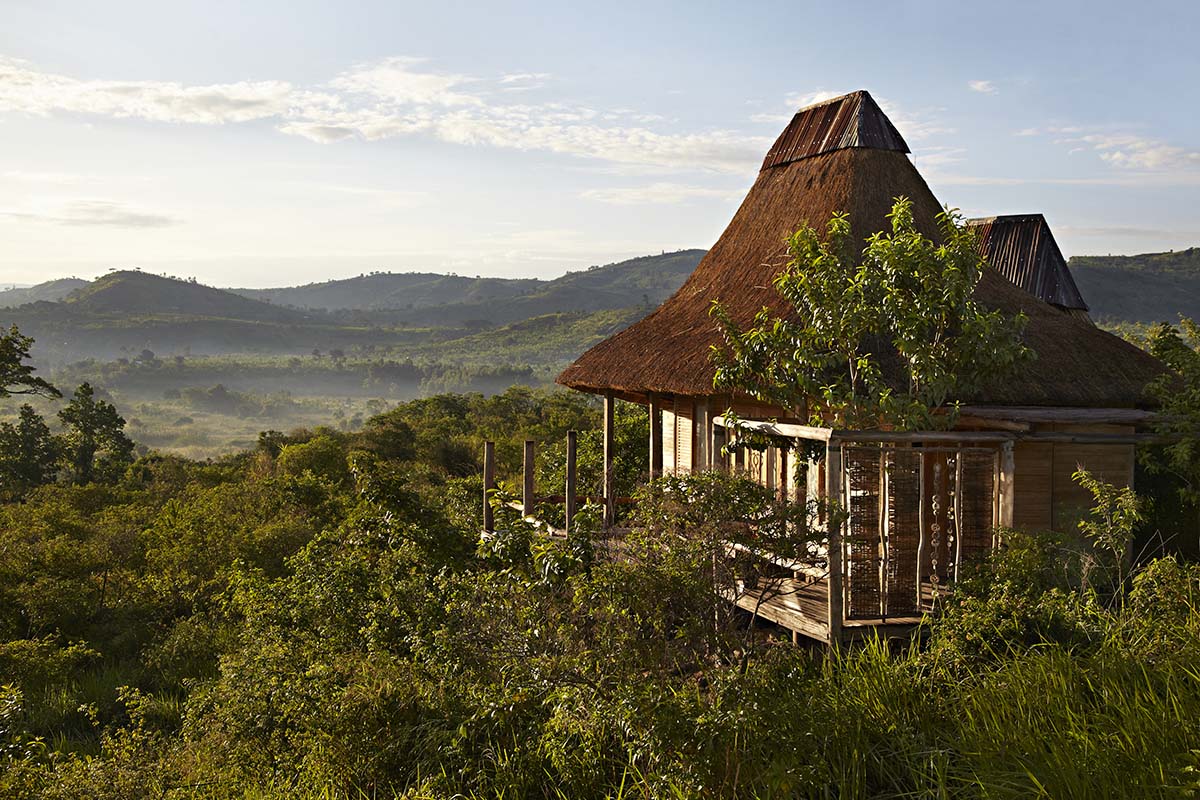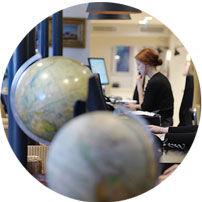 Spend 13 days discovering four of Uganda's most beautiful regions, meeting mountain gorillas, chimpanzees and numerous other wildlife along the way.
Route
Everything is 100% tailored to you
DAY 1
International Flight
Begin the journey this evening by catching the eight-and-a-half-hour overnight flight from London to Nairobi in Kenya.
The flight arrives in Nairobi in the early morning, and you then connect to an onward hour-and-20-minute flight to Entebbe in Uganda, with your bags checked through. On arrival you will be met by one of our team and then escorted to your light aircraft for the two-hour-45-minute flight to Bugungu airstrip in the heart of Murchison Falls National Park. Enjoy the views and keep your eyes peeled while you fly. When you land, your guide for the next few days will be there to meet you and the safari fun can begin on the transfer/game drive to your lodge.
At the lodge, settle into your lush surroundings and, as the sun sets, raise a toast to the beginning of a great trip.
Today you have a full day to explore the beautiful Murchison Falls National Park with your guide. Since this is Uganda's largest national park there are a large number of animals to spot over a very big area. Though your guide will lead the day's proceedings based on the season and game behaviour, one place you'll always find yourself in is at the base of the stunning Murchison Falls themselves. With the waters of the Nile thundering through a 23ft gap before dropping into a 140ft deep gorge, this is technically the world's most powerful waterfall, and every bit as impressive as you might imagine.
The best way to experience the falls and the surrounding river is by boat safari, which will also allow you to spot hippos and elephants along the water's edge and numerous birds species overhead. Afterwards, head back to your lodge for dinner under the stars and drinks around the campfire.
Start today with a final two-hour game drive back to Bugungu airstrip. From there, you'll be greeted by the pilot before you hop into the light aircraft for the short flight south to Kibale Forest National Park. When you land (at Kasese), you'll be met by another driver who will introduce you to the different terrain and wildlife in this part of Uganda as you make your way to your lunch stop. Settle down for a meal with a view, and then continue for another two hours to your lodge, keeping an eye out for wildlife as you go. Kibale Forest is made up of 290 square miles of lush rainforest, interspersed with patches of grassland and swamp that are home to 13 different primate species, so there should be plenty to see on the journey.
This afternoon, settle in and then get an early night as you have an active and early start tomorrow.
This morning you will have an early breakfast and leave your lodge at dawn to head towards the main entrance to Kibale National Park. The drive will take approximately one-hour-and-20-minutes. Once you get there we have arranged for you to spend the morning on a memorable chimpanzee tracking experience. Alongside a passionate and experienced guide, you will trek through the depths of Kibale Forest in search of the resident chimpanzee community. Once you find the family, enjoy truly special encounter as you have the chance to get incredibly close, watching how they interact and how the infants play with each other.
Spend an hour with the chimpanzees before your return walk through the forest.
After a magical morning, spend this afternoon at your lodge recounting the experience and looking over your photographs.
Enjoy a lie-in this morning before spending some R&R time by the pool or on a walk around the lodge grounds. This afternoon, you will be transferred to Bigodi Swamp for a nature walk with your guide. Located on the edge of the lush, forested outskirts of Kibale National Park, the Bigodi is a paradise for birdwatchers and monkey-lovers alike. Have your cameras at the ready as your guide helps you capture some shots of the wildlife the treetop canopy.
Then, spend your last evening in Kibale with dinner at your lodge.
DAY 7
Queen Elizabeth National Park
This morning, get up and go for a walk around Kibale's beautiful crater lakes with your guide. After you come back to the lodge for lunch you will then check out and make your way to Queen Elizabeth National Park.
The road transfer should take around three hours so you'll have just enough time to settle in before dinner.
Queen Elizabeth National Park is famous for its volcanic cones and deep craters, many with crater lakes such as Lake Katwe. The Park has also seen wildlife populations increasing in recent years and there are now over 500 species of birds and 95 species of mammal, including the famous tree-climbing lions. Head out onto the Kasenyi Plains early this morning to try and spot some of these wildlife species yourselves on a 4x4 game drive. In addition to lounging lions in trees, keep a particular eye out for large herds of Ugandan kob - a subspecies of antelope.
In the afternoon you will then take a cruise on the Kazinga Channel, which flows between Lake Edward and Lake George and is home to one of the greatest concentrations of hippos in Africa. Herds of elephants, buffalos and other animals also come to drink at the water's edge.
Chimps might have been the highlight of your stay in Kibale, but in Queen Elizabeth National Park it's all about the lions. This morning we have arranged for you to go on a predator walk and lion tracking experience with The Uganda Carnivore Programme and their head vet, Dr Ludwig. As you go in search of the wild lions you will also learn about their behaviour and lifestyle and get the chance to help Dr Ludwig with his research work.
When the walk finishes, at around midday, you'll be driven back to your lodge for lunch. You will have the afternoon to relax or you could participate in one of the different activities offered by the lodge.
This morning you will depart early for a drive of approximately four hours towards the northern part of the wonderfully named Bwindi Impenetrable National Park. You will arrive in good time to enjoy a nice lunch, after which you have the option to enjoy a guided walk around the area, visiting a local community on your way.
The highlight of many people's trips to Uganda, and a truly memorable experience, tracking mountain gorillas is special. Today you will set off early in a small guided group to begin tracking in the thick forests of the national park. You can find yourself trekking for several hours to find the rare and critically endangered mountain gorillas, the largest living primate on earth. There are only two populations of mountain gorillas in the world - one here and the other in the forests of the Virunga Massif region that spans the borders of Uganda, Rwanda and the Democratic Republic of Congo - and only about 880 individuals, so this really is an incredibly rare opportunity.
When you find the gorillas, spend an hour quietly sitting and watching them go about their daily lives, before heading back to the trek starting point. After chimpanzees, gorillas are our closest living relatives, sharing about 97.7% of our DNA, and as you gaze into their faces it's pretty easy to see the likeness.

After walking back to the park entrance, you will then be driven back to your lodge in time for dinner and the chance to reflect on the day's remarkable encounter.
Having finished your wildlife adventures on a high, today it's time to head back to civilisation and city life. Start the day with a leisurely breakfast, enjoying the last forest views, then meet your driver to make the hour-long drive to Kihihi Airstrip. Here you can catch a flight to Entebbe where another driver will be waiting to meet you and take you to a nearby hotel. The rest of the afternoon is then yours to relax and have an early night before tomorrow's early start to catch the flight home.
You'll be collected early this morning to return to the airport for your flight to Nairobi, connecting on to the UK. The total journey time is around 16 hours and will see you land in the UK in the evening.
A Rough Idea of Price
Dependent on season, accommodation and activities
The estimated cost for this trip is £9,430 to £12,050 per person. The final cost of the trip depends on the way we tailor it especially for you. The final cost varies according to several factors, which include the level of service, length of trip and advance booking time. The exact price will be provided on your personalised quote. The average price for this trip is £10,480 per person.
A few of the benefits of travelling with us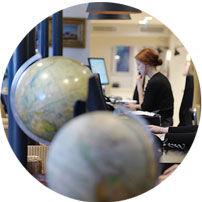 Get in touch
Our experts have the inside track on the destinations they sell and will tailor-make a holiday to your unique requirements.
Contact one of our Uganda specialists