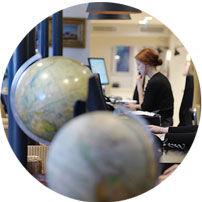 On the western border of Uganda, Semuliki National Park consists of 85 square miles of protected lush rainforest and low lying wetland. A little further east, Kibale National Park is packed with beautiful crater lakes and plantations and offers some of Uganda's best chimpanzee encounters. Kibale National Park holidays are a likely highlight of any trip to Uganda, for both the scenery and the wildlife.
The chimpanzee treks here are famously excellent with visitors taking part in either short morning or afternoon treks, or full day 'nest-to-nest' habituation programmes where you track the chimps as they make their nest for the night. Aside from the chimps, other great wildlife spots here are black-and-white colobus, red-tailed monkey or grey-cheeked mangabey. With a climate and landscapes more akin to Central Africa, nearby Semuliki National Park is home to a selection of incredibly rare species seen nowhere else in Uganda, including the fascinating water chevotain deer and pygmy antelope. Visit this lesser explored region on Semuliki National Park holidays and you can take various nature walks through the forest, cruise around Lake Albert - which lies at the north of the area - and even visit Sempaya Hot Springs.
Regions Uganda
Discover more 100% tailor-made holiday ideas
A few of the benefits of travelling with us
Review
What our clients say about us
This is the first time we went on a trip with Original Travel, a specialist advisor who listens to our expectations, and really the feeling of being pampered from departure to arrival. The concierge service is so efficient that we quickly become addicted.
Uganda Guide
Practical advice, client testimonials and inspiration to help you prepare for your holiday
Contact one of our Uganda specialists