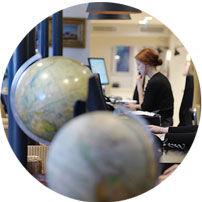 Floating on the Arctic Ocean, halfway between Norway and the North Pole, you'll find Svalbard – a Norwegian archipelago that belongs to polar bears more than people (after all, there are more of them there than us). Spitsbergen - Svalbard's largest island and one of the world's northernmost inhabited areas - is a land full of mystery, once reserved for trappers and whale hunters, explorers and scientists
and laden with legends of the intrepid polar expeditions that led to its discovery. Enter this snowy outpost and you'll leave civilisation as you know it behind. A white wilderness that's crisp in its beauty, embark on an exhilarating dog sled or snowmobile guided tour from the island's only settlement, Longyearbyen to see treeless tundras, powdery mountains and gargantuan glaciers aplenty on your Spitsbergen holidays. Bound to the sun and season, Spitsbergen offers front row seats to the natural phenomenon of the midnight sun during the summer months - where the sun doesn't drop below the horizon, casting a perpetual orange glow across the land. Meanwhile, the so-called polar night sees the sun cast its final rays across the island from November to January, when the only light emitted comes from the stars and the Northern Lights. Populated by spectacular wildlife - including polar bears, reindeer, seals and whales - the opportunity for animal adventures are bountiful during your stay; head on out into the unknown and you'll experience a serenity and sense of remoteness like nothing else, where the only sound you'll hear is the crunch of snow underfoot.
Spitzberg Holiday Ideas
A few suggestions to get the holiday planning process started
Regions Norway
Discover more 100% tailor-made holiday ideas
A few of the benefits of travelling with us
What our clients say about us
Customer reviews Norway (5 reviews)
4.3/5
Just home from the most incredible trip to Northern Norway. We had it all from clear skies and bright sunshine to full snowstorms, and saw plenty of the northern lights. Thank you again to The Voyageurs Collection for organising such an incredible experience for us.
Norway Guide
Practical advice, client testimonials and inspiration to help you prepare for your holiday
Contact one of our Norway specialists