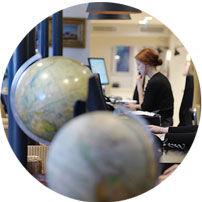 A 45-minute flight from Guatemala City takes you to Flores in the steamy Petén region of northern Guatemala, staging post to reach Tikal's 3,000 temples, shrines, ceremonial platforms, ball courts and plazas in the heart of the jungle. A substantial portion of the complex remains unexcavated, and the site's jungle location gives it a mystical atmosphere; whether shrouded in dawn mist, or covered in tropical foliage.
This Mayan marvel still only receives around 200,000 visitors a year; a fraction of those at the other better-known Mayan and Incan sites. The most impressive of Tikal's structures are the six huge step pyramids or Temples I-VI, some towering over 200 feet above the humble tourist (who may recognise them from the original Star Wars movie). Yet the majesty of Tikal is apparent wherever you are; craning your neck upwards, peering giddily downwards, or gazing across the Grand Plaza at the temple tops rising above the jungle canopy on the skyline. The region's wildlife is plentiful and Tikal holidays are always accompanied by the sounds of chattering birds and howler monkeys, all adding to the unforgettable experience.
Tikal National Park Holiday Ideas
A few suggestions to get the holiday planning process started
Regions Guatemala
Discover more 100% tailor-made holiday ideas
A few of the benefits of travelling with us
Review
What our clients say about us
This is the first time we went on a trip with Original Travel, a specialist advisor who listens to our expectations, and really the feeling of being pampered from departure to arrival. The concierge service is so efficient that we quickly become addicted.
Guatemala Guide
Practical advice, client testimonials and inspiration to help you prepare for your holiday
Contact one of our Guatemala specialists