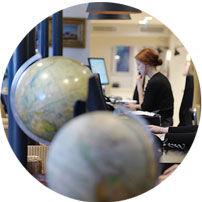 Chile's capital, Santiago, is often overlooked as a mere stopover after the long international flight, and certainly it is less showy than Buenos Aires or Rio, but it is well worth staying a few nights in one of many good hotels, and exploring the city and its surrounding attractions in the Central Valley. Badly damaged by earthquakes over the years, Santiago's architecture is an interesting mix of historic and modern, with gleaming buildings alongside baroque buildings and the impressive Presidential Palace on the central Plaza de Armas. We recommend at least a couple of days for your Santiago
and Central Valley holidays and while you're there, make sure you head up San Cristobal hill with your camera, to get the best views of the city and the surrounding Andes. After that, you can move on to Chile's surrounding attractions; the coast, Andes and vineyards.
Santiago & the Central Valley Holiday Ideas
A few suggestions to get the holiday planning process started
Chile Regions
Discover more 100% tailor-made holiday ideas
A few of the benefits of travelling with us
What our clients say about us
Chile customer reviews (2 reviews)
4.5/5
They did wonderfully in putting together a new side trip in Chile in a matter of hours and, in particular, finding us a sublime hotel when our original one melted away in an Atacama "rain event".
Chile Guide
Practical advice, client testimonials and inspiration to help you prepare for your holiday
Contact one of our Chile specialists