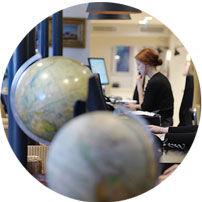 A remote piece of small volcanic confetti lost in the empty vastness of the South Pacific Ocean, Easter Island - or Rapa Nui - is an unusual and intriguing place to visit with a mysterious history. Although technically part of Chile, Easter Island is actually over 2,000 miles away from the mainland (or a five-hour flight from Santiago) and so has an incredibly different culture, history and landscape. In contrast to the arid deserts and mountains scenes of Chile, on Easter Island you'll see black rock cliffs battered by the waves and grassy moors where the famous silhouette of the 'Moai' - the iconic anthropomorphic statues - stand tall.
These carved statues are shrouded in mystery - despite being first visited by Europeans in the early 18th century, we still don't know how or why they were built, or even by whom. They're best discovered on a guided tour with an expert who can explain some of the myths and legends that surround them, and point out the special seven statues of Ahu Akivi that point out to sea while all the others face inland. Easter Island holidays offer a truly unique experience, combining history and culture with spectacular nature.
Easter Island Holiday Ideas
A few suggestions to get the holiday planning process started
Chile Regions
Discover more 100% tailor-made holiday ideas
A few of the benefits of travelling with us
What our clients say about us
Chile customer reviews (2 reviews)
4.5/5
They did wonderfully in putting together a new side trip in Chile in a matter of hours and, in particular, finding us a sublime hotel when our original one melted away in an Atacama "rain event".
Chile Guide
Practical advice, client testimonials and inspiration to help you prepare for your holiday
Contact one of our Chile specialists