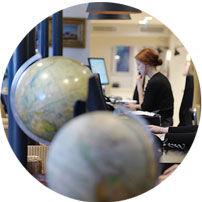 Bhutan's centre of government, religion and commerce, the capital city of Thimphu sprawls up the wooded western hillside of the Wang Chhu River. Thimphu became the capital of Bhutan in 1955 and is now a bustling town where ancient traditions mingle with modern institutions. By western standards, and compared to other Bhutanese areas, Thimphu is the only place in the country that could be considered a city. A stay here makes a nice change of scene in an otherwise very rural itinerary and offers visitors the opportunity to get a feel for contemporary Bhutanese culture at some of the restaurants, bars and shops.
That said, traditional beliefs remain strong and amid the more modern additions expect to see monks wandering the streets in their crimson robes and several cottage industry shops selling handmade paper or incense.
Thimphu Holiday Ideas
A few suggestions to get the holiday planning process started
A few of the benefits of travelling with us
What our clients say about us
Bhutan customer reviews (4 reviews)
4.5/5
The continuing personal touch afforded to my family and I by your company during the building of the itinerary and the booking process has been very refreshing and is something of which you and your company should be proud. I have been very impressed with the passion, knowledge and high touch shown by your team.
Bhutan Guide
Practical advice, client testimonials and inspiration to help you prepare for your holiday
Contact one of our Bhutan specialists