Itinerary Highlights
Join a private reading with a monk astrologer in Pangri Zampa Monastery
Hike along the Dochula and Yotongla Passes and enjoy panoramic mountain views
Refuel with hearty lunches with local families and learn how to prepare traditional Bhutanese dishes
Visit the Punakha Dzong, one of the most beautiful fortresses in Bhutan, and the iconic Tiger's Nest Monastery
Enjoy a morning archery lesson with your guide using a traditional bamboo bow and arrow
Contact one of our Bhutan specialists + 44 (0) 20 3958 6120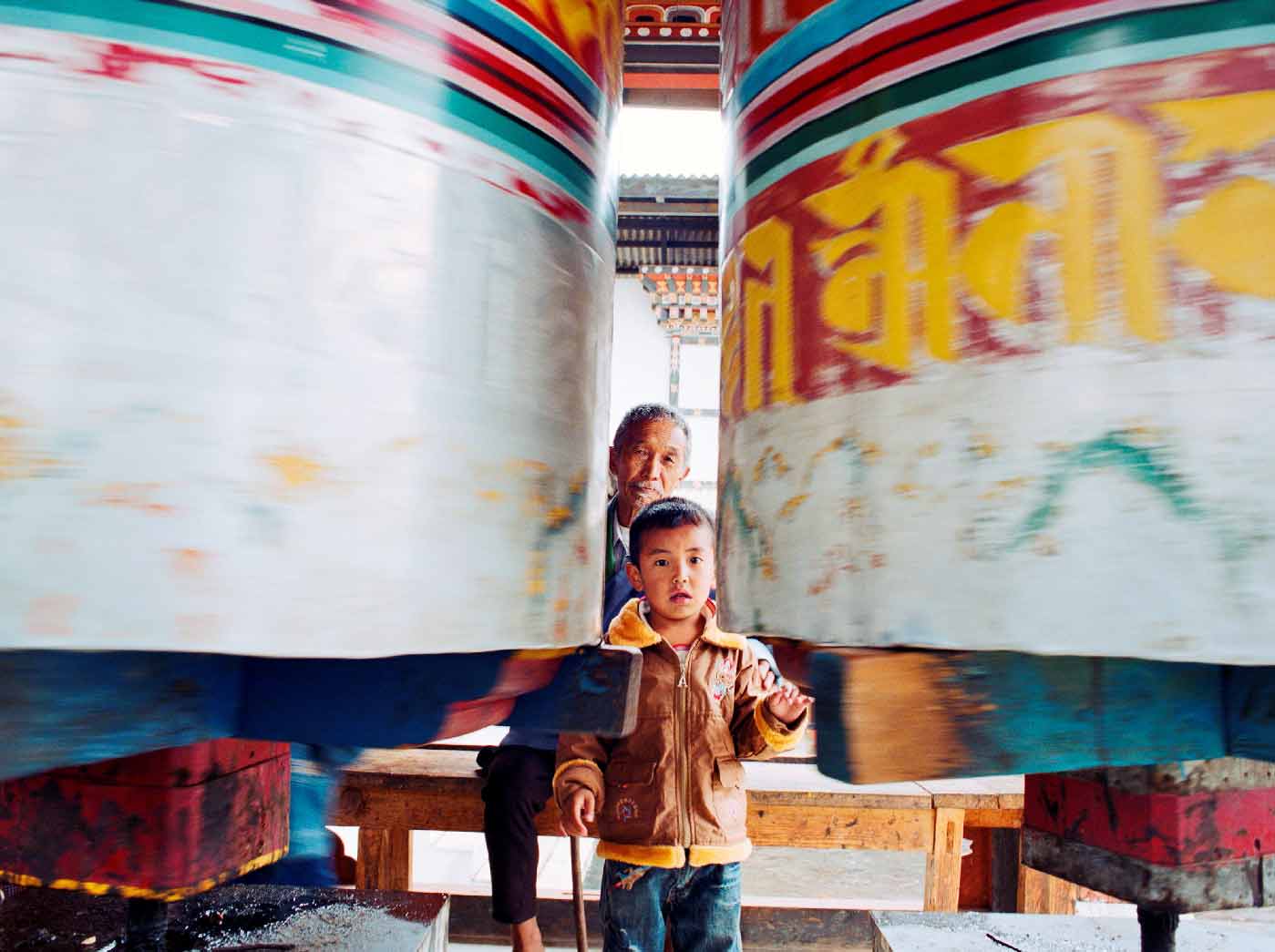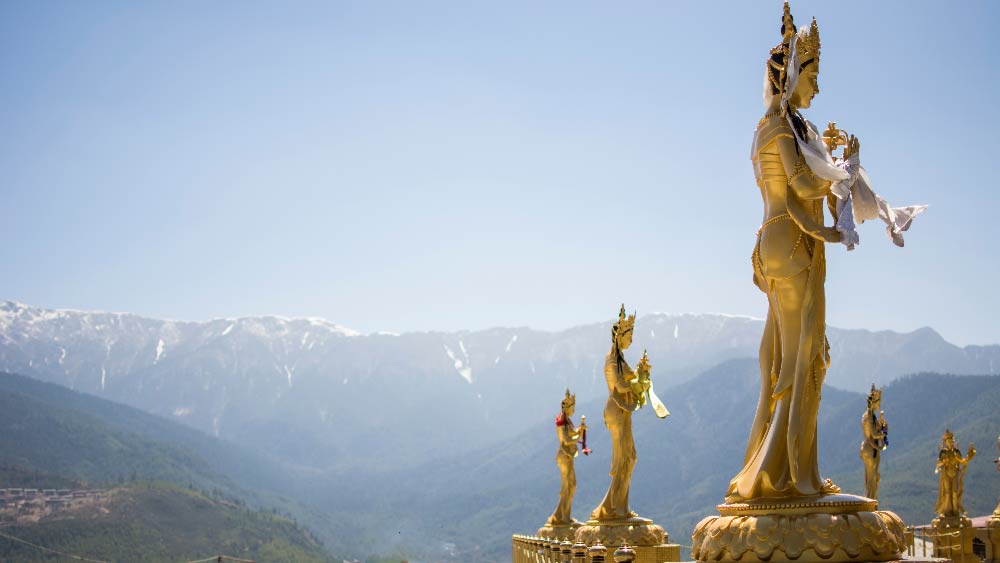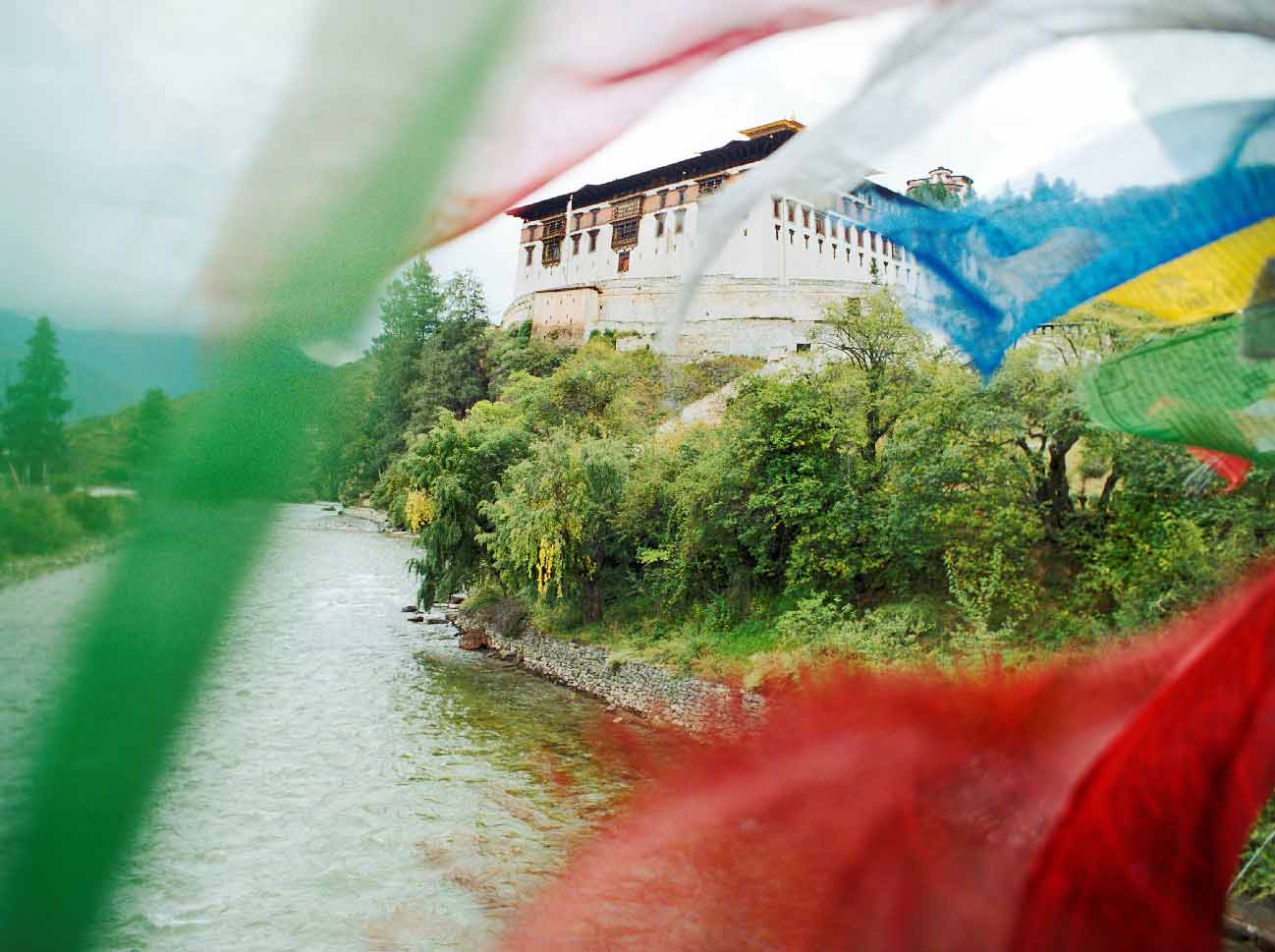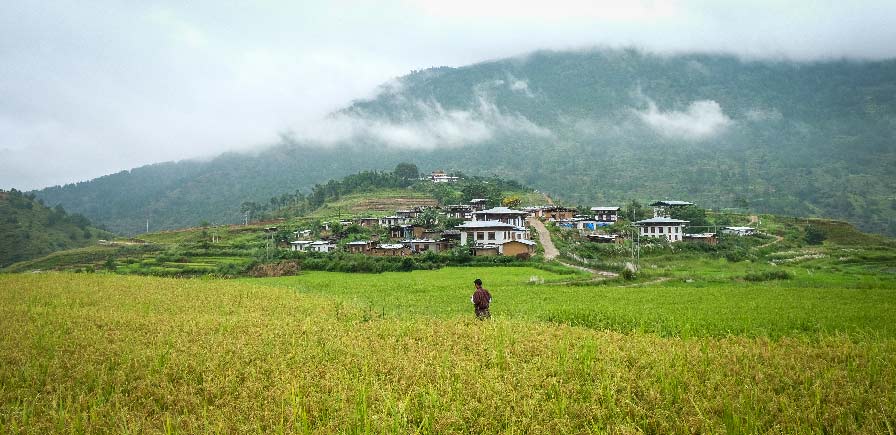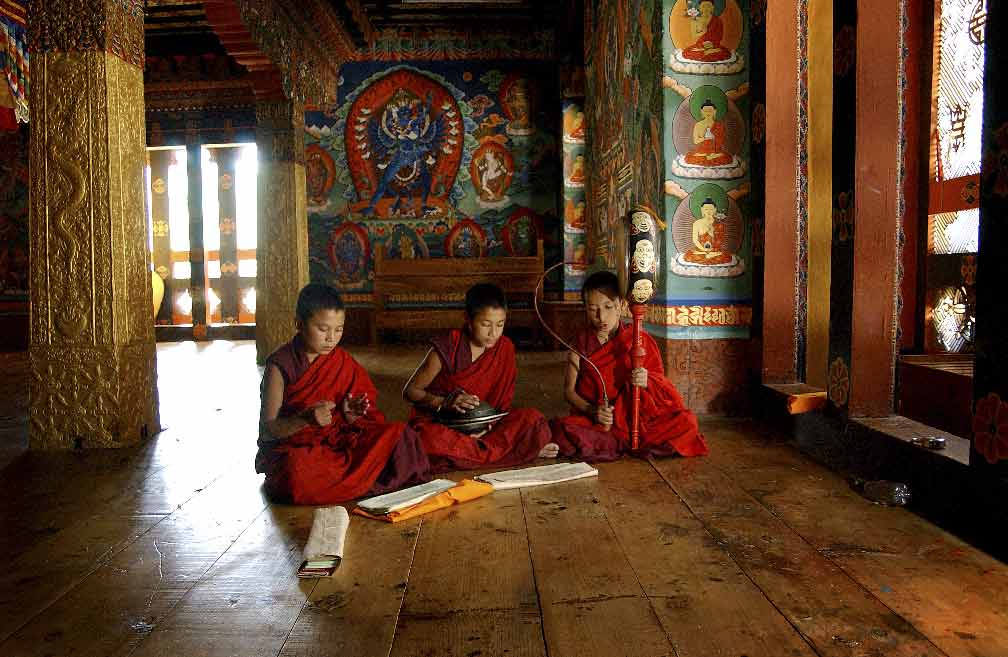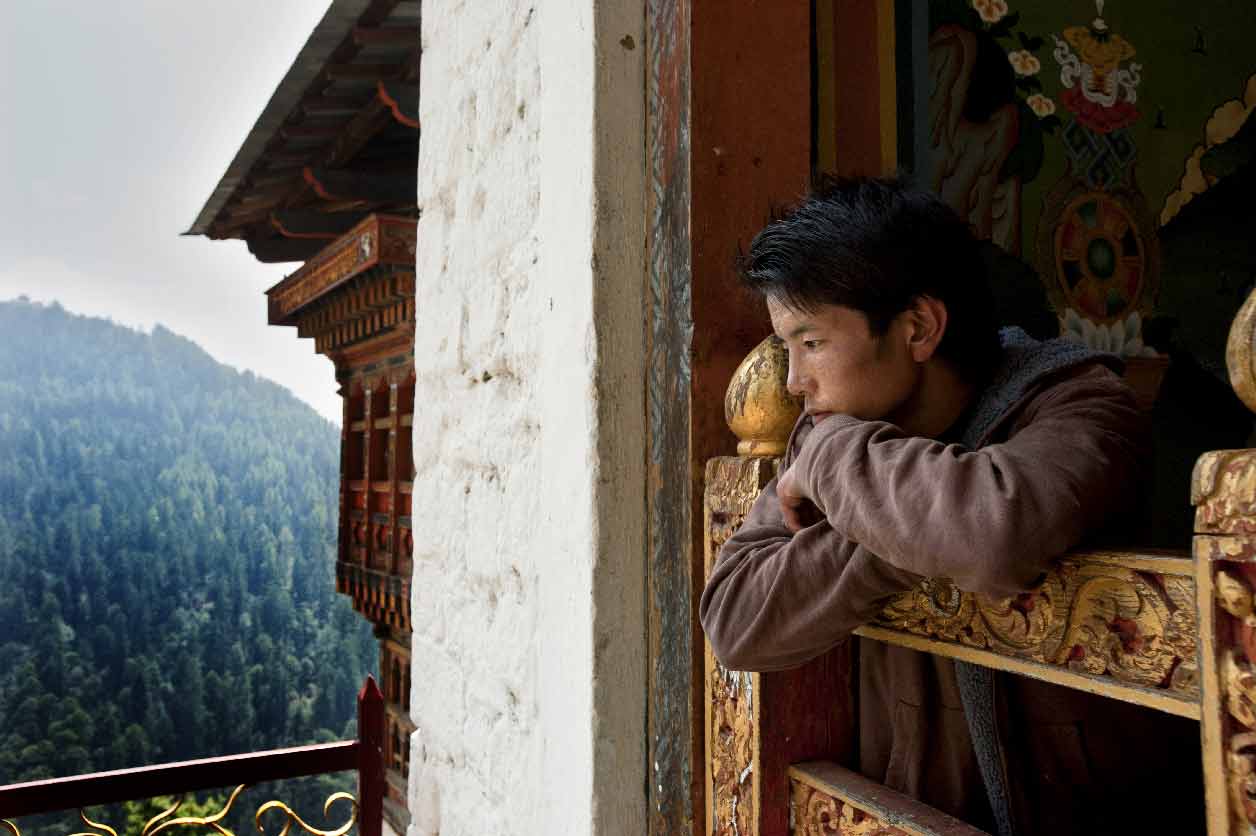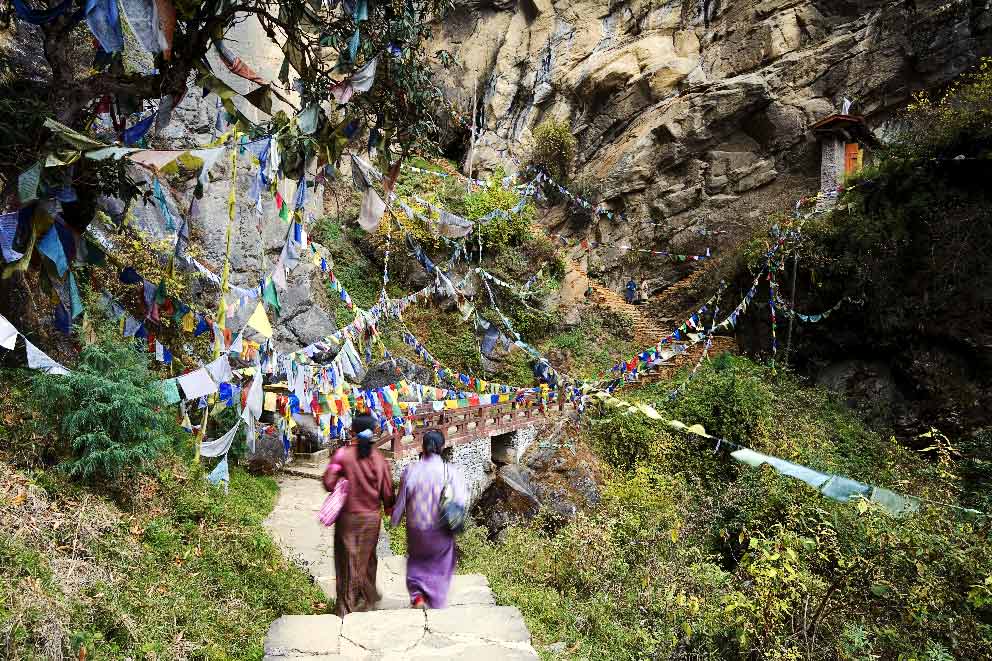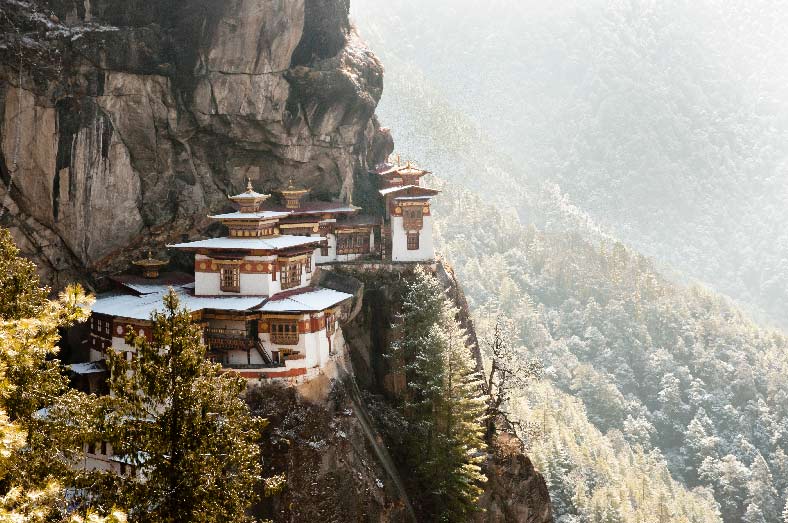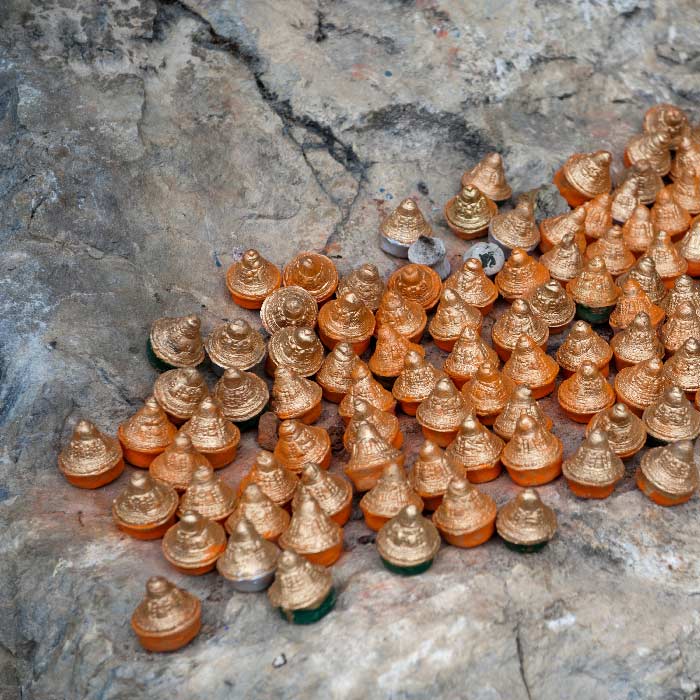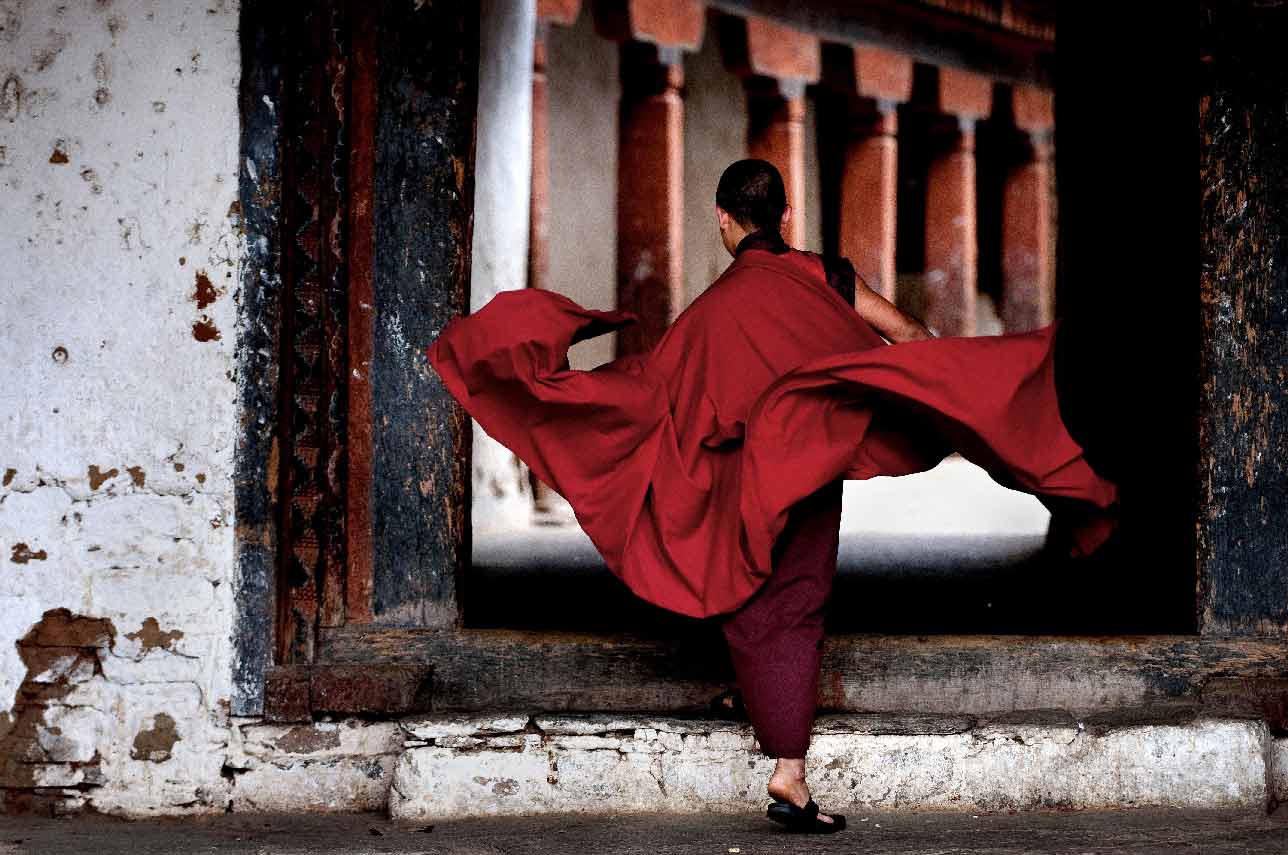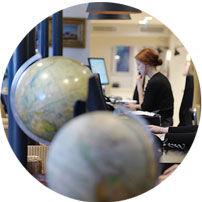 Known for its dramatic landscapes, hilltop monasteries and mighty fortresses, Bhutan is a fascinating and deeply spiritual country that is bursting with beauty.
On this 13-day hiking holiday, tour some of Bhutan's finest sites while trekking along sections of the famous Trans Bhutan Trail. Your adventure begins in Paro, where you will meet your guide and travel to the bustling town of Thimphu. From here, you will travel through Punakha, Trongsa, Bumthang and Paro, and stop along the way for scenic treks between monasteries, nunneries, temples and fortresses, where you can learn about their mystical histories from your expert local guide who will accompany you for the duration of your trip.
Highlights of the itinerary include a private reading with a monk astrologer, traditional lunches with local families, an archery lesson using a traditional bamboo bow and arrow and a visit to the iconic Tiger's Nest Monastery.
Route
Everything is 100% tailored to you
Your Trans Bhutan Trail hiking holiday begins with a spectacular flight over the mountains. Make sure to nab a window seat to soak up the views of major Himalayan peaks including Everest, Kanchenjunga and Makalu, as well as Bhutan's own snowy peaks, the sacred Jhomolhari, Jichu Drake and Tserimgang.
On arrival at Paro airport, you will be met by your guide and driven one-and-a-half hours from Paro to Thimphu, the modern capital of Bhutan. The rest of the day is yours to enjoy at leisure. You may choose to rest at your hotel or set off for a stroll through the lively town centre.
In the evening, if there is time, visit the impressive Trashicho Dzong fortress which houses the throne room of the king and various government offices. It is also the summer residence of the Chief Abbot and the central monk body. If your visit falls on a working weekday, arrive in time to watch the hoisting of the National Flag and the March of the Guards. Afterwards, return to your hotel for a hearty dinner and overnight stay in Thimphu.
DAY 2
Explore Thimphu Valley
Today you will get the chance to properly explore Thimphu, a bustling town which is home to the seat of government, Bhutan's royal family and several internationally funded development projects.
During the tour you will visit some of the town's top sites. First up: Buddha Dordenma, a statue sitting on top of a hill overlooking Thimphu, which depicts Sakyamuni Buddha and, standing at 168 feet, is one of the tallest statues in Asia. Next you will visit Gagyel Lhundrup Weaving Centre, a private weaving centre run by Mr. Kesang (a man - which is very rare in Bhutan as weaving is predominantly a woman's domain), which frequently produces ceremonial textiles for Bhutanese royals.
Other stops include the Memorial Chorten, a peace monument and memorial to the Late King ('the father of modern Bhutan'); Zorig Chosum, a painting school where students learn the 13 traditional arts and crafts of Bhutan; and Pangri Zampa Monastery, a Buddhist temple where you can join a private reading with a monk astrologer (Astrology in Bhutan is an ancient and highly respected science and locals will often consult the stars before making major life decisions such as getting married, changing jobs, or buying a car).
Return to your hotel to freshen up before dinner in town or in the hotel restaurant.
After breakfast, head east out of Thimphu to begin your first day of trekking on the ancient Trans Bhutan Trail. You will join the trail this morning at Dochula Pass, some 10,170 feet above sea level, where on clear days you will be able to enjoy panoramic views of the Himalayas to the north.
From here, descend into the adjacent valley and join what is known as the Divine Madman Trail. You will now be following in the footsteps of the Divine Madman himself, Drukpa Kuenley, when he came to Bhutan from Tibet in the 16th century to fulfil his legacy of suppressing evil energies through his dharma teachings. During your trek today, your guide will share some of the extraordinary stories which relate to the lama's colourful life. Make a stop at Thinleygang Lhakhang temple before enjoying a traditional Bhutanese lunch cooked in a local farmhouse.
After lunch, re-join your vehicle and head east towards Lobesa to explore the village before checking into your hotel in Punakha where you will spend the night.
Today's six-and-a-half-mile trek will take around five hours and includes 164 feet of elevation.
DAY 4
Explore Punakha Valley
This morning you will set off from your hotel for a tour of Punakha Valley. During the tour you will visit the Sangchen Dorji Lhendrup Nunnery, a temple perched on a ridge with spectacular views of the Punakha and Wangdue valleys. The temple houses a 14-foot bronze statue of Avalokiteshvara - one of the biggest in the country, which was handcrafted by local artisans – as well as a complex for higher studies and a meditation centre for local nuns.
You will also explore the picturesque villages of Talo and Nobgang, which are scattered along a ridge above the Punakha Valley at an altitude of around 9,100 feet.
Enjoy a packed picnic lunch among the pine trees (weather permitting) before continuing the tour with a visit to the Nalanda Monastery to meet the monks pursuing higher Buddhist studies and learning English. You'll get the chance to chat with them and perhaps join a short meditation session.
Return to your hotel this evening for an overnight stay in Punakha.
DAY 5
Re-join The Trans Bhutan Trail
After a hearty breakfast to set you up for the day, you will be driven two hours to Pelela, where you will re-join the Trans Bhutan Trail. At 11,177 feet above sea level, the Pelela Pass is one of Bhutan's highest trails and is traditionally considered to mark the boundary between west and central Bhutan. Local craftspeople often sell fine yak-hair products at the pass and as you descend through the meadows below Pelela, keep an eye out for the yak herder camps which can be seen scattered around the valley.
Stop for a hot lunch in a traditional farmhouse in the village of Rukubji before visiting the village's Lhakhang (temple) - Kuenzang Choling, which is thought to have been built some 300 years ago. Rukubji is also famous for its unique local language, and you will have the chance to learn about this during your time here.
Afterwards, re-join the trail for a gentle climb out of the valley and through a forest, before dropping back down to the village of Chendebji. Here, you will visit the Chorten (stupa), which is said to be built in the place where the three ridges and the three edges of the sky meet. The Chorten was built by Lam Ngedup Tshering Wangchuk in order to subdue a local demoness, Nyala Dudm, and bring peace to the Chendebji Valley.
From Chendebji, you will re-join your vehicle and be transferred one hour and 15 minutes to the town of Trongsa, where you will check in to your hotel and have some time to rest and relax before your guide arranges dinner either at your hotel or a good local restaurant.
Today's 13-and-a-half-mile trek will take around eight hours and includes 1,650 feet of elevation.
This morning you will head out after breakfast for a tour of Trongsa Dzong, which was first built by Ngagi Wangchuck as a small meditation room in 1541 and later enlarged. The fortress is home to some 450 district monks who spend their winters in Trongsa and their summers in Bumthang. You will visit a selection of the Dzong's 23 lhakhangs (temples), before heading to the Trongsa Ta Dzong (watchtower), which now houses the Royal Heritage Museum.
Afterwards, join your vehicle for a 45-minute transfer to the Yotongla Pass (11,270 feet), where you will re-join the Trans Bhutan Trail. Historically, this section of the trail was closely associated with the royal family, who would have used it regularly to travel between royal residences in Trongsa and Bumthang. From Yotongla, the trail descends through meadows and open forest until it meets Gyeltsachhu (Gyeltsa River). From there, enjoy a scenic walk along the river as far as Geytsa Village, where you will meet your vehicle for a transfer to Bumthang. A picnic lunch will be served at a suitable point on the trail.
On arrival in Bumthang, check into your hotel and relax for the remainder of the day. Your guide will arrange for dinner either at your hotel or a local restaurant.
Today's six-mile trek will take around five hours and includes 164 feet of elevation.
Once you've had breakfast, join your vehicle which will transfer you to the village of Babzur, where you will re-join the trail for a pleasant half-day excursion. The trail will first take you past the Pema Choling Nunnery. Women and girls who enrol here follow a nine-year course in the Nyingma Peling Buddhist tradition and are known for a particular drum ceremony known as 'chod'.
After your visit to the nunnery, head south along the trail towards the sacred Mebartsho (the Burning Lake), where, in the 15th century, the great treasure hunter Pema Lingpa is said to have discovered several of Guru Rinpoche's hidden treasures. From here, continue to the nearby village of Phomdrong where you can enjoy a typical Bhutanese lunch at a local farmhouse and learn how to make Bumthap Putha, a special type of buckwheat noodle, traditional to the Bumthang region.
After lunch, return to Bumthang, where you will visit the Bumthang Brewery, producers of Bhutan's celebrated Red Panda Beer. Nearby is Bhutan's only commercial cheese factory, and both the brewery and the cheese factory are legacies of a Swiss-run development project called Swiss Farm, which introduced distinctive European farming and production techniques into the Bumthang area.
End the day with a delicious dinner at a local restaurant and an early night ready for another busy day tomorrow.
Today's two-and-a-half-mile trek will take around three hours and includes 656 feet of elevation.
Bumthang - the general name given to a group of four valleys – Chumey, Choekhor, Tang and Ura - is home to numerous ancient Buddhist temples and monasteries, some of which you will visit today during the Three Temples Valley Walk.
The trail begins at Jambay Lhakhang, which was built in the seventh century by the Tibetan king Songtsen Gampo. It is one of 108 monasteries he built to subdue evil spirits in the Himalayan region. From here, continue further into the valley through farmlands to Kurjey Lhakhang, which is home to three temples, the holiest of which is built on the site of a cave containing a rock with the imprint of the Guru's body.
Continue the valley walk from Kurjey Lhakhang, crossing a suspension bridge and passing through small villages and farmland, before stopping to refuel with a traditional lunch at a farmhouse where you will be served local Bumthap cuisine alongside other Bhutanese dishes. After lunch, continue walking towards Tamshing Lhakhang, located across the river from Kurjey Lhakhang, a temple which was founded in 1501 by Terton Pema Lingpa. Stroll around the inner walls of the temple and you'll find ancient religious paintings which were restored at the end of the 19th century.
DAY 9
Bumthang to Punakha
This morning you will re-join your vehicle for a two-and-a-half-hour transfer back to Trongsa where you will set off from the Trongsa Ta Dzong watchtower to begin your last section of trekking on your Trans Bhutan Trail hiking holiday. The trail still heads right through the centre of Trongsa and today you will head through Trongsa Dzong fortress, crossing the old bridge over Mangde River, before heading up the other side of the valley for a steep climb up to the Trongsa viewpoint where you can enjoy fantastic views back over the Dzong (fortress).
Meet your vehicle at the viewpoint and head to the town of Punakha, where you will check into your hotel and enjoy a hearty dinner.
Today's two-and-a-half-mile trek will take around four hours and includes 1,148 feet of elevation.
After breakfast at your hotel, head to the Punakha Dzong. Built by Zhabdrung Ngawang Namgyal in around 1637 at the confluence of the Phochhu (male river) and the Mochhu (female river), the fortress served as the capital and seat of the Bhutanese Government until the early 1950s and is currently used as the winter residence for the monastic body. This is arguably the most beautiful Dzong in the country and is home to Bhutan's most treasured relic, the Rangjung Kharsapani - an image of Chenresig - which has survived Tibetan invasions, numerous fires, floods and a glacial lake burst, so is kept away from the public in the utse (tower).
After your visit, you will be transferred three hours west to the city of Paro. On arrival in Paro, visit the Ta Dzong watchtower, which was originally built in 1649 to protect Paro Dzong from the Tibetan military before becoming Bhutan's National Museum. It is now home to a number of exhibitions showcasing sculptures, paintings and artifacts that depict Bhutan's magical past.
Afterwards, continue to the stunning Paro Rinpung Dzong, meaning 'Fortress on a Heap of Jewels'. The original construction of this fortress is believed to have been completed in 1458 and it was restored to its present glory by His Majesty the Third of Bhutan, King Jigme Dorji Wangchuck, to mark his royal wedding in 1951.
After your visits, head to your hotel in Paro where we recommend booking yourself in for a relaxing session in a traditional Bhutanese hot stone bath, before enjoying dinner with your guide at the hotel.
Begin your day with a morning archery lesson with your guide, using a traditional bamboo bow and arrow. Enjoy a few rounds of archery practice before being transferred one and a half hours up the steep road through blue pine and rhododendron forests to Chelela Pass. Here, you can walk around the view point area and enjoy superb views of Chomolhari and Jichu Drake mountains on clear days.
Have a picnic lunch at the vehicle, then continue the walk from Chelela Pass to the nunnery nestled in a craggy patch of rock on the mountainside below. This is the serene home of Buddhist nuns who have dedicated their lives to spiritual fulfilment, spending their days in religious studies, prayer and meditation. Bhutan has seven nunneries, of which Kila Gompa and Buchung Karma Nunnery in Punakha are the oldest.
After the visit, walk down to the road to where your vehicle will be waiting to return you to Paro where you will spend the night.
DAY 12
Tiger's Nest Monastery
Today you will head northwest out of Paro by private vehicle for a visit to the iconic Taktshang Goemba, more commonly known as the 'Tiger's Nest Monastery'. Precariously perched on a sheer cliff face 2,950 feet above the Paro Valley floor, the Tiger's Nest is undoubtedly Bhutan's most famous religious building. It is built on the site where Guru Rinpoche is said to have arrived on the back of a tigress when he came to subdue the local demon, Singye Samdrup. After conquering the demon, Guru Rinpoche is said to have meditated in a cave here for three whole months.
The Monastery is only accessible by foot via a one-and-a-half to two-hour hike up the side of the valley. The trek offers spectacular views from the ridge, and passes a small chorten (a basic monastery) and a waterfall along the way. Once you have reached the Tiger's Nest, you will have a chance to visit the cave where Guru Rinpoche meditated, as well as the extensive network of Lhakhangs (chapels) which house images, murals, chortens, and a holy spring. You may also wish to visit the attractive Machig-phu Lhakhang temple on the way back down to the access road.
After the visit, head back to your hotel in Paro, where you will be able to relax for the remainder of the day or do some last-minute shopping for souvenirs before enjoying a farewell dinner with your guide at the hotel.
Sadly your Trans Bhutan Trail hiking holiday has come to an end. After breakfast today, you will be transferred to the airport for your international flight home.
A Rough Idea of Price
Dependent on season, accommodation and activities
The cost for this trip is from £7,350 per person. The final cost of the trip depends on the way we tailor it especially for you. The final cost varies according to several factors, which include the level of service, length of trip and advance booking time. The exact price will be provided on your personalised quote.
A few of the benefits of travelling with us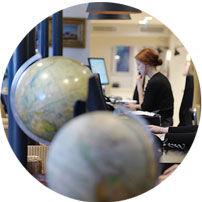 Get in touch
Our experts have the inside track on the destinations they sell and will tailor-make a holiday to your unique requirements.
Contact one of our Bhutan specialists