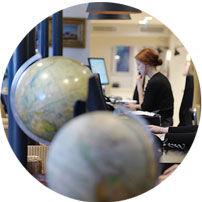 Without the constant rumble of a 4x4, the sounds and smells of safari are heightened as you wander through the Tanzanian acacia-filled savannah behind an experienced armed guide. Keep your eyes peeled for the spikey tails of baby warthogs trundling through the golden grass as the smell of red-baked earth and fragrant bush herbs waft by on the breeze. Tanzania boasts a staggering amount of wildlife, both big and small, from a majestic matriarch elephant leading her herd to fresh water, to a hardy dung beetle scurrying to and fro, finding the freshest impala dung. Embarking on one of our Tanzania
walking safaris allows wildlife lovers to discover a whole new way of experiencing the African bush.
Walking Safaris Holidays by country
Other Tanzania collections
A few of the benefits of travelling with us
What our clients say about us
Tanzania customer reviews (9 reviews)
4.6/5
I wanted to take the time to say a HUGE thank you for organising our dream honeymoon right down to the smallest details. We had an amazing time across all three locations and loved the letters you had handwritten and sent to our accommodations to welcome us in each of them, we also received a welcome home card which was a lovely touch.

Our holiday was amazing and the Rayavadee was a particular highlight on the trip. We've never been anywhere quite as brilliant. We filled our days on the beach, by the pool, drinking cocktails, eating amazing food and visiting the beauties of Pang Nam Bay and the Phi Phi Islands. We also had a cooking class which was amazing as well, we're going to attempt a new Thai recipe every week. Once again, thank you so much for everything, we'll be sure to recommend you to anyone planning a holiday in the future. Fantastic service and job well done.
Tanzania Guide
Practical advice, client testimonials and inspiration to help you prepare for your holiday
Contact one of our Tanzania specialists