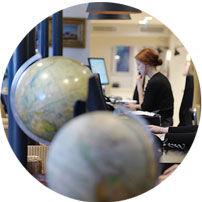 'After a first faraway glimpse, the two famous steeples grew taller and taller as the miles that separated us fell away. At last they commanded the cloudy plain as the spires of a cathedral should, vanishing when the outskirts of the city interposed themselves, and then, as I gazed at the crowding saints of the three Gothic doorways, sailing up into the evening again at close range.' So wrote the travel writer Patrick Leigh Fermor in his famous book A Time of Gifts, about his walk from the Hook of Holland to Istanbul in the 1930s. Here he describes approaching the cathedral city of Cologne on foot
and in doing so encapsulates all the beauty of walking - the slowly changing perspective, the anticipation of arrival, the heightened sense of what's going on around you. Walking holidays are the way to really see a place.
Walking Holiday Ideas
A few suggestions to get the holiday planning process started
Walking Holidays by country
A few of the benefits of travelling with us
Review
What our clients say about us
This is the first time we went on a trip with Original Travel, a specialist advisor who listens to our expectations, and really the feeling of being pampered from departure to arrival. The concierge service is so efficient that we quickly become addicted.
Walking Holidays Guide
Practical advice, client testimonials and inspiration to help you prepare for your holiday
Contact one of our specialists