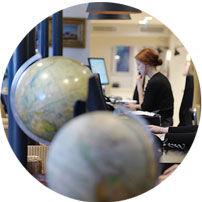 Take a trip through the dreamy desert landscapes of Namibia - with their sun-drenched sand dunes, vast scorched canyons and rugged mountains - and you'd be forgiven for thinking you've landed on another planet altogether. During the months of June, July and August you can enjoy the refreshingly mild temperatures (around 20°C) of the southern hemisphere's winter. It's the perfect weather to walk the incredible national parks and get under the skin of the scenery without suffering the excessive heat of the summer months. With little rain, all kinds of animals congregate at watering holes and it's
not unusual to see a huge variety of wildlife at one water source – if you're lucky you'll be able to tick off elephants, zebras, giraffes and wildebeest from your 'must-see' list in one fell swoop. The opportunity for adventure in this part of the world is innumerable: visit the expansive Etosha Pan, so big it's visible from space and experience some of the world's best wildlife viewing; gaze across the rim of Fish River Canyon and be blown away by the immensity of your surroundings; marvel at the extensive collection of ancient rock carvings in Twyfelfontein; and climb some of the biggest dunes on Earth on the coppery red sands of Sossusvlei. No matter their length, Namibia summer holidays will be forever imprinted into your memory.
Namibia Summer Holiday Ideas
A few suggestions to get the holiday planning process started
Summer Holidays by country
Other Namibia collections
A few of the benefits of travelling with us
What our clients say about us
Namibia customer reviews (2 reviews)
4.5/5
Had an amazing time, loved the country and the people, really different, really well organised and quite flawless. Best part about the trip was that we were in Swakop for the England match on the Saturday vs. Sweden so we watched it in a local bar.
Namibia Guide
Practical advice, client testimonials and inspiration to help you prepare for your holiday
Contact one of our Namibia specialists