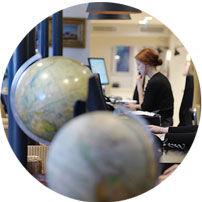 Cambodia has come a long way since the dark days of the Khmer Rouge and is now a destination that draws in floods of tourists with its timeless temples, flavourful food and glorious nature. The tourism industry in Cambodia is thriving (over 14% of their GDP comes from tourism), and we're passionate about doing exploring the country in as responsible a way as possible.
Philantourism Holiday Ideas
A few suggestions to get the holiday planning process started
Contact a specialist directly at + 44 (0) 20 3958 6120
Philantourism Holidays by country
Other Cambodia collections
A few of the benefits of travelling with us
What our clients say about us
Cambodia customer reviews (3 reviews)
4.5/5
Firstly we had a great holiday. Thank you for organising everything at such last minute. We thoroughly enjoyed the trip from start to finish and it all worked very smoothly (thanks!). Pace was really good too - not too hurried but never felt we were killing time.
Cambodia Guide
Practical advice, client testimonials and inspiration to help you prepare for your holiday
Contact one of our Cambodia specialists