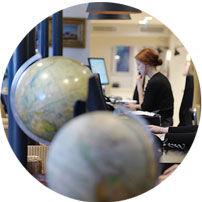 There are some trips you never forget. Those incredible journeys whose impact can be summed up by by a single encounter, or one remarkable view. Our tailor-made Great Escape holidays can take you from the end of the world to the edge of the Indian Ocean, from Easter Island to New Zealand. There are trips where you just have to do the last bit by foot, in a 4x4, or even in a canoe. Voyages where you'll travel in the wake of Christopher Columbus or Jacques Cousteau. There are routes forged, since ancient times, by merchants, warriors, or pilgrims. Some itineraries get under your skin, and just won't let you go.
That's why we call them Great Escapes.
Great Escape Ideas
A few suggestions to get the holiday planning process started
A few of the benefits of travelling with us
Review
What our clients say about us
This is the first time we went on a trip with Original Travel, a specialist advisor who listens to our expectations, and really the feeling of being pampered from departure to arrival. The concierge service is so efficient that we quickly become addicted.
Great Escapes Guide
Practical advice, client testimonials and inspiration to help you prepare for your holiday
Contact one of our specialists