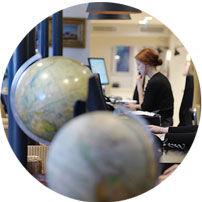 We believe a destination's cuisine is a window onto its soul. Immersion in another country's culture is not only about sights and sounds; tastes are also a hugely influential allure and important part of a understanding a place. That these tastes are often completely delicious is a bonus, though it does rather raise the question as to what foreigners must deduce from the Brits when they sample a full English breakfast or haggis, but let's not dwell on that. It is a happy coincidence that many of the best places to eat and drink are also among the most beautiful and vibrant places on our planet - proof,
surely, of the Spanish proverb that 'a full stomach makes a happy heart'. Modern doctors might not entirely concur with that but when you're on your gastronomic holidays sampling South African Sauvignon Blancs while gazing out across the Cape Winelands, or gorging on pinxtos (the Basque version of tapas) in San Sebastian, it really is hard to beat.
Gastronomic Holiday Ideas
A few suggestions to get the holiday planning process started
Gastronomic Treats Holidays by country
A few of the benefits of travelling with us
Review
What our clients say about us
This is the first time we went on a trip with Original Travel, a specialist advisor who listens to our expectations, and really the feeling of being pampered from departure to arrival. The concierge service is so efficient that we quickly become addicted.
Gastronomic Treats Holidays Guide
Practical advice, client testimonials and inspiration to help you prepare for your holiday
Contact one of our specialists