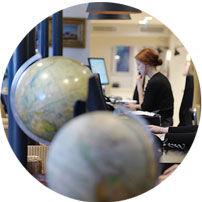 Although Turkey is sandwiched between Europe and Asia, it is nonetheless home to miles of beach-covered coastline. Will it be the Aegean, Mediterranean or the Black Sea? Stretches of fine sand, pine forests and creeks wrap around busy ports and empty coves on either side. Swim in the waters that range in colour from turquoise and green to clear and navy blue and enjoy a drink on the shore while watching the sailing boats drift in. Or, if you're feeling adventurous, spend your Turkey hot holidays inland, visiting the villages and eagles' nests in the mountains. There's history to discover, too. The ancient city of Termessos,
with its ruins and mountaintop views, is one of the best-preserved sites in Turkey. From the old amphitheatre at Patara, you can make the walk down to the beach to spend the evening on a terrace, eating freshly caught fish and gazing out at the sunset...utter heaven.
Turkey Escape to the Sun Holiday Ideas
A few suggestions to get the holiday planning process started
Escape to the Sun by country
A few of the benefits of travelling with us
What our clients say about us
Turkey customer reviews (1 reviews)
5/5
All in all we had a great time and it was pitched well, so thanks for all your hard work. All the contact with London and the fixer in Istanbul were positive and helpful, we were met and guided and driven everywhere and felt safe and looked after the whole time, so thanks again, it was really appreciated.

The food was good everywhere and service was mostly excellent.
Turkey Guide
Practical advice, client testimonials and inspiration to help you prepare for your holiday
Contact one of our Turkey specialists