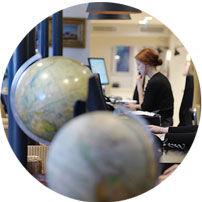 Pack away the wooly hats and thermal vests and delve into the box of summer clothes that you haven't seen for so long, as you leave the dark chilly nights of winter behind with a sunshine filled Sri Lankan adventure. While the tropical landscapes are spectacular year-round, the monsoon seasons and often cloudy skies aren't everyone's cup of tea, which is why venturing to Sri Lanka during its summer is a good idea. The mild temperatures and dry weather are perfect for exploring the endless emerald tea plantations and experiencing the rich biodiversity and stunning natural wonders that this incredible country has to offer.
Wander through the streets of Colombo as they glow under a flurry of festival lights, or venture to Yala National Park where you can get up close and personal with an untamed world of wildlife. An elusive leopard may even grace you with its presence which would be the highlight of any Sri Lanka escape to the sun adventure. For a culture hit, head north to Dambulla and Sigiriya for an insight into the ornate and fascinating history of Sri Lankan royalty. And enjoy one last splash of sunshine before you head home by flopping down on one of the beautiful beaches of the south coast with a Lion lager in hand. You may even spot a whale in the azure waters if you're lucky.
Sri Lanka Escape to the Sun Ideas
A few suggestions to get the holiday planning process started
Escape to the Sun by country
Other Sri Lanka collections
A few of the benefits of travelling with us
What our clients say about us
Sri Lanka customer reviews (3 reviews)
4.7/5
Miranda has been really wonderful throughout and was always ready to address any point of detail no matter how small. You've provided exceptional customer service which has been really appreciated by all of the family. So on behalf of each one of us thank you so very, very much.
Sri Lanka Guide
Practical advice, client testimonials and inspiration to help you prepare for your holiday
Contact one of our Sri Lanka specialists