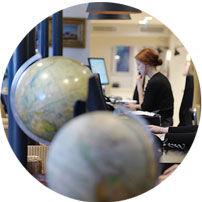 Plan your Botswana Easter holidays and there's no doubt you're planning the highlight of your year. Home to more animals than men, this land-locked country in Africa is unmatched in the level of safari adventures on offer. A place where wildlife is king – elephants frolicking in rivers, prides of lions on the hunt, giraffes meandering the savannah and zebras stamping their hooves – it's all just another day at the office in Botswana. Luxurious lodges and beautiful camps offer a front-row seat to the natural spectacle that's all around; staying here is a truly immersive experience. Blending into the landscape is part of the fun:
you'll stand like a statue, hardly breathing, as a hippo takes an afternoon dip; you'll listen to the loud honks of flapping flamingos; and be exhilarated by wildebeests hurtling across the land. Conservation and low visitor numbers are key in Botswana, which makes a trip here all the more monumental. Either in private reserves or excellent national parks, you'll experience a true immersion into nature and there's a promise of excitement for every member of your group.
Easter Holidays by country
Other Botswana collections
A few of the benefits of travelling with us
What our clients say about us
Botswana customer reviews (4 reviews)
4.5/5
Amazing, trip of a lifetime, absolutely great and everything went according to plan, thanks to everyone involved.
Botswana Guide
Practical advice, client testimonials and inspiration to help you prepare for your holiday
Contact one of our Botswana specialists