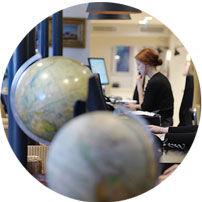 It might be something of a clichéd concept, but the fact remains that - consciously or otherwise - we all have bucket lists. Whether you have your own list scrawled on a piece of paper somewhere, or just have several big ideas floating around in your head, a sabbatical is the perfect opportunity to start ticking things off. Having trouble narrowing down your seemingly endless list? With a long stretch of sabbatical time ahead you can finally take on those big-ticket items, the do-before-I-die moments, the money can't (usually) buy experiences, the long and leisurely trips that you can never fit in on a regular holiday.
They're yours for the taking and ticking off. Read on for a few of our bucket list suggestions from around the world...
Bucket List Sabbaticals Ideas
A few suggestions to get the holiday planning process started
Bucket List Sabbaticals by country
A few of the benefits of travelling with us
Review
What our clients say about us
This is the first time we went on a trip with Original Travel, a specialist advisor who listens to our expectations, and really the feeling of being pampered from departure to arrival. The concierge service is so efficient that we quickly become addicted.
Bucket List Sabbaticals Guide
Practical advice, client testimonials and inspiration to help you prepare for your holiday
Contact one of our specialists