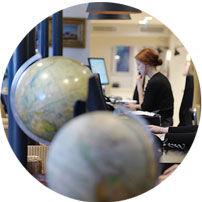 Whether driven by a longing to immerse oneself in greenery or breathe an excess of the freshest air, whether close to home or on the other side of the world, at some point we all need to get back to nature. You might want to glut on the majesty of the great outdoors in Canada's Wild West, or take time to explore Africa's wildlife on a walking safari in Zambia. Or perhaps snorkelling the pristine reefs from a private island off Mozambique would be balm to your soul. Or you might sleep in ancient rainforest in Malaysian Borneo, and wake to a chorus of exotic birds. These trips are about simple pleasures,
and a love for the world's natural beauty.
Back to Nature Holiday Ideas
A few suggestions to get the holiday planning process started
Contact a specialist directly at + 44 (0) 20 3958 6120
A few of the benefits of travelling with us
Review
What our clients say about us
This is the first time we went on a trip with Original Travel, a specialist advisor who listens to our expectations, and really the feeling of being pampered from departure to arrival. The concierge service is so efficient that we quickly become addicted.
Back to Nature Guide
Practical advice, client testimonials and inspiration to help you prepare for your holiday
Contact one of our specialists