Itinerary Highlights
Embark on a night walk in the Mitsinjo Forest Reserve to see the area's nocturnal lemurs
Delve into Mantadia National Park to discover its bountiful birdlife and lemur species
Enjoy a tasty picnic lunch next to the stunning Rianasoa Waterfall
Meet the habituated lemurs at Lemur Island
Trek through lush littoral forests in the stunning Palmarium Reserve
Explore the magnificent montane forests in Amber Mountain National Park
Stay in a traditional Malagasy cabana in the UNESCO-listed Tsingy de Bemaraha National Park
Enjoy some R&R on the tiny and tranquil island of Tsarabanjina
Contact one of our Madagascar specialists + 44 (0) 20 3958 6120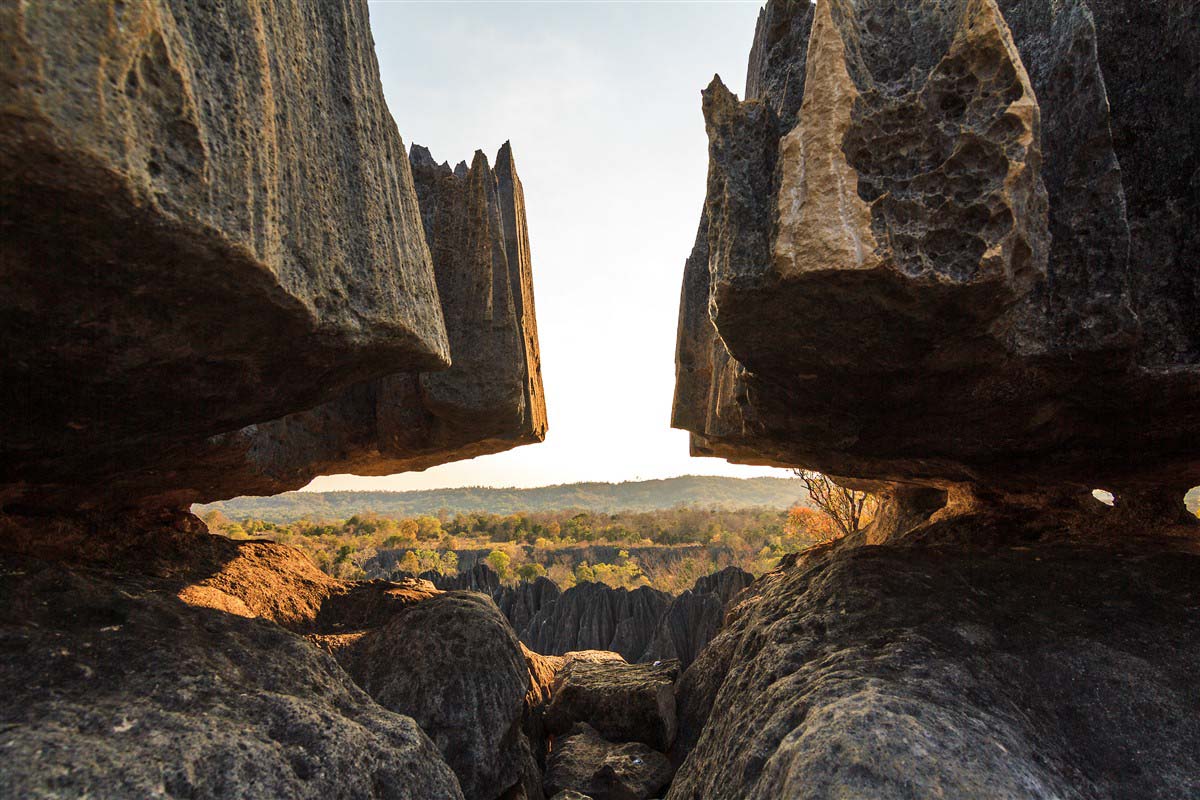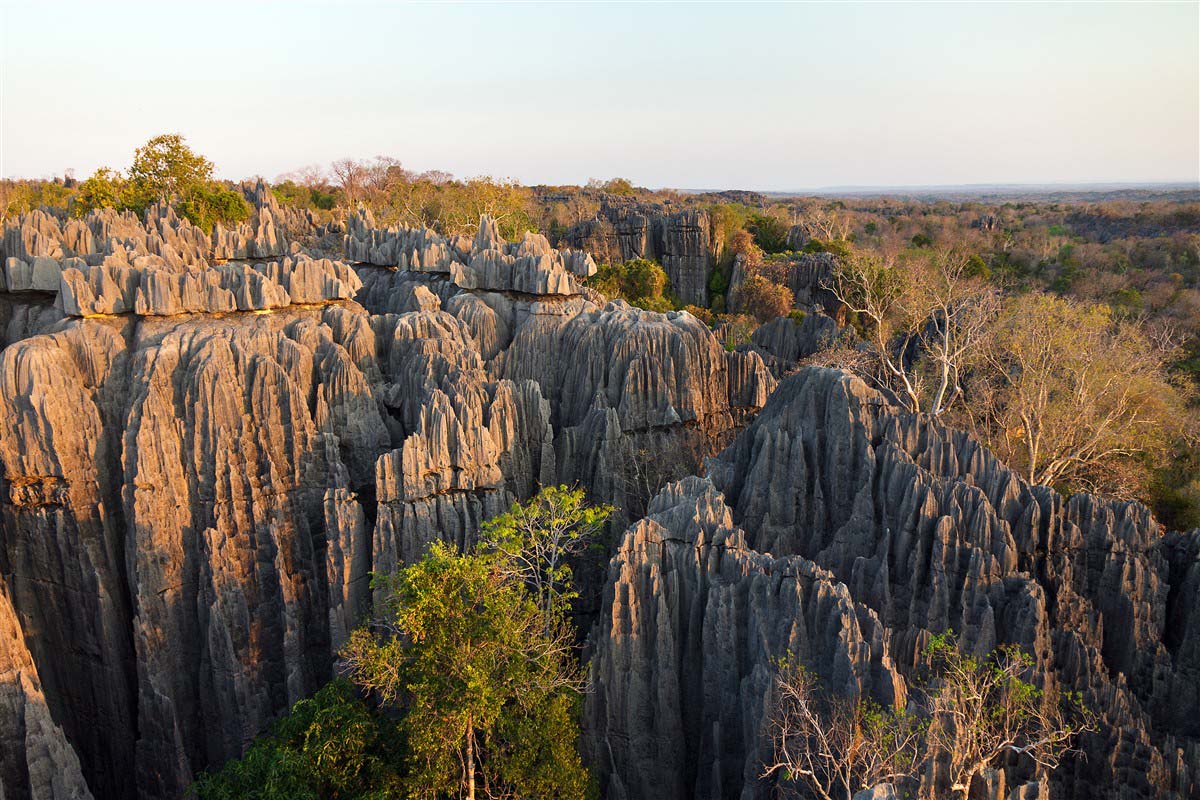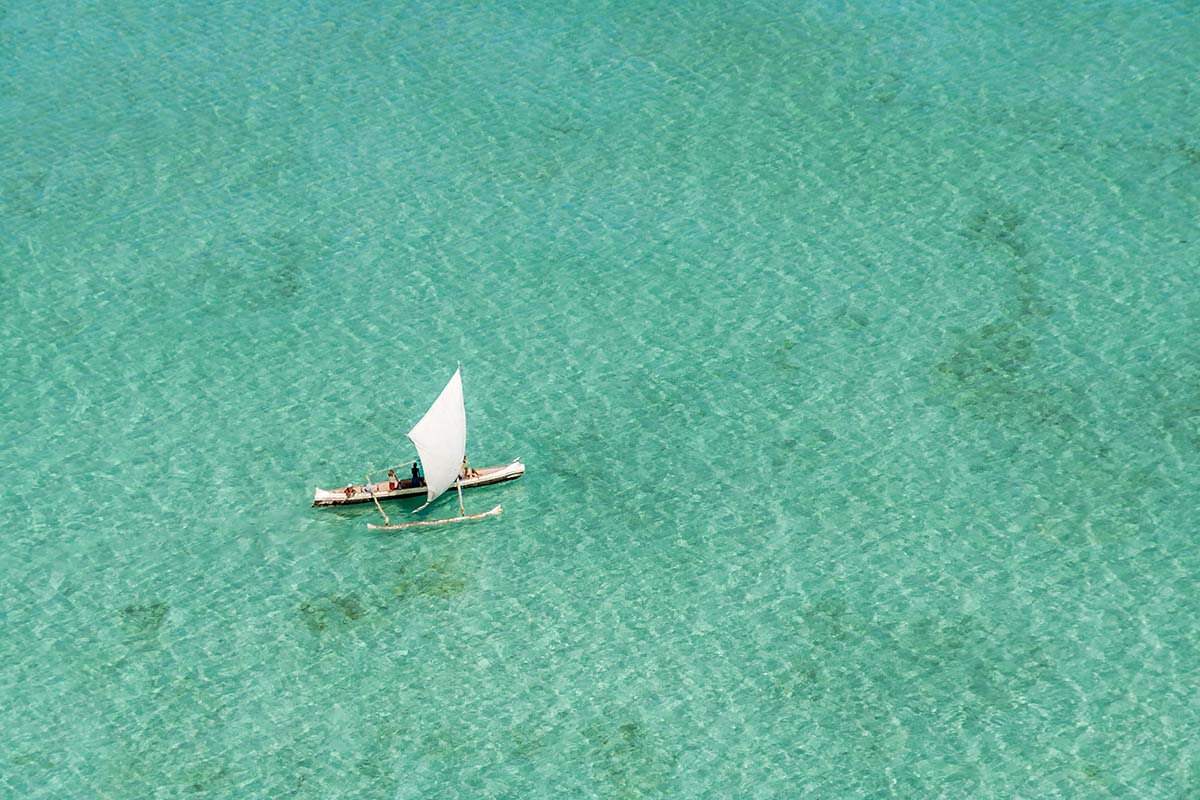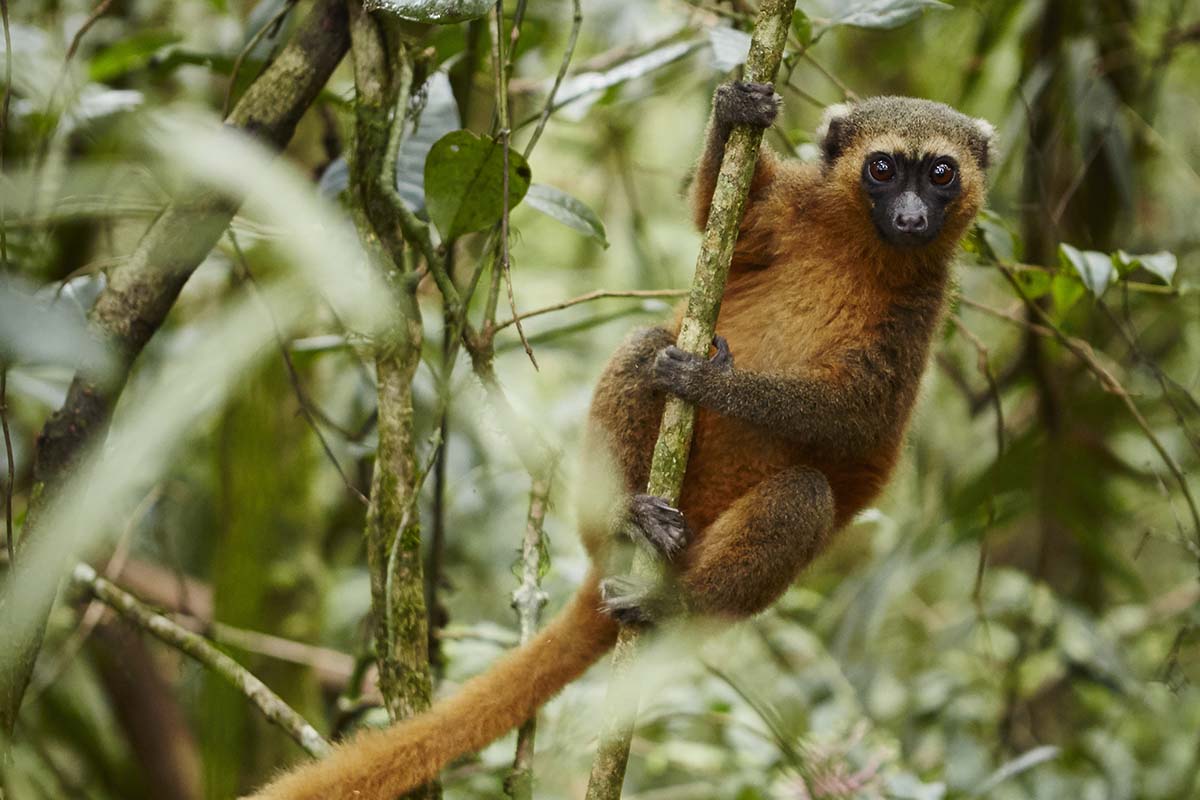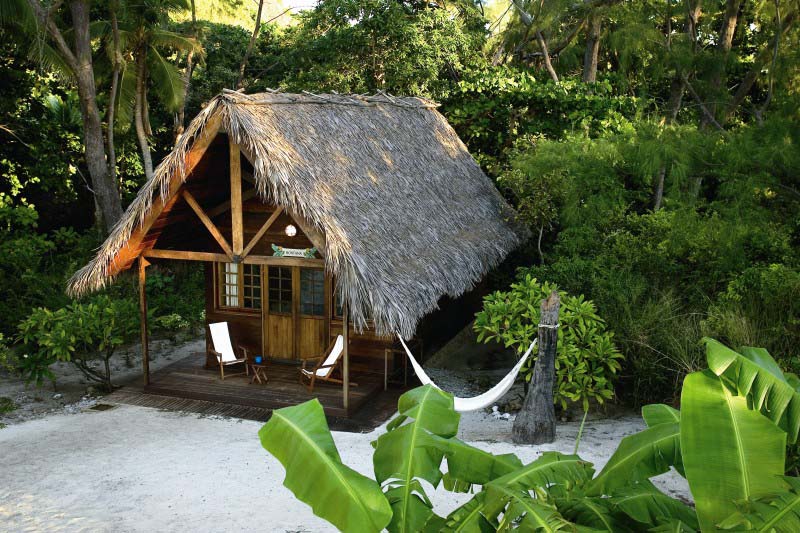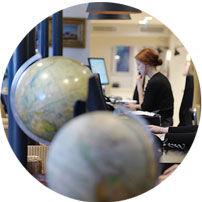 Wonderful wildlife and natural wonders are the focus of this 20-day adventure through Madagascar that takes you from the colourful capital to remote island archipelagos. Spend your time trekking through rainforests, snorkelling in mirror-clear seas and searching for exotic endemic species, enjoying the perfect balance of exploring and unwinding.
Route
Everything is 100% tailored to you
DAY 1
International Flight
Your tailor-made Madagascar adventure begins as you head to the airport in London this evening. After fast track check in, enjoy the comforts of the airport lounge (even if you're flying economy class) before boarding your overnight flight from London to Johannesburg, which takes 11 hours.
DAY 2
Arrive in Antananarivo
You will arrive in Johannesburg early this morning and have plenty of time to connect across to your onward flight to the Madagascan capital Antananarivo. The onward flight takes three hours and you will arrive in the early afternoon. You will then be transferred to your boutique hotel, a restored colonial house with buckets of charm. Within walking distance are a number of great restaurants for a bite to eat before an early night.
DAY 3
To Andasibe-Mantadia National Park
After a hearty breakfast at your hotel, you will be met and transferred by car to Andasibe, a protected rainforest area in eastern Madagascar. The journey takes around four hours so make sure to have a good book to hand (check out our regional reading lists for our top picks). Along the way, see a snapshot of rural life as you pass rice fields, red brick houses and roadside stalls selling seasonal fruits and vegetables.
Check into your boutique hotel (where you will be staying for the next few nights) in time for lunch before stretching your legs on a late-afternoon visit to the Mitsinjo Forest Reserve - a private reserve named after a local NGO that funds reforestation and community education as well as Madagascar's first amphibian captive-breeding facility.
As evening rolls in you'll be setting off on a night walk with a local guide. This is the prime time to see some of the area's nocturnal lemurs in the forests surrounding the reserve including mouse lemurs, white footed sportive lemur, fat-tailed dwarf lemur and the woolly lemur.
DAY 4
Looking for Lemurs in Mantadia National Park
Your tailor-made Madagascar adventure continues today with a visit to Mantadia National Park (one-and-a-half-hours away by car) to see more lemurs - the country is famous for them! Accompanied by a knowledgeable local guide, you'll be delving deep into the park to seek out its many lemur species including the Indri indri, diademed sifaka, grey bamboo lemur, red-bellied lemur and white ruffed lemur.
Lace up your walking boots because the trails in Mantadia can be challenging at times, but the rewards are great as the forest is loftier, more wild and less crowded that other reserves in the area. There is also an abundance of birds in the park, including the scaly ground roller, the pitta-like ground roller and the breasted coua. In short, this is a naturalist's goldmine with many seldom-seen species of mammals, reptiles and birds.
Once you've worked up an appetite, stop for a tasty picnic lunch next to the stunning Rianasoa Waterfall before hiking back to your vehicle and returning to your lodge for a well-earned opportunity to put your feet up and enjoy a sundowner drink before supper.
DAY 5
In Search of the Indri Indri Lemur
You'll be heading off in search of more lemurs today, particularly the Indri Indri, one of the most distinctive species with a barely visible tail, black and white markings and surprised teddy-bear face. Accompanied by a guide, set off after breakfast to the Perinet Reserve where you'll spend the day trekking through the rainforest and meeting its abundance of wildlife. There are a whopping 11 species of lemur to spot and a bounty of beautiful bird species (birdwatchers should look out for the endemic species such as the velvet asity, the blue coua and the nuthatch vanga). Closer to the ground, keep an eye out for reptiles, invertebrates, and some of Madagascar's thousand-plus orchid species, 80% of which are endemic.
During the day you will also enjoy a visit to Lemur Island, a tiny reserve that protects a number of habituated lemurs. There are four species to see here: the bamboo lemur, the black and white ruffed lemur, brown lemur and diademed sifaka (a critically endangered species).
Return to your hotel at the end of the day pleasantly exhausted and ready for a hot shower and delicious evening meal before retiring to your room.
DAY 6
To the Palmarium Reserve
After breakfast this morning, day five of your tailor-made Madagascar adventure sees you travelling to the remote Palmarium Reserve on Madagascar's east coast. For the first leg of your journey you will be picked up from your hotel and driven three hours by car to Manambato. From here, you will board a boat and wind your way along the peaceful Pangalanes Canal to the Palmarium, situated on the edge of Lake Ampitabe. Travelling by boat is a real experience here as you get to see the goings-on of this watery wonderland up close.
On arrival, get settled into your traditional bungalow - complete with a veranda and swinging hammock - where you will be staying for the next two nights. Come evening, enjoy a menu of Malagasy specialties in the rustic restaurant before getting an early night ready for a busy day's exploration tomorrow.
DAY 7
Discover the 'Nest of Dreams'
Your time in the stunning Palmarium Reserve promises to be a real highlight of your tailor-made Madagascar adventure, so take it all in today. The Palmarium Reserve - also known as Ankanin'ny Nofy which translates from Malagasy as 'Nest of Dreams' - encompasses over 120 acres of land on the edge of the lovely Lake Ampitabe. Here, while trekking through the lush littoral forests, you will discover the exotic endemic flora and fauna of Madagascar such as rare palm tree species and delicate orchids, as well as reptiles and ten different species of Lemurs.
If you're lucky, you may catch a glimpse of the endangered and elusive aye-aye. A long-fingered lemur with rodent-like teeth, the aye-aye is the only primate that uses echolocation - tapping on the trees to locate its food beneath the bark.
Return to the lodge, camera memory fit to bursting, ready for another hearty dinner and a good night's sleep to the soundtrack of a Madagascan nocturne.
Trade the remote wilds of Palmarium for the bustling streets of Antananarivo today, a journey that takes approximately six hours. It's the longest travelling day of your tailor-made Madagascar adventure but the journey is far from dull as it is a great way to see a snapshot of local life as you gaze out the window.
On arrival into the capital, you will be transferred to your luxury hotel where you will be spending the night. Surrounded by lush gardens and with a heated outdoor pool, this is the perfect spot for a relaxing evening after your long journey.
DAY 9
From Capital to Coast
From Madagascar's capital, you will be catching a short two-hour morning flight to the coastal city of Antisiranana that sits on the northern tip of the country. On arrival, make your way to your lodge where you will be staying for the next two nights in a thatched chalet. Nestled within nature, the lodge is wonderfully tranquil with plenty of cosy spaces in which to relax, from low-lit lounges to the expansive terrace.
We've left the afternoon free for you to enjoy some R&R and, come evening, a delicious dinner crafted from fresh, seasonal produce collected from local markets and the lodge's lush gardens.
DAY 10
Into the Amber Mountains
Fill up on a hearty breakfast this morning before setting off with your guide who will drive you into Amber Mountain National Park, an isolated swathe of montane (higher altitude) forest famous for its waterfalls, crater lakes and wildlife. While exploring among the towering trees and huge ferns, learn about the wildlife indigenous to the area including fluffy-faced Sanford's lemurs, playful ring-tailed mongoose and cat-like fossas. There are also plenty of magnificent birds to delight birdwatchers; discover crested ibis, paradise flycatchers, forest rock thrush and ground-rollers.
Return to your lodge in time for dinner and a well-earned early night ready for the next day of your tailor-made Madagascar adventure tomorrow.
This morning you will be transferred by car from your lodge to a wonderful bush camp set on a peaceful lake overlooking the Tsingy massif on the country's western coast. The journey takes roughly three hours and is well worth the time it takes to get there. The UNESCO-listed Tsingy de Bemaraha National Park is an area of exceptional natural beauty and while staying in a traditional Malagasy cabana for the next two nights you will get to experience the majesty of the surroundings in a wonderfully authentic way.


DAY 12
Wonderful Wildlife in Tsingy
After a breakfast of buttery croissants with home-made jam, set off with your local guide for a tour of Tsingy Reserve that's entirely tailored to your physical aptitude and interests. As you trek through the wilderness, take in the astonishing richness of wildlife in the park. There are a number of lemur species as well as approximately 100 bird species and a wealth of fauna and flora which have not even been completely recorded.
While you wander through the park, make sure to tick off some of the top sites along the way from baobab forests and bat caves to crater lakes and turret-shaped rock formations; this is a true wonderland of nature.
Return to your bush camp this evening for a wholesome meal followed by a sundowner on the balcony with a glass of home-made rum as the sun paints the surroundings golden.
After an early breakfast this morning, head off for the final part of your tailor-made Madagascar adventure which sees you soaking up the serenity of the country's idyllic islands. You will be driven four hours to Nosy Be port where you will board a boat to Tsarabanjina, a small island off the northwest coast of Madagascar. Part of the Nosy Mitsio Archipelago, the island is only accessible by boat, making it the ultimate escape.
For the next six nights, you will be staying in a luxurious resort in a beautiful beach villa. This is a chance to experience a true island paradise with powder-soft beaches, lush tropical vegetation and a kaleidoscopic underwater world that is truly captivating.
After bobbing up to the island by boat, get settled into your villa before heading to the restaurant for magnificent Malagay cuisine in a friendly, laid-back atmosphere. As evening rolls in, watch the sun dip over the watery horizon and the sky light up with thousands of stars; with no light pollution the stars here are utterly unbelievable.
DAYS 14 to 16
Wonderful Watersports
The next few days are yours to spend as you wish. After the many excitements of your tailor-made Madagascar adventure so far, you've earned some time to just relax and soak up the serenity of island life. Begin your days with beachy barefoot breakfasts before taking your pick from a superb selection of activities available at your hotel. We recommend spending more time in the water than on dry land while snorkelling, kayaking and challenging yourself to an aqua-gym class in the ocean.
Other optional activities that we can arrange include diving with the PADI registered dive team, sports fishing and various excursions to neighbouring islands.
DAYS 17 & 18
Days at Leisure
The final days of your tailor-made Madagascar adventure are completely free for you to relax and take it slow... island-style. Do as little or as much as you please. Perhaps you fancy soaking up the sun on the beach and cooling off with dips in the sea or perhaps you'd like to relax poolside with a drink in one hand and a good book in the other.
If you fancy something a little more active, enjoy a little competitive spirit while playing tennis and volleyball or go for a leisurely hike around the island (it only takes 20 minutes). Back at the resort, balance out your active activities with pampering treatments at the spa and indulgent dinners at the resort.
Today is the final day of your tailor-made Madagascar adventure. After breakfast at your hotel, you will enjoy a 90-minute speedboat back to the port at Nosy Be where you will be transferred to the airport for your evening flight to Antananarivo. Upon arrival into Antananarivo, you will be transferred to a nearby hotel where you can freshen up ready for your final flight home. You'll be departing in the wee hours of the morning and flying overnight via Paris.
Your flight lands in Paris in mid-morning and you connect across to an onward flight to London (or other airports within the UK), arriving at lunchtime.
A Rough Idea of Price
Dependent on season, accommodation and activities
The estimated cost for this trip is £6,930 to £9,780 per person. The final cost of the trip depends on the way we tailor it especially for you. The final cost varies according to several factors, which include the level of service, length of trip and advance booking time. The exact price will be provided on your personalised quote. The average price for this trip is £8,150 per person.
A few of the benefits of travelling with us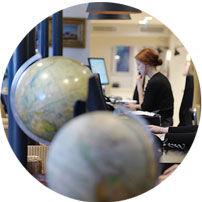 Get in touch
Our experts have the inside track on the destinations they sell and will tailor-make a holiday to your unique requirements.
Contact one of our Madagascar specialists