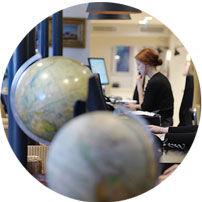 While the East of Madagascar may not have the North's diversity, Eastern Madagascar holidays' combination of National Parks in the interior and the stunningly beautiful coastline and island paradise of Ile Sainte Marie make this difficult place to reach well worth the effort. The undisputed star of the inland show is Andasibe-Mantadia National Park with its primary forests home to fourteen species of lemur including the largest of the lot, the Indri Lemur. Twitchers should note there are also over 100 species of bird for you to spot. Heading to the coast, the Palmarium Reserve is another good place to spot Indri Lemurs,
but in a more open setting next to the Pangalan Channel. Alternatively, or as a lovely combination, just a short flight from Antananarivo lies the laid back island of Il Sainte Marie off the east coast. The island has shed its gritty pirate past (they would plunder ships carrying the profits of the spice trade) and is now an extremely friendly place where you'll find sandy beaches lined with coconut palms, wonderful coral reefs and small, intimate hotels. It feels a lot like the Caribbean, basically. The channel between the island and the mainland is also a hot spot for whale watching as large groups of humpbacks make their way from the Antarctic to breed in warmer waters between June and September.
A few of the benefits of travelling with us
What our clients say about us
Madagascar customer reviews (1 reviews)
5/5
Congratulations to the Original Travel team who once again showed creativity and perfect understanding of our requirements in the preparation of our trip to Madagascar. Customer care, personalisation, top of the range service... I love your attention to detail and the attention you give to your customers – it made us feel very special!

Thank you very much and see you soon for future trips!
Madagascar Guide
Practical advice, client testimonials and inspiration to help you prepare for your holiday
Contact one of our Madagascar specialists