Transylvania Holiday
Who: Couples and Families
From £3,325pp
Time Warp Travel in Romania: A Transylvania Holiday
Learn about Transylvania's fascinating past on this week-long itinerary in the heart of the region, visiting fortified churches and medieval villages, seeing traditional skills and pastimes in action, and walking and riding through beautiful landscapes.
Itinerary at a Glance:
Spend a night in fun Bucharest
Stay in charming traditional accommodation
Learn to bake and cook traditional recipes
Explore wildflower meadows for plants with medicinal properties
Spot bears from a hide
Go walking and/or riding in the beautiful Transylvanian countryside
Learn about Transylvania's turbulent past and stay in historically-important villages
Why Book with Original Travel?
Just a few of the extra touches that come as standard on an Original Travel holiday...
See More
All of the holidays we create are completely tailor-made to you
This sample itinerary is intended to give you a flavour of what we can do
Day 1:

Arrive in Bucharest
Leave the UK this morning on the three-and-a-half-hour flight to the Romanian capital Bucharest. On arrival you will be met and transferred to your city centre hotel.
Spend the rest of the afternoon wandering around the capital, and we can book a table in a fun neighbourhood restaurant for supper this evening.
After breakfast this morning you will be met at the hotel for the drive to Transylvania, which takes three hours, but with stops en route.
First of these is Peles Castle, the one-time summer residence of the Romanian royal family near the town of Sinaia in the beautiful Carpathian Mountains. Stop for lunch after looking around Peles before heading onto to another castle: Bran, which is famed as the one-time home of Vlad the Impaler and the inspiration for Bram Stoker's Dracula. After exploring this exceptionally well-maintained castle, head on to your accommodation for the night, a charming inn in the hills above Bran.
Day 3:

Hiking in Piatra Craiului National Park & Local Workshops
Today you can immerse yourself in Romanian rural life on a guided hike, and take part in a local workshop to learn about traditional Transylvanian skills.
For a true appreciation of the Transylvanian countryside, the nearby Piatra Craiului National Park is the perfect spot for a hike. As you walk along well-marked trails through this stunning forest-clad mountainscape with your guide, be sure to keep an eye - and ear - out for bears, wolves and lynx, as there are dozens in the park. Your guide will tailor the hike to your fitness levels.
After lunch back at the lodge, you can try your hand at one of the many traditional skills still practiced every day in Transylvania. Take your pick from jam or break making, or learn some classic local recipes at a cooking class. Enjoy a final supper at your traditional Transylvanian lodge.
Day 4:

More Walking and Bear Watching
After breakfast this morning we'd recommend going for a walk in the beautiful surroundings of the lodge before lunch.
After lunch, it's an hour-and-a-half's drive to your next location in Transylvania, a lovely wooded estate. Here you will have the opportunity to learn about tracking wildlife, and also to go to a hide to watch the brown bears that roam free across the region.

Then return to your lovely lodge accommodation for an evening G&T and the chance to play some croquet before supper.
Day 5:

Into Saxon Transylvania
After a relaxed breakfast you will be driving two hours further into the heart of Translyvania, to a charming village called Viscri which was, until recently, home to the German-speaking descendants of Saxon families who were encouraged to migrate to Transylvania during medieval times. The then Kings of Hungary needed them to defend the country from invaders from the east such as the Tatars and Mongols.
The Saxons built a string of defensive villages across Transylvania (then part of Hungary) with fortress churches at their centre. The church towers proved useful watch towers, and the church at Viscri (and the wider village) is a classic example of these defensive villages.
Enjoy lunch in Viscri prepared by a local lady who will explain some of the traditional preparations and techniques. This afternoon you can join her collecting plants known for their medicinal properties from the meadows, or go on a horse and cart ride with the local shepherd, learning about this ancient profession and helping him milk and sheer the flock, and tasting the excellent local sheep's cheese.

Spend the night in a traditional Saxon house, decorated with authentic furniture.
Additional Activities
We can also arrange visits to a local beekeeper, or producer of the finest local goats' cheese - skills sadly fading fast in western Europe
The charming city of Sighisoara, where Vlad the Impaler was born, is an hour or so away from Viscri, so you could pay a quick visit, or even stay the night there
Day 6:

One Final Day in Transylvania
After a relaxed breakfast and the morning to wander around Viscri or the surrounding countryside, you will be driven one hour to your final destination in Transylvania, the village of Cincsor.
After lunch at your guesthouse, you can have a further lesson in traditional cooking or baking techniques, or foraging for local produce including - in season - truffles. We can also arrange for you to go riding (yet another Reconnect activity), and Transylvania is a great place to this for riders of all standards as there are no fences and very few roads.

Spend your last night in Romania reminiscing on all the experiences you've had and the Reconnect skills and activities that you've picked up along the way.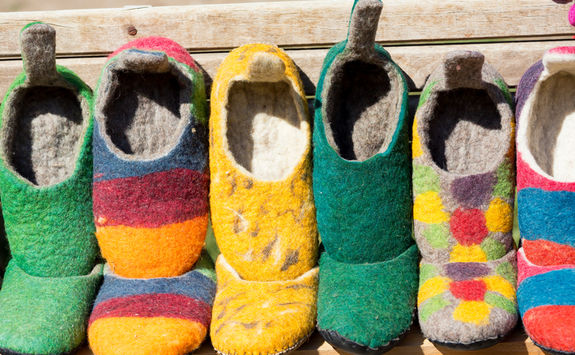 After breakfast you have the morning to relax and try your hand and any last activities before the late morning transfer back to Bucharest. You will have a picnic lunch and can stop to stretch your legs en route before checking in for the late afternoon flight back to the UK. The flight takes three-and-a-half hours, landing back in London in the evening.
All of the holidays we create are completely tailor-made to you
This sample itinerary is intended to give you a flavour of what we can do
A Rough Idea of Price
While all of our holidays are completely tailor-made and prices will vary based on things like time of year and level of accommodation, we want to give you as good an idea of how much this itinerary will cost. The below prices are based on two people sharing.
This Itinerary
If you would like to book the itinerary mentioned above, with economy flights, during mid-season and staying in our preferred room category at our preferred hotels.
Bells & Whistles
If you are looking for something extra special, we can discuss with you upgrading your accommodation, flights or activities.
Kate L and Charlotte H are our experts for this itinerary and as seasoned travellers they have the inside track on the most memorable adventures.