Luxury Thai Honeymoon
Who: Couples and Honeymoons
From £28,115pp
For many (read: us) the most exciting part of planning a wedding is the honeymoon. Forget the cake and the flowers and start thinking about that holiday of a lifetime. For those of you who really do want to make sure it's a trip you'll never forget, look no further than this action packed, incredibly luxurious 17 day 'megamoon' to Thailand's Bangkok, Chiang Mai, Chiang Rai and Koh Kood.
Itinerary at a Glance:
Learn the art of Muay Thai boxing from the best in the business at The Siam in Bangkok
Cook up a storm with a fun and interactive cookery class in Chiang Mai
Meet the resident gentle giant elephants at Chiang Rai's Four Seasons Tented Camp
Relax on white sand beaches and dine in the treetops at the stunning Soneva Kiri on Koh Kood island
Why Book with Original Travel?
Just a few of the extra touches that come as standard on an Original Travel holiday...
See More
All of the holidays we create are completely tailor-made to you
This sample itinerary is intended to give you a flavour of what we can do
Day 1:

International Flight
Don't let the excitement of the big day wear off, and head to the airport this afternoon, where you can check in for your direct 11 and a half hour flight to Bangkok. A number of airlines fly to Bangkok and we can suggest which will suit your timings and preferences best. As a little honeymoon treat, upgrade yourselves to fly business class.
After a night in the air you'll land into Bangkok this morning to find one of our friendly team waiting to meet you in the arrivals area. From there you'll be escorted via a private 30 minute car transfer to The Siam hotel on the banks of the Chao Phraya River.
Check into your luxurious Private Riverview Pool Villa and take in the Art Deco inspired décor before dipping your toes in the pool and enjoying the sunshine from your private terrace overlooking the river.
We suggest taking the first day easy and simply enjoying relaxing into holiday mode. As the afternoon heat hits, retreat into The Siam's Café Cha for champagne afternoon tea. This evening you can then choose to dine at one of the hotel restaurants or venture into central Bangkok for dinner.
Start the first full day of the honeymoon as you mean to go on, on a high, quite literally. Wake up early and meet your guide in reception to be driven to a nearby helicopter launch site and then head up into the skies to see Bangkok from above. With your guide to point out all the major sights, including the stunning Grand Palace, you'll get both incredible views and a slice of culture.
Next up on your itinerary is an afternoon getting to grips with Muay Thai, the traditional art of Thai boxing. The Siam is one of the best spots in Bangkok to learn how to box and has its own dedicated luxury Muay Thai gym, as well as a selection of experienced trainers. Cheer each other on and encourage a little marital competitiveness as you learn to fend off and land punches.
Having freshened up in your villa, head towards the river just before sunset for a private sunset cruise and canapes on board The Golden Naga, the hotel's historic golden teak rice barge. As the light stats to fade and the city lights start to twinkle, make your way into Bangkok for dinner in the bustling heart of the city. Our dossier will help you choose the ideal post cruise restaurant and we highly recommend after dinner drinks at rooftop bar The Dome at Lebua, where you can end the day as you started it, looking down on the city from its heights.
Day 4:

Spot of Sightseeing
You saw the sights from above yesterday, but today is all about getting up close and personal with Bangkok's cultural landmarks. Join a guide for a full day's private boat and walking tour to visit the likes of The Grand Palace, the flower markets, the National Museum, Wat Pho and more.
With your knowledgeable guide on hand to help bring the sites to life and offer a little context on their history or importance you'll really get under the skin of what makes Bangkok such a vibrant and culturally rich city.
After a full on day, head back to The Siam to freshen up before a specially curated seven course tasting menu dinner, with wine pairings.
We imagine you'll be feeling pretty tired after two days of sightseeing and even a boxing class, so this morning take it easy. We have arranged for you to enjoy a 90 minute Muay Thai Massage together, which should help relieve any post wedding aches and pains and have you feeling relaxed and ready for the next leg of your Thai adventure.
After your massages the afternoon is free for you to spend as you please, perhaps wandering through the markets in central Bangkok or relaxing by your private pool and making the most of your last day at The Siam. This evening your concierge is on hand to recommend the perfect spot for your last night in the capital.
Rise bright and early today and meet your transfer driver in reception. You'll be taken to the airport to catch the short hour and 20 minute flight to Chiang Mai and then will be collected at the other end by another of our drivers.
Once back on solid ground you'll be driven to your hotel - we work with a number of luxurious options either in the centre or on the outskirts, and can help you choose which suits you best.
After a little time to settle in, this afternoon a guide will meet you at your hotel for a walking tour of the old city. During the tour you'll visit the markets to get a taste for local life and also see the major landmarks, including Wat Chiang Man, Chiang Mai's oldest temple. The tour will then finish at the Chiang Mai Women's Correctional Institute where former female prisoners run a traditional Thai spa, and you can enjoy a foot massage.
After the tour, ask your concierge to recommend one of the many great restaurants in Chiang Mai for dinner.
Day 7:

Cooking Up a Storm
Having had your first taste of the cuisine in Chiang Mai last night, today it's your turn to give the cooking a go. You'll be collected by a driver at your hotel and taken just outside of the city to meet with a local chef who will be showing you the ropes. You'll start with a visit to the local market to pick up ingredients and experience the morning market atmosphere, and can then head back to the chef's cooking school. With the help of the chef you'll rustle up a spread of different Thai dishes, which will make a delicious lunch for you at the end.
After lunch, you'll be driven back to your hotel and have the afternoon to spend at your leisure, either relaxing by the pool or wandering into Chiang Mai to do a bit more exploring before dinner.
Get up early today to meet your guide and spend a morning getting to grips with Chiang Mai's silver making industry at Wat Srisuphan, which is otherwise known as the silver temple. Almost everything in the 16th century temple is made of silver and aluminium and a team of experts are constantly crafting new pieces to line the walls or go inside. Join the workers and learn how it all works while having a go at making your own patterned silver plate.
Once you've got the hang of it, leave the experts to it and bid farewell to Wat Srisuphan in favour of Wat Suan Dok, another temple where you'll be meeting the monks and enjoying an afternoon meditation session. When you arrive, start by taking a tour of the temple, then meet with a local meditation expert and find a quiet corner to sit and clear your minds of any lingering pre-holiday worries. After a few minutes of refreshing reflection, get up and finish your tour of the temple by meeting one of the resident monks to chat about his life and the importance of Buddhism in Thai culture.
After your chat, meet your driver outside the temple to drive back to your hotel and freshen up before one last dinner in Chiang Mai.
After a few days in lovely Chiang Mai, head further north to Chiang Rai this morning. Rather than the usual road transfer you will be travelling in the lap of luxury, via helicopter. As you fly over the lush landscape of Northern Thailand, take in the views and enjoy the novelty of being in the helicopter before arriving at your new hotel, the Four Seasons Tented Camp.
Set at the edge of Chiang Rai in a beautiful and rural area, the camp is a real haven and the perfect place to experience what life in the Thai countryside is like. This afternoon you'll have the chance to explore, settle in and take a dip in the pool before meeting one of the camp guides for a foraging walk, during which you'll learn about the local flora at camp and what it can be used for. Dinner is then served at camp and you can even choose your own wine from the well-stocked wine cellar.
This morning start your day with a really special Thai experience. Since Four Seasons Tented Camp owns and maintains a carefully managed elephant sanctuary you have the opportunity to join the mahouts and learn about the work being done to look after these gentle giants.
Start with the daily morning bathing ritual, which will see you getting into the river and ponds with the elephants and mahouts to wash them. Then, once the playful splashing around and washing has been done, dry off and head out on foot for a trek into the jungle with the elephants and mahouts leading the way. Seeing the elephants inquisitively exploring the jungle and chatting to their mahouts about the special bond they have with them is an incredibly heart-warming experience that we hope you'll love.
After a busy morning the rest of the day is yours to simply relax or take advantage of the activities on offer at camp as you please.
For your last day in Chiang Rai we have arranged that you head out of camp to trek in the beautiful hills around the area. With a guide to introduce you, you will also get the chance to meet the indigenous hill tribe people who call this part of Thailand home.
In this remote area the culture and traditions have changed very little over the centuries and learning about the way of life of the Yao, Akha, Lahu and Karen (long-neck) hill tribes is a really enlightening and fascinating experience.
After your active morning lunch will then be served back at camp, but today in a private spot on the riverbank. Here you'll be served a delicious meal and can sit and reflect on the activities you've enjoyed over the last few days while enjoying the beautiful views. The rest of the day is then yours to spend as you please, perhaps with a massage at the Jungle Spa or with a further excursion to visit some of the local temples.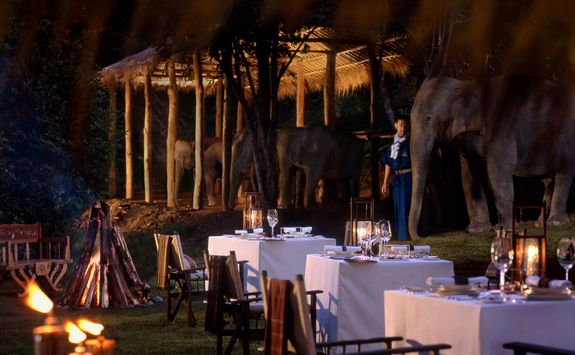 You've had your fill of city life and a good slice of nature and culture, but now it's time for some much deserved R&R on the beach. Since it's your honeymoon, take advantage of the occasion and treat yourself to five nights at what we think is probably Thailand's most luxurious beach resort, the magical Soneva Kiri on Koh Kood Island.
To get there you'll be driven to Chiang Rai airport for a flight to Bangkok, which will take just over an hour. Once landed in Bangkok a representative from Soneva Kiri will meet you to escort you to the hotel's private plane, which will fly you directly to the resort in around an hour.
After checking in and getting your bearings at this beautiful island resort, spend your first night in style by eating your dinner quite literally in the treetops. One of Soneva Kiri's most unique and signature experiences, the treetop dining experience involves being hoisted into the canopy in a comfortable bamboo pod, where you will then be served a gourmet meal by a waiter on a zip-line. With fantastic views of the sea and the novelty of being waited on via a zip-line this is sure to be a meal you won't forget.
Day 13-14:

Soaking Up the Sun
You've done a fair amount of travelling and activity on your honeymoon so far and, we imagine, are ready for a few days of taking it a little slower. With that in mind, spend the next two days on the white sandy beaches or in and around the pool.
You'll also want to fill your days at Soneva indulging in some of the delicious food on offer at the four restaurants, which serve a range of different cuisines in some truly breath-taking settings.
In between eating, drinking and relaxing there is also the option to litter your days with some activity too. Perhaps go for lunch in the Mushroom Cave to learn about the various different varieties and their uses, enjoy a traditional Thai cooking class at Benz restaurant, watch a film at the outdoor cinema, explore and dine in the organic gardens, or take advantage of the numerous water sports on offer.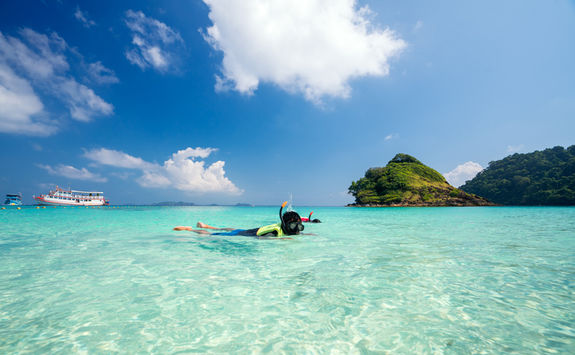 Since Koh Kood is located just up the coast from Cambodia it's remarkably easy to hop into the country for a day trip, and we can arrange it all for you, to ensure border crossings and transfers are as smooth as can be.
Take Soneva Kiri's private helicopter directly from the resort and make the short flight to Trat where you'll clear the Thai customs, then hop back on the helicopter to fly 50 minutes over to Siem Reap, where you can disembark and clear Cambodian customs.
Once on the ground in Siem Reap you'll be driven, with your guide, to the stunning temples of the Angkor complex and then have the day to explore them. With your guide on hand to bring the ancient cities to life you'll get a real sense for the size and scale of these Khmer temples and cities, and should learn a lot about what life for the people living here in the 12th century was actually like. Make sure you have cameras at the ready to snap some photos of the iconic Angkor Wat too.
When you've done your fill of exploring, head back to the airport with your guide to meet the helicopter and repeat the same journey as on the way, arriving back at Soneva Kiri in time for dinner.
They say time flies when you're having fun and with all the fun you've packed in over the last two and a half weeks, we're sure you're not quite ready to go home yet. On that note, it might be your last day but there is still plenty of fun to be had.
Start after breakfast by joining your guide on the Koh Kood discovery experience, which will see you exploring the island to see what it's like for the locals away from the resort. You'll visit Ao Salad fishing village, canoe through the mangrove forests and can even take a dip in the Klong Chao waterfall's lagoon.
Be back at the resort in time for a special romantic lunch in the crystal clear, shallow waters off the beach. With stunning views and delicious fresh food this is a great setting to sit and reflect on what a beautiful spot you've found yourselves in, and what a great honeymoon it's been.
There should then be a few hours for you to soak in the last of the sun's rays before dinner and the final special experience of the trip, a private stargazing experience. Visit the resort's private observatory where one of the resident astronomers will help you identify the stars and constellations before leaving you to gaze up at the twinkling sky together.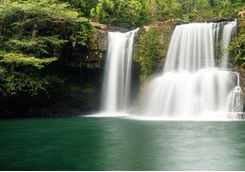 Sadly the time has come to head home. Make sure you savour that last holiday breakfast in the sun and then finish packing before you begin the journey.
You'll first be transferred an hour to Bangkok airport by Soneva's private plane. Once there, check in for your direct business class flight back to London which should take around 13 hours.
All of the holidays we create are completely tailor-made to you
This sample itinerary is intended to give you a flavour of what we can do
A Rough Idea of Price
While all of our holidays are completely tailor-made and prices will vary based on things like time of year and level of accommodation, we want to give you as good an idea of how much this itinerary will cost. The below prices are based on two people sharing.
This Itinerary
If you would like to book the itinerary mentioned above, with economy flights, during mid-season and staying in our preferred room category at our preferred hotels.
Bare Necessities
If you would like to pare back the above itinerary by travelling at non-peak times, staying in a standard room and removing some or all of the guided activities.
Bells & Whistles
If you are looking for something extra special, we can discuss with you upgrading your accommodation, flights or activities.
Frances and Holly are our experts for this itinerary and as seasoned travellers they have the inside track on the most memorable adventures.