Stockholm and Gothenburg
Who: Couples and Solo Travellers
From £2,560pp
A five-day luxury Big Short Break in two of Scandinavia's coolest cities - Stockholm and Gothenburg
Itinerary at a Glance:
Compare cinnamon buns from the best bakeries in Sweden
Get under the skin of Stockholm on a walking tour of the city
Get out into the fresh sea air in the Gothenburg Archipelago
Why Book with Original Travel?
Just a few of the extra touches that come as standard on an Original Travel holiday...
See More
All of the holidays we create are completely tailor-made to you
This sample itinerary is intended to give you a flavour of what we can do
Day 1:

International Flight
On a Big Short Break it's best to take an early flight, so you can squeeze as much into your precious holiday as possible. There are direct flights to Stockholm from several UK airports (taking between two and two-and-a-half-hours), so hopefully you will arrive by lunchtime.
After a quick private transfer to your hotel, have lunch in town (our detailed destination Dossier will come in handy here) before your expert guide meets you for an afternoon's private tour of the city. Together, you will explore the city, from cosy coffee shops (the Swedes love a fika - a coffee break, ideally with cake or something sweet) to museums, focusing on what you're interested in and want to explore during your time in Stockholm. Your tour will end just in time for dinner, so make sure you ask your guide for the best spot for meatballs and gravadlax.
This morning you will meet your guide for a walking tour of Gamla Stan, the city's Old Town. As you cross bridges between the islands of the archipelago, you will explore the buildings that built Sweden and the people who lived in them, learning how they shaped Sweden over the centuries.
As your tour is private, we can tailor it to your interests, be they medieval, literary or 20th Century political. As you wander through the streets, you will pass the Parliament building, the Opera House, and the Royal Palace - let your guide know if you'd like to go for a snoop around.
After lunch - have a look in your handy Dossier for our favourite spots - you will make your way to the water to see Sweden's capital from the water. With an expert guide, you will paddle up and down the waterways of the archipelago in kayaks (except if it's winter, obviously, when the water is frozen solid!).
Additional Activities
War and Peace in Sweden Tour
Green City Stockholm Tour
Royal Stockholm Tour
This afternoon, you will take the train from Stockholm to Gothenburg, but before then there is just enough time for a tour of Sodermalm, Stockholm's Shoreditch equivalent, with an even higher hipster count.
As you explore the working class district turned artsy bohemian central with your guide, you will discover steep hills and narrow streets where modernity and ancient superstitions compete and trendy types run burgeoning galleries, coffee shops and artisanal florists.
After your tour, you will pick up your bags from your hotel and be privately transferred to the station to take the three-hour train journey across Sweden to Gothenburg. The train will take you through the wildest parts of the south of the country as you cross from east to west, before you arrive in the centre of Gothenburg, where one of our team on the ground will be waiting to privately transfer you to your hotel.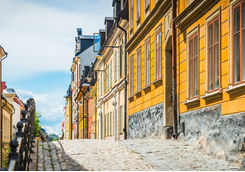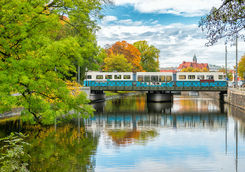 An important part of any Swedish holiday is tracking down the best kanelbullar (cinnamon bun) so make sure you head to Valhallabageriet in Stockholm and Cafe Husaren in Gothenburg to do a fair tasting in two of the best spots.

After breakfast this morning, you will head down to the water for a private boat tour of the archipelago. The Gothenburg Archipelago stretches up the west coast of Sweden and is, if possible, even more beautiful than its Stockholm equivalent.
As you weave in and out of the islands, your guide will explain how people live on the islands - hint, there are a lot of bicycles - and point out the resident wildlife.
This afternoon, we recommend digging out our definitive Gothenburg Dossier and exploring on foot. Anyone interested in food should head to the Feskekorka ('fish church') fish market, with its ecclesiastical design and chance to sample super fresh shellfish.
Additional Activities
Foodie Tour of the city with a food blogger guide
Day 5:

International Flight
Hasselblad - one of the finest camera makers in the world - hails from Gothenburg and the company created the impeccable Hasselblad Foundation at the Goteborg Museum of Art.
Before your afternoon flight back to the UK, you will meet an expert photographer guide for a private tour of the various photography exhibitions from all aspects of Nordic life.
After lunch, you will be privately transferred to the airport, in time for your two-hour or so flight back to the UK.
All of the holidays we create are completely tailor-made to you
This sample itinerary is intended to give you a flavour of what we can do
A Rough Idea of Price
While all of our holidays are completely tailor-made and prices will vary based on things like time of year and level of accommodation, we want to give you as good an idea of how much this itinerary will cost. The below prices are based on two people sharing.
This Itinerary
If you would like to book the itinerary mentioned above, with economy flights, during mid-season and staying in our preferred room category at our preferred hotels.
Bare Necessities
If you would like to pare back the above itinerary by travelling at non-peak times, staying in a standard room and removing some or all of the guided activities.
Bells & Whistles
If you are looking for something extra special, we can discuss with you upgrading your accommodation, flights or activities.
Harriet and Kate L are our experts for this itinerary and as seasoned travellers they have the inside track on the most memorable adventures.