Spend your first morning immersing yourself in Stockholm's famous art culture.
Meet your transfer driver at the airport and gaze out of the window as you arrive into this trendy water-front city, and head to your hotel to drop your bags.
There are a host of galleries to visit and a range of artistic goodies to please a variety of tastes. Fotografiska is a hot attraction for contemporary photography and housed in an industrial building. The complex of galleries at Industricentralen displays the work of internationally acclaimed contemporary artists and for something slightly different, wander around the world's first open air museum, Skansen , which will take you back in time to the old houses and farmsteads of the locals from the 16th century.
Take a break and refuel with a traditional smorgasbord meatball dish before embarking on your afternoon of naval history. The Vasa museum is a must see, home to the Vasa ship, the only surviving 17th Century ship in the world which has been preserved after spending 333 years hidden on the sea bed.
In keeping with your day full of artistic delights, head to one of Stockholm's restaurants borne from the New Nordic culinary concept for a sophisticated and contemporary twist on Swedish cuisine. Then, if you fancy a taste of local nightlife, head to a bar, many of which turn into lively dance arenas come midnight.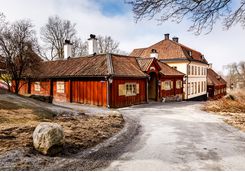 Additional Activities
Explore Fotografiska
Wander around the world's first open air museum, Skansen
The Vasa museum