Family Break in Lapland
Who: Families
From £1,215pp
Swedish Lapland is a properly magical experience that will fuel kids' imaginations and give them memories of adventure and fun to last a lifetime.
Itinerary at a Glance:
Fight each other (not literally!) to be the first to catch a glimpse of the Northern Lights
Play with and enjoy a fun filled sleigh ride courtesy of a pack of lovely huskies
Learn how to ice fish and (hopefully) catch something for dinner
Why Book with Original Travel?
Just a few of the extra touches that come as standard on an Original Travel holiday...
See More
All of the holidays we create are completely tailor-made to you
This sample itinerary is intended to give you a flavour of what we can do
From the UK you will arrive at Lulea international airport via a domestic flight from Stockholm's Arlanda.
Once you have cleared customs you will be met by your guide, who will pick you up and drive you approximately an hour along the Rane River Valley to your home for the next few days, Sorbyn Lodge. Sorbyn Lodge is a comfortable hotel that has a few accommodation options. For your family group, we suggest one of the hotel's timber cabins that has two cosy bedrooms and a kitchenette. The lodge is located on the edge of a very pretty lake, though of course it will be completely frozen when you visit. Once you have checked in, there will be time for a delicious dinner at the hotel's excellent restaurant, Kallkällan, before settling down early to get ready for the busy days of activities to come. Don't forget to keep your eyes open for Aurora Borealis sightings at all times though - first one to spot them wins a prize (disclaimer: prize supplied by Mum and Dad…)!
Get up bright and early (well, early anyway as it'll definitely still be dark) and wolf down some hearty breakfast to set you up for the day. Then, after wrapping up thoroughly in your special artic romper suit-type outfits, you will be collected at the hotel and head out on a husky adventure.
First step is meeting the real stars of this part of the world - the huskies. The dogs are beautiful, pure-bred Siberian huskies and are calm and quiet even prior to the start of a tour (although you can tell how excited they are to get going!). You'll have time to learn a bit about the dogs - see how many of their names you can remember - their lives and which are the lazy ones in the pack! Make sure you take lots of selfies with your favourite. You will all be passengers on one dog sled with your musher, Richard, who it really is clear that the dogs have immense respect and love for. The sled tour heads off into the forest and across frozen lakes - it is the best way to see the landscapes and it is a really magical experience for your first day in Lapland. As you whoosh along the frozen wastes, make sure to enjoy the calm, silent environment. Even the dogs are silent after they get doing what they love most - running (well, and eating of course).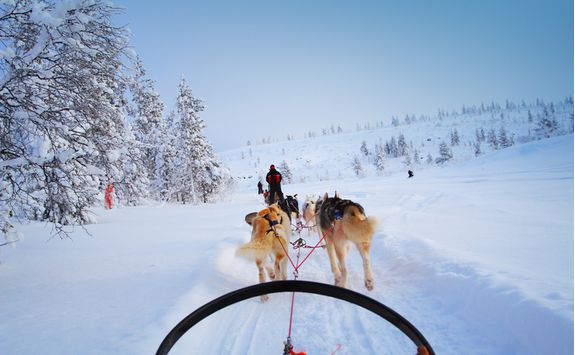 Additional Activities
Sled tour
Moose watching
Snowmobiling
Northern Lights Safari
Leave the warmth of the lodge armed with fishing equipment as you are about to spend the day doing ice fishing.
Next morning it's an early breakfast again - sorry! After you've filled your boots and undergone the by now familiar ritual of dressing in about 20 layers, you'll be picked up by your guide and head out to the River Rane. Your guide will teach you how to look for the best spots, make the hole safely in the ice, the importance of keeping as quiet as possible and….patience! Have a break for lunch around a campfire, which for obvious reasons will not be on the ice itself! Then it's back to manning the fishing rods and hoping to get a bite. If you do get lucky, your guide will bring your fish back to the chef at Sorbyn who will happily prepare and cook it for you that evening. As the light fades in the early afternoon, as well as keeping an eye on your fishing rod, remember to keep one eye on the skies for one last glimpse of the Northern Lights.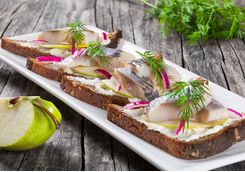 Additional Activities
Ice fishing
Snowshoe walks
Cross-country skiing
Cooking class
This morning it's time to pack up, hand back your artic gear and head home - and probably wipe away a few reluctant to leave tears.
You'll be picked up by your driver and whisked back to Lulea airport in good time for your flight to Stockholm's Arlanda airport, and then from there it's onwards to the UK and your own beds.
All of the holidays we create are completely tailor-made to you
This sample itinerary is intended to give you a flavour of what we can do
A Rough Idea of Price
While all of our holidays are completely tailor-made and prices will vary based on things like time of year and level of accommodation, we want to give you as good an idea of how much this itinerary will cost. The below prices are based on two people sharing.
This Itinerary
If you would like to book the itinerary mentioned above, with economy flights, during mid-season and staying in our preferred room category at our preferred hotels.
Bare Necessities
If you would like to pare back the above itinerary by travelling at non-peak times, staying in a standard room and removing some or all of the guided activities.
Bells & Whistles
If you are looking for something extra special, we can discuss with you upgrading your accommodation, flights or activities.
Charlotte H is our expert for this itinerary and, as a seasoned traveller, has the inside track on the most memorable adventures.