Cambodia in Style
Who: Couples and Honeymoons
From £6,775pp
Cambodia in Style: from Angkor to the Beach
This two-week itinerary is the perfect introduction to this friendly Asian nation. Explore Angkor's temples, savour Khmer cuisine and experience the stilt homes of the Tonle Sap. Get a handle on the past in Phnom Penh and luxuriate in the present at Six Senses Koh Krabey.
Itinerary at a Glance:
Explore Angkor's fascinating temples, from the well-known to the almost overlooked
Visit the floating villages of the Tonle Sap Lake
Learn about the tragic history of Cambodia at Toul Sleng and the Killing Fields
Enjoy fine dining as you sample some tasty Khmer cuisine
Relax in the luxurious setting of an idyllic island resort off the south coast
Why Book with Original Travel?
Just a few of the extra touches that come as standard on an Original Travel holiday...
See More
All of the holidays we create are completely tailor-made to you
This sample itinerary is intended to give you a flavour of what we can do
Day 1:

Depart for Cambodia
Board the plane in London this afternoon for your overnight flight to Asia.
There are a number of connecting flight routes to Cambodia, via hub cities in South East Asia and the Gulf States, and we will pick the most convenient for you. Relax and enjoy the in-flight entertainment and onboard dining.
Day 2:

Arrival in Cambodia
Your connecting flight touches down this morning in Siem Reap, the gateway to the wonders of Angkor. As a recipient of fast track arrival and porter services, your path through the airport should be a smooth one. A dedicated immigration officer will welcome you and assist with the visa and immigration process.
After formalities have been completed, your personal guide will be waiting for you inside passport control. With the help of a porter and of course a driver, you'll be at the hotel before you know it. Spend the rest of your first day in Cambodia enjoying the luxurious facilities.
It's time to hit those temples and, pass in hand, you'll begin at the atmospheric Ta Prohm; its fame means you'll have to share the experience, but the sight of kapok tree roots gripping the stonework is a special one and your private guide knows the best ways to dodge the crowds.
Afterwards, in complete contrast, you'll visit off the beaten track Ta Nei, accessed by a 15-minute walk through the forest. Enjoy a breakfast picnic before moving on to Ta Keo, referred to as the 'mountain with bronze peaks' on account of its five tiers.
Take a break for lunch and begin again with the imposing Angkor Thom, where your guide will again be on hand to explain more about life in the former Khmer Empire and the significance of each building.
Tick off the Terrace of the Leper King and Preah Palilay before reaching the iconic faces of the Bayon. Round off the day with a champagne cruise on Angkor Thom's moat as the sun slips below the horizon.
Day 4:

Helicopter to Banteay Chhmar
Angkor's most enchanting sights are arguably its far-flung temples - their very distance from Angkor's heart thins the crowd and offers visitors a feeling of wondrous discovery.
To reach Banteay Chhmar, board a helicopter for the short flight to this unrestored temple. Though looted and in poor condition, this once rivalled Angkor Wat in scale and you can still get a sense of what was once a magnificent place, which took 20,000 labourers 30 years to build.
Today you can admire the exceptional bas-reliefs which are testament to their skill. This evening, a tuk-tuk will carry you between some of Siem Reap's finest restaurants - each course is taken in a different establishment and serves up the best of Khmer cuisine.
Day 5:

Angkor Behind the Scenes
A big day awaits today, kicking off as you watch the sun rise behind the distinctive towers of Angkor Wat, generally acknowledged as the largest religious complex in the world. You'll learn more about this breathtaking 12th century marvel with your knowledgeable guide.
Later this morning, we offer an exclusive opportunity to go behind the scenes at the German Apsara Conservation Project to learn about the restoration work taking place and the challenges the conservation team faces.
You'll access a site off-limits to the general public. In the afternoon, explore on foot and by ox cart a little-changed rural landscape of rice paddies, woodland copses and traditional homes.
After a Buddhist blessing at a typical pagoda, chefs will prepare a selection of local dishes which you'll enjoy to a soundtrack of Khmer music.
Note that you should cover your knees and shoulders for the pagoda visit out of respect for local beliefs.
Day 6:

To the Cambodian Capital
Board a custom wooden boat for an excursion to the Tonle Sap. This lake experiences exceptional variations in the seasonal levels of water. As the levels of the Mekong River fall in dry season, lake water rushes to fill the void, draining the lake of much of its water. Those that make their home here do so on floating rafts and stilt houses that tower up to 30ft above the ground.
You'll see for yourself at Meachrey floating village and explore the margins of this vast expanse of water, as well as finding out more about the subsistence lifestyles practised here by local fishermen.
Later, you'll fly to Phnom Penh where you'll enjoy a night tour. In the capable hands of your tuk-tuk driver/guide you'll experience the best food in hidden restaurants before sipping coffee on the riverfront to round of the evening.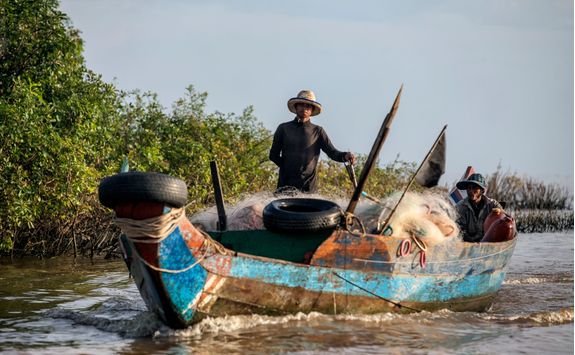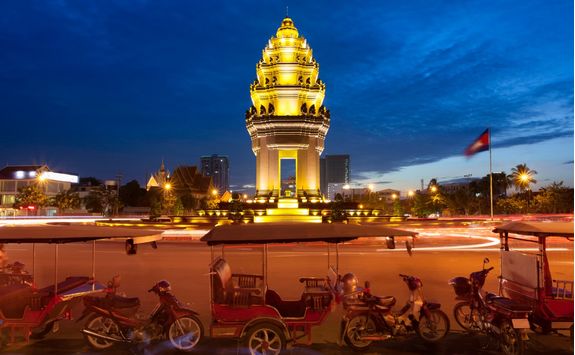 Day 7:

Delve into Cambodia's Past
Cambodians are a gentle people but to make sense of their fascinating country you need to delve into its troubled past. Under the leadership of the tyrannical Pol Pot, many Cambodians were incarcerated or killed during the Khmer Rouge's regime of terror.
At Toul Sleng prison, just seven of 1000 inmates survived and you'll meet one of the survivors and hear his heartbreaking story.
You'll also visit the Killing Fields, sites of mass graves which are the final resting place of those who lost their lives at the hands of the Khmer Rouge. Mentally, it's a tough morning, but essential if you are to understand the context of contemporary Cambodia.
This afternoon, a city tour of Phnom Penh takes you to the Royal Palace, Silver Pagoda and National Museum, with time later for shopping in the city's fun markets.
Day 8:

Transfer to the Coast
In recent years, the Cambodian Coast has seen some development, and now features a number of excellent luxury hotels.
You'll enjoy a private transfer from Phnom Penh to Sihanoukville's busy port, where you'll catch a speedboat to one such island idyll. Relax and settle in for a five-night stay.
At your island paradise there are a range of watersports to try should you wish.
Perhaps you'll don a mask and snorkel in the warm waters that lap the resort or master the art of stand-up paddle boarding - challenging but fun. Kayaks can also be rented and if you're looking for something a little less active, why not take a boat trip?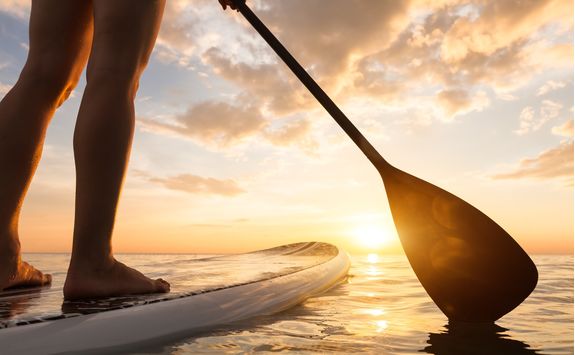 Day 10:

Luxuriate in the Spa
The spa at the hotel takes its inspiration from the Kbal Spean River, held by locals to be sacred.
A range of restorative treatments are available - guests can relax in the sauna or herbal steam tent, or soak in the Jacuzzi.
Pamper those feet with a traditional Khmer foot massage or opt for one of the Cambodian healing treatments on the extensive menu. Daily yoga, meditation and detox programmes are available to ensure you leave the resort in tip top condition.
Day 11:

Learn to Cook, Khmer Style
Having enjoyed so much good food during your trip, it's understandable that you'll want to recreate some of those dishes when you return home.
Join trained chefs to learn how to prepare some of the most popular dishes in Khmer cookery. The on-site market garden sprawls over four hectares of intensively yet sustainably farmed ground.
Ask for a tour to learn how the food grown here supports the island's environmental vision by supplying home-grown, fresh ingredients.
It's your final full day, so relax and prepare yourself for tomorrow's journey home.
Enjoy a snooze by the pool or a refreshing dip, read a book, listen to music or enjoy more of the activities offered by this premier resort.
As dusk falls, head to the Sunset Bar for one final drink to make a toast to a successful trip and a speedy return.
Day 13:

Begin the Journey Home
Today, meet your speedboat driver at the hotel's jetty.
You'll transfer from the island to the mainland, where a driver will be waiting to deliver you to the airport at Phnom Penh. From there, catch your connecting flight for your onward journey home.
Day 14:

Arrival in the UK
Arrival times will vary dependent on the route chosen, but expect to arrive in London this morning after an overnight flight.
All of the holidays we create are completely tailor-made to you
This sample itinerary is intended to give you a flavour of what we can do
A Rough Idea of Price
While all of our holidays are completely tailor-made and prices will vary based on things like time of year and level of accommodation, we want to give you as good an idea of how much this itinerary will cost. The below prices are based on two people sharing.
This Itinerary
If you would like to book the itinerary mentioned above, with economy flights, during mid-season and staying in our preferred room category at our preferred hotels.
Bare Necessities
If you would like to pare back the above itinerary by travelling at non-peak times, staying in a standard room and removing some or all of the guided activities.
Bells & Whistles
If you are looking for something extra special, we can discuss with you upgrading your accommodation, flights or activities.
Jacqui, Frances, Holly and Rosie are our experts for this itinerary and as seasoned travellers they have the inside track on the most memorable adventures.