Mountains and Valleys of Bhutan
Encompassing lush valleys and towering mountains, tranquil temples and glacial rivers, this wonderful 15 day Bhutan experience will make your heart sing. Each day brings another breath-taking view and a renewed sense of peace as you get to know the spirituality and kindness of the Bhutanese people.
Itinerary at a Glance:
Visit the big Buddha and museums around Thimphu
White water rafting or walking expedition to the Palace of Great Happiness near Punakha
Stay at the glorious Gangtey Lodge in the Black Mountains, ideal for bird watching
Hiking and ancient temple visits in the fertile four valleys of Bumthang
Visit the Floating Goddess statue, hike to the famous Tiger's Nest Monastery and enjoy a Buddhist blessing to complete your journey
Why Book with Original Travel?
Just a few of the extra touches that come as standard on an Original Travel holiday...
See More
All of the holidays we create are completely tailor-made to you
This sample itinerary is intended to give you a flavour of what we can do
Armed with your bespoke Original Travel itinerary pack, board your direct overnight flight to Bangkok, a journey of around 11-and-a-half-hours.
Day 2: Overnight in Bangkok
With Bangkok six hours ahead of GMT, you'll arrive in the evening, with just enough time to enjoy a leisurely supper and a good night's sleep at your airport hotel before tomorrow's early start.
Rise early for your flight north to the kingdom of Bhutan, a journey time of around three hours. On the approach, look out for breath-taking views of the Himalayan mountain range, your first glimpse of this incredible destination.
On arrival at Paro airport, you'll be met by your guide and driven along the valley to the capital, Thimphu. En route, you'll stop at the Buddha Dordenma, a gleaming bronze and gold statue perched on the hillside, surrounded by smaller dancing figures on a huge gilded platform, and with stunning views across the city.
After checking into your hotel, your guide will take you to view the National Memorial Chorten, an iconic white-painted monument at the heart of the city, frequented by locals for daily worship. You'll then visit the very regal Tashichho Dzong (Fortress of the Glorious Religion), a Buddhist monastery and the seat of government since 1952, located on the river banks and surrounded by beautiful gardens. You may also have time to check out the small museum at the National Institute of Traditional Medicine, dedicated to the plants, minerals, animals and gems drawn from all over Bhutan for use in traditional medicine.
Spend a relaxed morning in Thimphu and visit the National Textile Museum, a charming whitewashed building devoted to the creation of the colourful and intricately woven fabrics you'll see sported across the kingdom. Pick up some prayer flags ready for your onward journey east to Punakha, setting off by car with your guide after lunch.
Meander up the hillsides through orchards and pine forests to the lofty Dochula Pass. At 10,300ft, on a clear day you'll catch magnificent views towards the snow-clad Himalayan range as well as the mound of 108 little chortens (shrines) devoted to the fallen soldiers from a 2003 battle with Assamese insurgents. Line upon line of multihued prayer flags flutter in the breeze, a festive yet calming sight. Pin your own prayer alongside the others and relish the tranquillity of this wonderful mountainside location.
Descending some 6,500ft through dense forests towards Punakha, you'll make a stop at Chimi Lhakhang, a renowned fertility temple built over 500 years ago and blessed by the eccentric Buddhist master Drukpa Kunley. Those looking to conceive come to be blessed by an ancient wooden 'phallus' with a silver handle. If your sensibilities are a little conservative, be warned: it's a symbol depicted frequently around the temple!
You'll arrive at your hotel in Punakha in time for supper.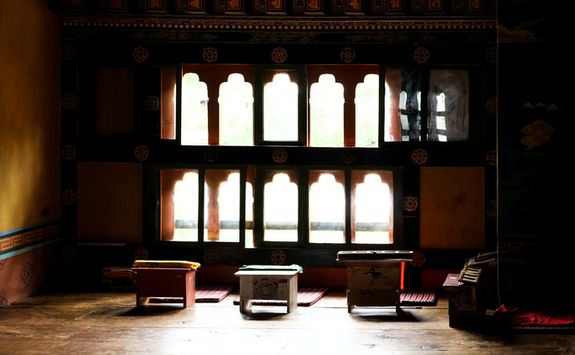 Today you'll have the option of taking to the glacier-fed Pho Chu River on a delightful white water rafting adventure. You'll be driven to your departure point for a safety briefing before boarding your raft to paddle along either the Po Chu (Father) or the Mo Chu (Mother) branch of the river.
Just where the two rivers meet, you'll encounter the Palace of Great Happiness, a fitting end to your voyage at Punakha Dzong. Here, you'll leave the raft and take some time to wander around the winter home of Bhutan's head abbot, the Je Khempo, and around 1,000 monks. It's a truly majestic structure, six storeys high in parts, with gently sloping red roofs and gold-painted turrets. In spring, the lilac trees along the river bank are in full flower, a magical sight against the whitewashed palace walls.
As an alternative to the rafting, you can take a walk through farmland up to Khamsum Yuley Namgay Chorten, a beautiful tiered shrine built on a ridge and dedicated to the king and the wellbeing of the people. There are stunning views from here across the patchwork valley of rice paddies and orange groves. Continue walking for another two hours down to the riverside, arriving to explore the Palace of Great Happiness as described above.
Afterwards, return by car for supper and a second night at your Punakha hotel.
Day 6: On to the Gangtey Valley
Today, enjoy the scenic drive further eastwards into the Black Mountains, crossing over the thrillingly steep and winding Pele La Pass. On the other side you'll enter the glorious Gangtey Valley, an alpine region famous for the rare black-necked cranes who fly in from Tibet to winter here from October to February.
Your base for the next two nights is the enchanting Gangtey Lodge, exquisitely located on the hillside with outstanding views through tall, arched windows and a vast, open air balcony. The service here is second to none, providing for your every need before you've even realised you need it. After an exploratory hike of the immediate surroundings, enjoy a delicious dinner and curl up by the roaring fire for a blissful evening's relaxation.
Take a gentle dawn stroll down to the Gangtey Monastery for a spiritual start to the day, joining the monks in prayer and lighting butter candles to represent the search for enlightenment.
After breakfast, choose from the many hiking trails in this incredibly uplifting area, the views unspoilt by pylons or cables and the air pure and refreshing. Wander between smallholdings and temples and check out the wildlife hides where in season you can observe the cranes, along with dozens of other species.
The lodge also offers archery (Bhutan's national sport) and mountain biking along some exceptional trails, a fantastic way to immerse yourself in this incredible environment.
After a scrumptious breakfast it's time to bid farewell to your hosts and begin your long but scenically splendid drive even further eastwards to the four valleys that make up Bumthang.
En route, look out for monkeys leaping between the trees in the thick forest and admire the awesome view across the Mangdue River to the Trongsa Dzong, a vast, tiered fortress that travellers from all directions were once obliged to pass through on their way to their intended destination.
This is perhaps the most memorable of all the Bhutan driving routes, with stunning views on all sides of picturesque mountain villages, monasteries and immaculately tended farmland. The four valleys contain the highest number of monasteries and religious sites anywhere in the country. They're also fertile ground for growing rice, buckwheat and potatoes, not to mention juicy apples and sweet apricots. It also happens to be the home of Red Panda beer, launched by a Swiss gentleman, Fritz Maurer, in the 1960s and brewed to this day in the same Bumthang microbrewery.
Day 9: Exploring the Valleys of Bumthang
Today, your guide will accompany you on a walking tour, first viewing the Wengdichholing Palace, birthplace and main residence of the first king of Bhutan and currently being restored as a museum.
You can also visit the trio of temples that make up Kurjey Lhakhang, a place of immense spiritual and historical significance to the people of Bhutan. It's here that Guru Rinpoche, founder of Buddhism in Tibet and later of Bhutan, is said to have meditated and banished evil spirits, leaving an imprint of his body in the rock face.
On the eastern side of the river, you can view old religious paintings covering the walls of the temple of Tamshing, their colours still vibrant against the old timber and stonework, a scene made all the more striking with the bright scarlet robes of student monks as they breeze in and out for their studies.
Return to your hotel for a tasty supper and a peaceful sleep.
Day 10: Bumthang Villages and Lakes
After breakfast this morning, your guide will drive you up to the highest of Bumthang's four valleys and the medieval-style village of Ura. If you're happy to cover some of the way on foot, you can choose to walk along the old trading route from Shertang La Pass into the village.
Populated mainly by yak and sheep herders, Ura is a delightful example of Bhutan's simple way of life, with cobbled alleyways and pretty timber and stone houses built into the hillside.
If time permits, you may also be able to visit Mebar Tsho, (the Burning Lake), a pretty lake surrounded by boulders and pine trees and bedecked with the prayer flags of the faithful. It's a sacred site for the Bhutanese, earning its name from the legend of Pema Lingpa, who jumped into the lake with a burning lamp to prove that it was the site of sacred treasures buried by Guru Rinpoche and emerged with the treasure and the lamp still burning.
Return to your hotel for a final night at Bumthang.
This morning, you'll be driven to the airport to check in for your short flight to Paro. Hopefully, you'll be blessed with clear skies so you can savour the jaw-dropping views of the Himalayas from the windows of the plane.
On arrival in Paro, you'll be met and transferred to your hotel to freshen up before setting off on a guided cycle ride, a great way to stretch your legs after the journey and explore the valley. Snaking down to the river, ride across a little covered bridge, past Rinpung Dzong fortress and the town's archery ground then back into Paro town.
From here, you'll take an off-road track past numerous temples and farmhouses, climbing slowly up to the village of Dobshaptoe. Twisting through narrow lanes, you'll rejoin the road before calling at Kyichu Lhakhang, one of the kingdom's oldest and most elegant temples. The lovely orange trees in the courtyard here are said to bear fruit throughout the year.
Return to your hotel for a well-earned dinner.
Day 12: Floating Goddess Day Trek
Today's trek is set to be one of your trip's most memorable. You'll begin with a drive along the valley and up a track to the starting point. From here, you'll follow the fast-flowing river through ever more remote, totally unspoilt landscapes. If you're lucky enough to be visiting in spring (March to May) the rhododendrons in full flower will provide a stunning, vibrant spectacle, while in the warmer months you could be tempted into the natural pools for a cooling dip.
Higher up the hills, call in at Chumbu Monastery where the famous 'floating' goddess statue stands. If time is on your side, you can climb a little higher to the nearby mountain lake before descending the mountainside and heading back to your Paro hotel for supper.
Day 13: Tiger's Nest Monastery
With an early start to avoid the heat of the midday sun, today's hike takes you to the world-famous Tiger's Nest Monastery, the precarious cliff-side site where Guru Rinpoche is said to have arrived on the back of a tigress, flying from Tibet to establish Buddhism in Bhutan. It's a good two-hour climb to the viewing point, then you'll take a steep path down before climbing once again to reach the monastery gates.
Within the monastery, you can enter into the spirit of the occasion by giving thanks alongside local pilgrims. Your guide can help you to choose a prayer flag to hang on your way back down from the monastery or to take home with you as a keepsake. Watch as the monk carries out prayer rituals and bestows a Buddhist blessing on you.
Leave the monastery with the wonderful feeling of calm and contentment so that's such an intrinsic part of this amazing kingdom.
Taking the trail back down the mountainside, enjoy a final evening in Paro.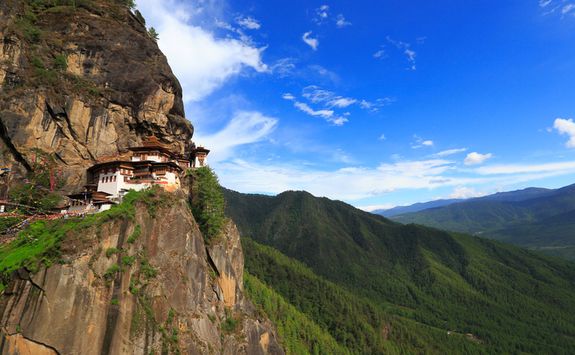 This morning you'll be collected from your hotel and transferred to the airport for your morning three-hour flight to Bangkok. On arrival, you'll be met and taken to your airport hotel for the night.
Day 15: Depart for the UK
Leaving Bangkok late morning on a direct flight of around 11-and-a-half-hours, and you'll arrive back in the UK in the early evening.
All of the holidays we create are completely tailor-made to you
This sample itinerary is intended to give you a flavour of what we can do
A Rough Idea of Price
While all of our holidays are completely tailor-made and prices will vary based on things like time of year and level of accommodation, we want to give you as good an idea of how much this itinerary will cost. The below prices are based on two people sharing.
This Itinerary
If you would like to book the itinerary mentioned above, with economy flights, during mid-season and staying in our preferred room category at our preferred hotels.
Bare Necessities
If you would like to pare back the above itinerary by travelling at non-peak times, staying in a standard room and removing some or all of the guided activities.
Bells & Whistles
If you are looking for something extra special, we can discuss with you upgrading your accommodation, flights or activities.
At Your Service
We rarely boast about our service but we believe it's what sets us apart and makes us truly original, so please forgive this moment of unabashed self-promotion.
Miranda and Frances are our experts for this itinerary and as seasoned travellers they have the inside track on the most memorable adventures.