An Aman Adventure in Bhutan
What more luxurious way in which to immerse yourself in the tiny Buddhist Kingdom of Bhutan than on an Aman adventure? Travel from snow-capped peaks to dense forests, learning about the 'Land of the Thunder Dragon', and staying in the Kingdom's very finest hotels.
Itinerary at a Glance:
Spot critically-endangered black-necked cranes flying high above the Phobjikha Valley
Walk along the River Mo, stopping to visit monuments, dzongs (fortresses) and local villages as you go
Hike to reach the iconic Tiger's Nest monastery, which is perched on a cliff face at nearly 3,000ft above the valley floor
Why Book with Original Travel?
Just a few of the extra touches that come as standard on an Original Travel holiday...
See More
All of the holidays we create are completely tailor-made to you
This sample itinerary is intended to give you a flavour of what we can do
Day 1: International Flight
Your adventure begins as you head to the airport and board a direct international flight, either leaving London in the morning to New Delhi in India (which will require you to get an Indian visa as the flight times mean you to need stay in an airport hotel) or Bangkok in Thailand. We will arrange for an overnight room at an airport hotel in both options, and we can of course arrange a longer stay in either India or Thailand if you would like to turn the trip into an extremely cool combo.
Early this morning it's time for your direct two-hour flight (if coming from Delhi) or three-hour indirect flight (if coming from Bangkok) to Paro, the gateway to Bhutan. Once landed, you'll be picked up and privately transferred to Thimphu, the capital. The drive is just over an hour, and winds through the lush Paro Valley with some incredibly scenic views along the way.
Once you arrive, settle in to the first luxurious Aman lodge of your Bhutan journey, the Amankora Thimphu. Designed to replicate a traditional dzong and with minimalist wooden interiors, this is the perfect place to relax and prepare for the trip to come.
As afternoon arrives, enjoy a gentle walk through the 'city' centre, stopping to visit one or more of the National Memorial Chorten, the National Textile Museum, the Folk Heritage Museum or the National Library to help you get to grips with the rich ancient culture that is ever-present in Bhutan.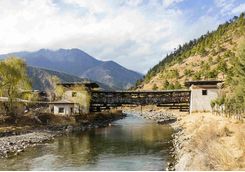 After breakfast on the terrace with a stream babbling by in the background, head out to explore the Thimphu Valley with a private guide.
Start at the north end of the valley, where you'll find Trashi Chhoe Dzong, the seat of Bhutan's government and royal offices, then pay a visit to Pangri Zampa, two 16th century buildings that now house a monastic training school for astrologers.
At the head of the valley enjoy a short hike to take you to Cheri Goemba, the monastery where the kingdom's first community of monks was based. Then, back in town you should be able to visit a few of the capital's cottage industries ranging from traditional papermaking to hand rolled incense.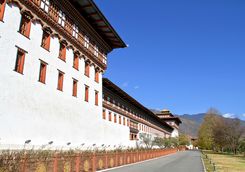 Day 4: Transfer to Phobjikha Valley
Make an early morning departure with your driver today as you head out for a dramatic drive over the high (nearly 10,000ft!) mountain pass of Dochu La, and then into the Punakha Valley. Sights on the way include one of Bhutan's first fortress monasteries, the 17th century Simtokha Dzong, and ancient wall paintings at the Hongtsho Goemba monastery.
After stopping at these sights you'll then drive on down through the Punakha Valley, passing the scenic village of Wangdi and then starting to climb through forests of bamboo and oak, before cutting off into the hidden Phobjikha Valley. On arrival here you will have time to visit the striking Gangtey Goemba, which sits at the head of the valley, and stroll through the quaint Gangtey village before reaching Amankora Gangtey and indulging in a spa treatment at your new lodge.
Day 5: Exploring Phobjikha Valley
Depending on the season, start this morning with a visit to the Black-necked Crane Centre where you'll have the chance to learn more about these majestic and sadly critically-endangered birds. These beautiful birds tend to be in Bhutan between late October and mid-February. Depending on your preference, your guide will then arrange a hike or mountain bike ride through the valley.
Head back to Amankora Gangtey for a leisurely lunch and then spend the afternoon in the spa or soaking up the views of The Black Mountain National Park. For those who really want to experience the local culture, a private blessing from Gangtey's Tulku can be arranged if he's in town - let us know in advance if you'd like us to arrange this for you.
Enjoy a lie in this morning as the journey back into the Punakha Valley and to Amankora Punakha is only a short one. Though the drive might be brief it's no less beautiful and the road meanders along the River Dang and past bamboo and oak forests so keep your eyes peeled out of the car windows.
Upon arrival you will have time to enjoy lunch at the lodge, which is a lovingly converted Bhutanese farmhouse, set in an orange orchard and surrounded by the mountains.
In the afternoon you'll head out with your guide to explore the hidden village of Talo, home to the temple of the Queen Mother's protective deity, and hike to an ancient monastery on the hilltop behind the lodge. If you prefer, there is, of course, time to simply enjoy the farmhouse and spa.
Day 7: Explore Punakha Valley
Your full day in Punakha Valley begins with a beautiful hike from the lodge along River Mo, passing through terraced rice paddies and farmland to the Khamsum Yuelley Namgyal Chorten, a monument recently built by order of the Queen Mother.
Hike on to reach the winter homes of the royal family and the impressive Punakha Dzong. This ancient fortress is the winter residence of the head of the monastic order and still serves as the administrative headquarters for the Punakha region. A picnic lunch will be served on the banks of the river here, before you continue on to the village of Lobesa. From here a short walk will lead you to Chimi Lhakhang, a famous fertility monastery which was built in 1499, but which still attracts visitors looking for blessings to have children.
Say goodbye to Punakha Valley this morning as you leave the lodge behind and descend back down from the heights of Dochu La pass. The drive will take you winding through the dramatic Wang Chu and Paro Chu river valleys before crossing through Paro town towards the north end of the valley.
Here, set in a pine forest, you will find the Amankora Paro lodge. Once you've settled in you might like to explore the nearby ruins and some of the valley's oldest and holiest religious monuments before this evening's enlightening talk by a local monk. Since this is the largest of Bhutan's Amankora lodges the spa here is also bigger and features four treatment rooms, a sauna, steam room and glass-walled yoga studio - the ideal place to spend an evening.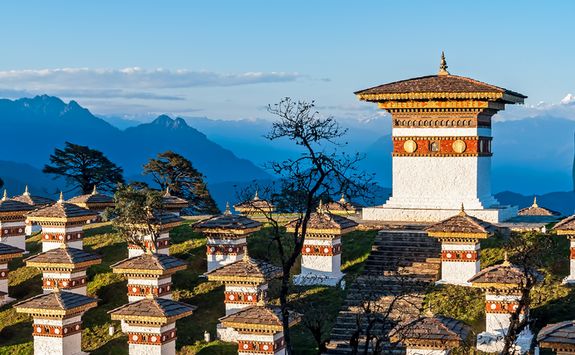 Your last full day in Bhutan begins with a visit to the National Museum, housed in the nearby Ta Dzong. Here, a fascinating collection of artefacts provide a wonderful introduction to the rich culture and heritage of the kingdom, which dates back to 400BC.
After the museum comes the highlight of the day and perhaps even the entire trip. Alongside your guide you'll hike up to the Taktshang Goemba, more commonly referred to as the 'Tiger's Nest'. The four to five-hour trek offers spectacular views of this sacred monastery, which is perhaps Bhutan's most iconic site, perched on a cliff face at nearly 3,000ft above the valley floor. Mules and donkeys will be on hand to help assist with the climb up, and somewhere along the way you will have a picnic lunch.
When you eventually get back to Amankora Paro, head straight to the bar and grab yourself a well-deserved drink, to be enjoyed as you sit and reflect on what a day it's been.
Sadly it's time to head home today, so with one last breakfast overlooking the lush Paro Valley, say your goodbyes to the 'happiest country on earth'.
A driver will meet you at the lodge and take you to the airport, which is just over half an hour away. From there you'll catch a roughly two-hour flight to Delhi or three-hour flight to Bangkok. As before, you may have some time before an onward flight to the UK, but we can also tailor a longer stay in either India or Thailand. Let us know if this is of interest.
All of the holidays we create are completely tailor-made to you
This sample itinerary is intended to give you a flavour of what we can do
A Rough Idea of Price
While all of our holidays are completely tailor-made and prices will vary based on things like time of year and level of accommodation, we want to give you as good an idea of how much this itinerary will cost.
This Itinerary
If you would like to book the itinerary mentioned above, with economy flights, during mid-season and staying in our preferred room category at our preferred hotels.
Bells & Whistles
If you are looking for something extra special, we can discuss with you upgrading your accommodation, flights or activities.
At Your Service
We rarely boast about our service but we believe it's what sets us apart and makes us truly original, so please forgive this moment of unabashed self-promotion.
Miranda and Frances are our experts for this itinerary and as seasoned travellers they have the inside track on the most memorable adventures.