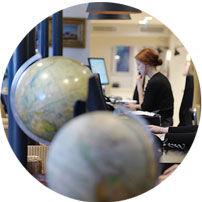 There's nothing wrong with a little dose of selfishness now and then, and Me-cations serve up a delicious slice of it. The antithesis of family holidays, where the children's wants and needs reign supreme, Me-cations are when couples - particularly parents - take their holidays separately from both children and one another so that they can indulge in activities that their other half and offspring are less than thrilled about (think diving, skiing, fishing, brass rubbing, wine-tasting, cycling, riding etc) and go at their own pace, all outside of the restrictive school holiday dates while partner is home to look after the children.
What's not to like?
Me-Cation Holiday Ideas
A few suggestions to get the holiday planning process started
Me-Cations Holidays by country
A few of the benefits of travelling with us
Review
What our clients say about us
This is the first time we went on a trip with Original Travel, a specialist advisor who listens to our expectations, and really the feeling of being pampered from departure to arrival. The concierge service is so efficient that we quickly become addicted.
Me-Cations Holidays Guide
Practical advice, client testimonials and inspiration to help you prepare for your holiday
Contact one of our specialists